Rent an RV near Fort Worth, Texas
When considering renting an RV near Fort Worth, Texas, you're going to have many different types of RVs, motorhomes, campers and travel trailers to choose from. Depending on the type of trip you are taking to or from Fort Worth, Texas, you'll want to choose an RV for rent that includes the amenities you'll need for you, your friends or family. RV rentals in Fort Worth, Texas are in high demand, especially between Memorial Day weekend and Labor Day weekend, so you'll want to book your RV for rent in advance....
When renting an RV or camper you will need RV Rental protection in case the unthinkable happens. Many people mistakenly believe that their personal auto policy will cover their RV rental only to find out too late that this is untrue. It's likely your Auto Insurance Policy is not going to cover the RV Rental. When you rent an RV on RVnGO.com, RV rental protection is automatically included in your rental. For a low nightly rate, you will receive $1,000,000 in liability coverage and up to $250,000 in property damage coverage. With RVnGO's RV rental protection plans, you can rent an RV with the peace of mind that you are covered in the case something happens on your trip. RVnGO's RV rental protection plans also cover RV owners, in the case something is broken or damaged on the RV during your trip.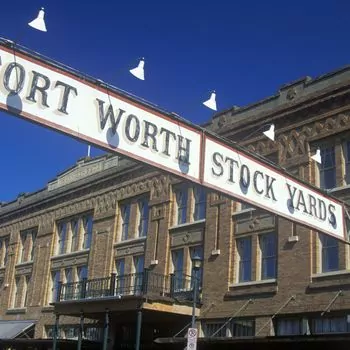 This Cowtown known as
Fort Worth
has come a long way from its cattle-raising days. It's now one of the fastest-growing cities in the country. And with its diverse culture, scenic destinations, great weather, and Old-West-themed shops and dining joints, this city will always be a major tourism draw. Don't take our word for it — rent an RV in Fort Worth and see for yourself. These attractions will unravel the rich history and innate beauty of this city. So, what are you waiting for? Hit the road and go RV camping in Fort Worth. Here are the top must-visit destinations in this city.
Camping and RV Parks near Fort Worth
Fort Worth is the 12th-largest city in the United States, known for Texas hospitality and a dozen remarkable districts full of culture and fun. The historic western Stockyards featuring the world's only twice-daily cattle drive, Billy Bob's Texas, the world's largest honky-tonk and the new Mule Alley. A connected downtown with the 35-block Sundance Square entertainment district.
This super quiet long-term RV community for adults, located on the southwest side of Fort Worth at 5080 Ben Day Murrin Rd, Fort Worth, TX 76126 is only five minutes from Lake Benbrook. You can come and kickback and relax! FEATURED AMENITIES Cable WiFi Laundry Facilities Restrooms Private Showers Fenced Dog Park Rec Room with Kitchen Library Picnic Pavilion
Enjoy your peaceful getaway to Fort Worth at the Fort Worth Minutemen Campgrounds. This campground is a little farther away from Fort Worth but you will enjoy the quiet and serene atmosphere creates at the campsite. This is the campsite if you want a relaxing and reflective vacation away from the city. The Fall Creek RV Park also offers WiFi, showers, laundry, picnic area with grill, fire pit, paved roads, pads and a common area where guests can come together for meals and other activities. Our RV resort is only a 5-minute drive from historic downtown Granbury, which has a grocery store and several restaurants. Lake Granbury is also a short drive from the park and is the perfect spot for fishing, boating, walking on the surrounding trails or simply relaxing.
Finding a well-organized and secure RV park can be challenging, but if you are looking for one, you are in the right place. At Eagles Resorts RV Storage, we are committed to offering our guests high-quality services while maintaining competitive and budget-friendly prices. We are based in Fort Worth, TX and are always ready to welcome travelers and accommodate their needs. Explore our website for more information.
National Parks and State Parks near Fort Worth
There are beautiful National and State Parks near Fort Worth. Make sure to visit them in your RV rental for a great weekend in the outdoors. Fort Worth has plenty o
At its current condition, the FWNC&R covers 3,621 acres and includes over 20 miles of hiking trails, making the park one of the largest city-owned nature centers in the United States. The Fort Worth Nature Center & Refuge (FWNC&R) is a natural area comprised of forests, prairies, and wetlands allowing you to step back in time and experience what the Fort Worth/Dallas area was like in the early 20th century. The inception of the FWNC&R was based on protecting our local watershed. In 1914, land was purchased around the West Fork of the Trinity River by the City of Fort Worth to protect the quality of drinking water for the community. With great persistence from the Fort Worth Audubon Society, the Park Board designated some land in 1964 to create a wildlife sanctuary and nature preserve for our community and the FWNC&R was born.
Cedar Hill State Park is located on FM 1382 and the eastern shore of Joe Pool Lake in Cedar Hill, Texas, ten miles southwest of Dallas. The park was acquired in 1982 and was opened in 1991. Relax by the lake, tour an old Texas farm, or explore rugged limestone hills and prairie landscapes. Bring your family to hike, bike, picnic, camp, geocache and nature watch. The park sits on Joe Pool Lake, so you can also swim, fish, and boat or paddle. Camp at one of 350 well developed campsites, all near restrooms with hot showers. All sites have water and electricity; 150 have sewer hookups, too. Several sites are ADA-accessible. You can also hike to a primitive campsite, if trails are open. Explore the trails on bike or on foot. The DORBA Trail, crisscrosses 1,200 acres and is open to bike riders and hikers. The trail is closed when wet, so call ahead to make sure it is open. Take a virtual tour with an Interactive Trails Map. Swim in the lake! There is a gravel swimming beach with picnic tables and grills nearby. A playground and restrooms are next to the beach. Fish the 7,500-acre Joe Pool Lake for largemouth black bass, crappie and catfish. There are two lighted fishing jetties and a perch pond for kids. It also has two, 4 lane boat ramps and lighted boat trailer parking. You do not need a fishing license to fish from shore or pier in a state park.
The Mustang Point Day Use Area provides open spaces, lakeshore access, swimming and picnicking facilities. The park is open year-round, 6am - 9pm. The day use swim beach area is open April-September 6am - 9pm. The park is located at 3600 Winscott Plover, Fort Worth, TX 76126. Boat ramps provide access to both the body of the lake and the channel of Mustang Creek. There is a group facility in the park that may be reserved for either day use or overnight camping activities. This has a large group pavilion with parking, lights, water and electric outlets, as six individual pedestal hookups in the parking area for RV use.
Fort Worth Attractions
There are tons of attractions in Fort Worth that you must check out. Full of historical landmarks, fun sporting events and activites, as well as great museums and other attractions you need to see. Fort Worth is a great place to visit and find opportunities to find fun where ever you go.
The track offers racing experiences beyond the NASCAR races for race fans to enjoy all year long. Texas offers multiple camping areas across the 1,500 acre facility. Whether you want full service hook-ups for your Class A motor home or just a little grass space for your family's tent, we can meet your need with a variety of options at affordable prices.
Fort Worth is where the West begins, not to be conufused with the St. Louis Arch which is the Gateway to the West. Nothing embodies Western heritage better than the Fort Worth Stockyards National Historic District. From the original brick walkways to the wooden corrals, every inch of the Stockyards tells the true history of Texas's famous livestock industry.
Fort Worth Events
There is always something going on in Fort Worth. You can always find the perfect event that will scratch that itch of experience and adventure.
are fun and exciting ranging from the celebration of food, music, history, and everything in between. The Southwestern Exposition and Livestock Show, known commonly as the Fort Worth Stock Show and Rodeo is the oldest continuously running livestock show and rodeo. It has been held annually in Fort Worth, Texas since 1896, traditionally in mid-January through early February. The event lasts 23 days and is home to the World's Original Indoor Rodeo, displaying 36 performances of professional rodeo annually. In addition, the Rodeo offers a carnival/midway, live music and entertainment in the Rodeo Roadhouse, multiple kid friendly exhibits, over 22,000 head of livestock and over four acres of commercial exhibits. There is something for everyone to have a fun time. Every Summer, people saddle up for an entire day dedicated to the American Cowboy. The National Day of the American Cowboy hosted in the Stockyards National Historic District has been named the "Best Cowboy Tribute" event in the nation by Western lifestyle magazine, American Cowboy. Family activities and events take place throughout the day along East Exchange Avenue including Cow Milking, Quick Draw, and even a Fiddle Contest. Ready to step back into the current century? Honor and be awed by the dazzling aerial maneuvers of highly skilled pilots and get up close to all types of planes and fighter jets. The U.S. Navy Blue Angels Flight Demonstration Squadron and the U.S. Air Force F-16 Viper Demonstration Team will soar through the North Texas skies at the Bell Fort Worth Alliance Air Show at Fort Worth Alliance Airport. This world-class air show also includes, among others, the Bell 429, U.S. Air Force Heritage Flight, Patriot Parachute Team, Michael Goulian sponsored by Aviall, Sean D. Tucker and Team Oracle, Trojan Phlyers, Shockwave Jet Truck, Bob Carlton in the Super Salto Jet Sailplane, national aerobatic champion Rob Holland, stunt pilot Gene Soucy with wing walker Teresa Stokes and Cavanaugh Flight Museum.
RV Campgrounds in Fort Worth
Set up your travel trailer on your own RV journey with all the family at Lakeview RV for a few of your stops. The campers in your family will enjoy a weekend in a few of the city campgrounds. Wherever you opt to push your RV lease, there are plenty of stops.
| name | address |
| --- | --- |
| Lakeview RV | 4793 E Loop 820 S, Fort Worth, TX 76119, United States |
| Shady Hill RV Park | 10700 Jacksboro Hwy, Fort Worth, TX 76135, United States |
| Avondale RV Park | 13801 US-287, Fort Worth, TX 76179, United States |
| Dallas / Arlington KOA Holiday | 2715 S Cooper St, Arlington, TX 76015, United States |
| Lake Worth RV Ranch | 7750 Jacksboro Hwy, Fort Worth, TX 76135, United States |
| Fowler's RV Park | 12465 N Saginaw Blvd, Fort Worth, TX 76179, United States |
| EAGLE RESORTS L.L.C | 4627 Robertson Rd #108, Fort Worth, TX 76135, United States |
| RV PARK FORT WORTH | 7724 Jacksboro Hwy, Fort Worth, TX 76135, United States |
| South Holiday Park | 6000 Pearl Ranch Rd, Fort Worth, TX 76126, United States |
| Settlers Haven RV Park | 410 N Cherry Ln, White Settlement, TX 76108, United States |
| Green Acres Mobile Home & RV | 321 Isbell Rd, Fort Worth, TX 76114, United States |
| Bear Creek Campground | 7208 Ben Day Murrin Rd, Fort Worth, TX 76126, United States |
| Northlake Village RV Park | 13001 Cleveland Gibbs Rd #79, Roanoke, TX 76262, United States |
| Gallagher Acres RV Park | 5080 Ben Day Murrin Rd, Fort Worth, TX 76126, United States |
| Live Oak Creek RV Park | 2341 Silver Creek Rd, Fort Worth, TX 76108, United States |
| Fort Worth RV Park | 5304 Gebron Dr, Fort Worth, TX 76126, United States |
| Treetops RV Resort | 1901 W Arbrook Blvd, Arlington, TX 76015, United States |
| Camp 10625 R.V. Park | 10625 Jacksboro Hwy, Fort Worth, TX 76135, United States |
| Cowtown RV Park | 7000 Interstate 20 Frontage Rd, Aledo, TX 76008, United States |
| West Camp RV Park | 2910 W Division St, Arlington, TX 76012, United States |
US National & State Parks in or Near Fort Worth
The state and national parks of Fort Worth, Texas offer breathtaking views for almost any outdoor enthusiast. Carry your kayak throughout your holiday in one of our RVs to one of the beautiful national or state parks of Texas. The city is well famous for huge and downtown skyscrapers, but gorgeous views of nature can be found nearby at Archery Park. Our travel trailers available to rent offer a range of lodging to accompany you on your visit.
| name | address |
| --- | --- |
| Mustang Park | 3600 Winscott Plover Rd, Fort Worth, TX 76126, United States |
RV Storage Facilities in Fort Worth
Store your RV during your Trip any of the available RV Storage Facilities in the Fort Worth area.
You'll want to discover a place if you plan on creating a stop downtown, or in any of the parks and attractions in the region. RV Storage Facilities give you peace of mind while you enjoy your holiday destination, so that you don't need to think about your rental being ruined, or broken up into as you're gone. There are several areas to choose from in the area, and many offer security guards and 24-hour surveillance within the centre.
| name | address |
| --- | --- |
| Keller RV Storage | 4520 Keller Hicks Rd, Fort Worth, TX 76244, United States |
| AAA Keep Safe Boat & RV Storage | 4236 Keller Hicks Rd, Fort Worth, TX 76244, United States |
| Alamo Boat & RV Storage | 3200 W Bolt St, Fort Worth, TX 76110, United States |
| Harmon Road RV Storage | 10019 Harmon Rd #7305, Fort Worth, TX 76177, United States |
| Shoreline Boat, RV and Self Storage | without toll rd, 5120 Rocky Creek Park Rd, Crowley, TX 76036, United States |
| Storage 199 | 10801 Jacksboro Hwy, Fort Worth, TX 76135, United States |
| North Fort Worth RV & Boat Storage | 12500 Willow Springs Rd, Haslet, TX 76052, United States |
| Extra Space Storage | 990 Alta Mere Dr, Fort Worth, TX 76116, United States |
| StorQuest Self Storage | 9250 N Normandale St, Fort Worth, TX 76116, United States |
| Trailer Storage Inc | 12319 Business Hwy 287 N., Fort Worth, TX 76164, United States |
| Armored Self Storage | 2950 Western Center Blvd, Fort Worth, TX 76131, United States |
| Alta Vista Self Storage | 10395 Alta Vista Rd, Fort Worth, TX 76244, United States |
| Boat Club Self Storage | 8460 Boat Club Rd, Fort Worth, TX 76179, United States |
| Store It Now - Storage | 8877 Boat Club Rd, Fort Worth, TX 76179, United States |
| RV Storage | 1910 W Arkansas Ln #1904, Arlington, TX 76013, United States |
| Extra Space Storage | 5105 Mansfield Hwy, Fort Worth, TX 76119, United States |
| All Storage - Crowley | 7601 Crowley Rd, Fort Worth, TX 76134, United States |
| Rufe Snow Depot Self Storage | 6707 Rufe Snow Dr, Fort Worth, TX 76148, United States |
| 1st American Self Storage | 1850 Ephriham Ave, Fort Worth, TX 76164, United States |
| Stuff Hotel Self Storage - Fort Worth | 9200 Oak Grove Rd, Fort Worth, TX 76140, United States |
Popular Tourist Attractions in Fort Worth
Thinking about heading to Fort Worth?
Explore a number of the very best attractions in the city during your visit! Campgrounds and organic vistas are not the only attractions you may encounter on your trip. Many attractions are an easy drive away. When you've parked your lease in a nearby RV Center, then you'll be free to research a number of favorite destinations in the city. Get in touch with the attractions ahead of time to establish whether they provide special accomidations to your lease RV truck or camper.
| name | address |
| --- | --- |
| Fort Worth Livestock Exchange | 131 E Exchange Ave, Fort Worth, TX 76164, United States |
| Cowtown Cattle Pen Maze | 145 E Exchange Ave, Fort Worth, TX 76164, United States |
| Fort Worth Water Gardens | 1502 Commerce St, Fort Worth, TX 76102, United States |
| Fort Worth Stockyards | 2501 Rodeo Plaza, Fort Worth, TX 76164, United States |
| Fort Worth Zoo | 1989 Colonial Pkwy, Fort Worth, TX 76110, United States |
| Kimbell Art Museum | 3333 Camp Bowie Blvd, Fort Worth, TX 76107, United States |
| Fort Worth Museum of Science and History | 1600 Gendy St, Fort Worth, TX 76107, United States |
| Sid Richardson Museum | 309 Main St, Fort Worth, TX 76102, United States |
| Forest Park Miniature Railroad | 1700 Colonial Pkwy, Fort Worth, TX 76110, United States |
| Amon Carter Museum of American Art | 3501 Camp Bowie Blvd, Fort Worth, TX 76107, United States |
| Fort Worth Botanic Garden | 3220 Botanic Garden Blvd, Fort Worth, TX 76107, United States |
| Stockyards Museum | 131 E Exchange Ave #113, Fort Worth, TX 76164, United States |
| National Cowgirl Museum and Hall of Fame | 1720 Gendy St, Fort Worth, TX 76107, United States |
| Japanese Garden | 3220 Botanic Japanese, Garden Boulevard, Fort Worth, TX 76107, United States |
| Fort Worth Main Street Visitor Center | 508 Main St, Fort Worth, TX 76102, United States |
| C R Smith Museum | 4601 Hwy 360, Fort Worth, TX 76155, United States |
| Downtown Fort Worth, Inc. | 777 Taylor St #100, Fort Worth, TX 76102, United States |
| Trinity Park | 2401 University Dr, Fort Worth, TX 76107, United States |
| Fort Worth Aviation Museum | 3300 Ross Ave, Fort Worth, TX 76161, United States |
| Fort Worth Nature Center & Refuge | 9601 Fossil Ridge Rd, Fort Worth, TX 76135, United States |
Sports and Entertainment in Fort Worth
There are many amazing stadiums nearby. Fort Worth is also home to sports clubs, and games are typically currently happening year-round. The town also hosts sports facilities for the athlete in your family. Additionally, there are sporting events that take place through the years that could be appreciated by all ages. Local stadiums nearby:
| name | address |
| --- | --- |
| Topgolf | 2201 E 4th St, Fort Worth, TX 76102, United States |
| Texas Motor Speedway | 3545 Lone Star Cir, Fort Worth, TX 76177, United States |
| Cowtown Bowling Center | 4333 River Oaks Blvd, Fort Worth, TX 76114, United States |
| Main Event Fort Worth South | 4801 Citylake Blvd W East, Fort Worth, TX 76132, United States |
| Game On Arena Sports | 251 Settlement Plaza Dr, Fort Worth, TX 76108, United States |