Rent an RV near Denver, Colorado
When considering renting an RV near Denver, Colorado, you're going to have many different types of RVs, motorhomes, campers and travel trailers to choose from. Depending on the type of trip you are taking to or from Denver, Colorado, you'll want to choose an RV for rent that includes the amenities you'll need for you, your friends or family. RV rentals in Denver, Colorado are in high demand, especially between Memorial Day weekend and Labor Day weekend, so you'll want to book your RV for rent in advance....
When renting an RV or camper you will need RV Rental protection in case the unthinkable happens. Many people mistakenly believe that their personal auto policy will cover their RV rental only to find out too late that this is untrue. It's likely your Auto Insurance Policy is not going to cover the RV Rental. When you rent an RV on RVnGO.com, RV rental protection is automatically included in your rental. For a low nightly rate, you will receive $1,000,000 in liability coverage and up to $250,000 in property damage coverage. With RVnGO's RV rental protection plans, you can rent an RV with the peace of mind that you are covered in the case something happens on your trip. RVnGO's RV rental protection plans also cover RV owners, in the case something is broken or damaged on the RV during your trip.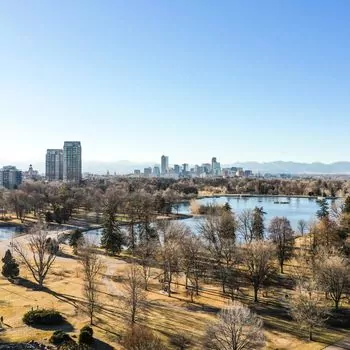 Denver
is known as the Mile High City due to the elevation of the city being exactly 1 mile above sea level. Denver is a cultural diverse population with that offers interesting and unique history. In 2016 Denver was name the Best Place to Live in the U.S.
Camping and RV Parks near Denver
Denver is full of camping and adventure – so make sure to get your RV rental and campsite so you can join the fun. Camping in an RV park lets you be out with nature, but keeps you from sleeping on the ground. Find the best RV park for you in Denver.
Step outside your RV rental and you are already in a world of wonder and adventure at Clear Creek RV Park. Here, you can hike, fish, and find new adventures where ever you look. Based right off of the Clear Creek so you get to enjoy the sights and sounds that come with it. At this RV park you have many amenities and close to many different shops and attractions so you can explore as you choose.
Prospect RV Park is a full service park that can accommodate any size or class of RV. You get to enjoy the feeling of being away while still having the availability of shops and amenities right around the corner if you need them. This site has full hook up and is located right off the free way so you can easily explore Denver at your leisure.
At Flying Saucer RV Park you can find the perfect RV camping experience. If you want to sleep barebones or if you want a full hook up – they offer it. Conveniently located outside of Denver next to a light rail that can take you anywhere you want to go if you choose not to drive. The park is on a riverfront so enjoy beautiful sights and some occasional fishing. Be sure to give this RV park a look when finding the right place for your RV rental in Denver.
National Parks and State Parks near Denver
There are beautiful National and State Parks near Denver. There are so many parks and sites to see while in Colorado. Make sure you find the perfect place to stay while on your vacation in Denver.
Just outside of Denver is Roxborough State Park where you can find over 4,000 acres of preserved land. Full of different types of rock formations and a wide array for animals and plants. You can hike, camp, and relax out in Roxborough State park and enjoy it on your own terms. This is a great state park for new and experienced outdoor enthusiasts.
Right outside of town is Cherry Creek State Park. Here you will find great camping, a lake for boating and all water sports, there is also hiking and other activities you can find. You do not need to go far to escape the city and get away from the crowds. Enjoy your time in nature as you spend time with close friends and family.
Denver Attractions
There are tons of attractions in Denver that you must check out. Denver is full of fun and exciting events and attractions in and around the city. Make sure to plan your attractions accordingly to see and do everything you want to while in Denver.
The Red Rocks Park & Amphitheater is a popular venue for music listeners to enjoy concerts and shows. Located out in the red rocks with a beautiful and scenic landscape – you can enjoy nature and shows at the same time. There are other activities like hiking and stargazing during nights without any events going on. Make sure to stop by this staple when visiting Denver.
Get the inside look on how Coors HQ located in Denver. You can watch as the beer goes from brewery to the can with the blue mountains. During the Coors Brewery Tours, you can go behind the glass and see the canning and bottling process. See how the beer is brewed and malted, and then at the end, you can sample the fresh product right from the tap.
Denver Events
There is always something going on in Denver. You can always find the perfect event that will scratch that itch of experience and adventure.
Denver Events
are fun and exciting ranging from the celebration of food, music, history, and everything in between.
Make sure you have the Great American Beer Festival on your bucket list to visit when going to Denver. Here you can sample and try an assortment of unique and delicious beers from different breweries across America. Not only is this a place where beer lovers gather and drink all the beer they could want. But it is a major competition where top beers and breweries pit themselves against each other to see who comes out on top. Do not miss the Great American Beer Festival.
The Colorado Fair & Rodeo is a famous event that brings crowds of people to Denver. There are fun carnival rides and amusement parks that will provide entertainment for those who are seeking a thrill. There are also concerts and live entertainment that you can sit back and enjoy the show. Make sure to grub on all the delicious fried goodies that the state fair offers.