Rent an RV near Dallas, Georgia
When considering renting an RV near Dallas, Georgia, you're going to have many different types of RVs, motorhomes, campers and travel trailers to choose from. Depending on the type of trip you are taking to or from Dallas, Georgia, you'll want to choose an RV for rent that includes the amenities you'll need for you, your friends or family. RV rentals in Dallas, Georgia are in high demand, especially between Memorial Day weekend and Labor Day weekend, so you'll want to book your RV for rent in advance....
When renting an RV or camper you will need RV Rental protection in case the unthinkable happens. Many people mistakenly believe that their personal auto policy will cover their RV rental only to find out too late that this is untrue. It's likely your Auto Insurance Policy is not going to cover the RV Rental. When you rent an RV on RVnGO.com, RV rental protection is automatically included in your rental. For a low nightly rate, you will receive $1,000,000 in liability coverage and up to $250,000 in property damage coverage. With RVnGO's RV rental protection plans, you can rent an RV with the peace of mind that you are covered in the case something happens on your trip. RVnGO's RV rental protection plans also cover RV owners, in the case something is broken or damaged on the RV during your trip.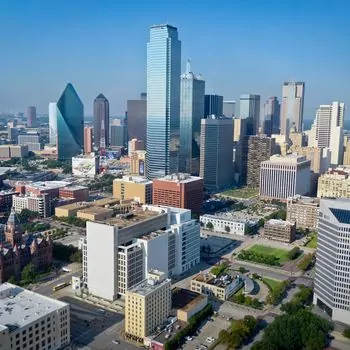 Dallas
is one of the most popular travel destinations within the U.S. Having a huge population and many attractions that bring people to the city. Dallas hosts many large professional sports teams and is a rich cultural and historical presence within the nation. There is always something to do and somewhere to be in Dallas. Enjoy the entertainment, food, and sites of the beautiful city of Dallas.
Camping and RV Parks near Dallas
When you are in your RV rental in Dallas, you are going to want to find the perfect place to camp. There are plenty of rv parks that offer RV hook ups and great camping options. Be sure to take a look at the website to ensure they have availability and space to accommodate your RV rental.
Good Luck RV hosts one of the best locations of all RV parks in Dallas. Having easy access to freeways and being perfectly located only 10 minutes away from downtown area of Dallas, you can easily use this as a home base while exploring Dallas. Enjoy the luxury of RV rentals in this RV park and have a home away from home while in Dallas.
Lakeside RV Parks is a great option for a campsite while RVing in Dallas. The RV park is conveniently located just 20 minutes away from Dallas and easily reach stores, restaurants, and other shops within minutes. Getaway in Dallas in your RV rental in style and enjoy the parks many offerings. Sitting on four ponds, you can relax and enjoy the views while fishing. Lakeside RV Park is a easy way to enjoy your trip to Dallas.
Sandy Lake RV Park is a great way to get the full Dallas experience while staying in an RV rental. The campsite is only 20 minutes away from downtown Dallas, so you are in the heart of it while having the luxury of camping in an RV. There are events and activities planned for entertainment while in the RV park. Also enjoy a wide range of amenities such as a fitness center, swimming pool, and even a dog park!
National Parks and State Parks near Dallas
There are beautiful National and State Parks near Dallas. Get an RV rental and head there for an amazing adventure or a weekend getaway. Connect with the great outdoors with your family and friends when you rent an RV.
Beer Creek Nature Park is a great park to escape to the outdoors to. Offering many different hiking and walking trails to see and explore nature. Relax and enjoy some fishing on you're your friends and family for some bonding time. There are more adrenaline pumping activities for those looking for a thrill, such as horseback riding and rock climbing. There is something for everyone at the Bear Creek Nature Park.
If you are a fan of history and dinosaurs, then you will definitely want to check out this State Park. Just a short drive from Dallas and you will find yourself in Dinosaur Valley State Park. Here you can find all sorts of remains and trails of where dinosaurs once roamed. You can hike, camp, and discover the history of dinosaurs during your adventure at this state park. This is a must see – and perfect for a family vacation.
Dallas Attractions
There are tons of attractions in Austin that you must check out.
Visit the home of the worlds most recognized sports brand – The Dallas Cowboys. AT&T Stadium is the worlds largest domed structures and offers many different experience inside besides just football. During the season, you can see a fun game of American Football – but during the offseason, the experiences are still endless. There are many tours of the facilities and exhibits throughout the stadium. Be sure to visit this staple during your next stop in Dallas.
For a more laid back and relaxing experience when in Dallas, you must stop by the Dallas Arboretum and Botanical Gardens. Here you will find fields of beautiful and scenic flowers and landscapes. This is the perfect place to decompress from the many stresses of the world. There is a push towards sustainability and going green so stop by for a cooking demo or taste testing from produce and ingredients that are fresh and locally grown.
Dallas is the place where the infamous assassination of President John F. Kennedy. In memory of his life and death, the Sixth Floor Museum was created to always remember that historic day. You can stand where Lee Harvey Oswald stood as he took a shot that changed the course of history. This museum celebrates the legacy and like the John F. Kennedy stood for.
Dallas Events
There is always something going on in Dallas. You can always find the perfect event that will scratch that itch of experience and adventure.
Dallas Events
are fun and exciting ranging from the celebration of food, music, history, and everything in between.
One of the biggest and most popular events that takes place in Dallas every year is the State Fair of Texas. People come from far and wide to attend this world famous state fair. Boasting a wide array for delicious and tasty treats, to some of the best festival rides you can find, as well as entertainment around every corner. Find shows that will drop your jaw and rides that will have you screaming like a small child. Come find what all the fuss is about at the State Fair of Texas in Dallas.
One of a kind experience for those who are enthralled in the world of film. From directing to screenwriting to acting, you will want to be in Dallas for the Film Festival. Celebrate the art that goes into creating the movies and films that we know and love. Surround yourself with others just as passionate to you to learn and grow in the film industry.
One of the best street art festivals in the country takes place annually in Dallas. The Deep Ellum Arts festival has stellar visual and performing arts that is meant to be captivating and unique. 7 blocks are used for this massive festival that allows the mind to wander and wonder about the creativity that they can see around them. This adventure will allow you to find the perfect art the speaks to you and open your mind about all the possibilities that are out there.