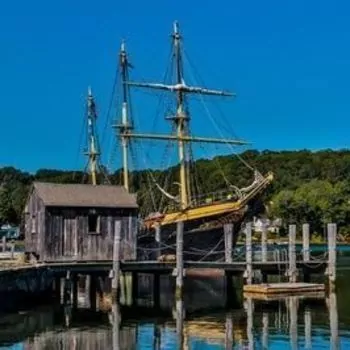 Connecticut, a southern New England state nestled between New York and Massachusetts, is speckled with rural areas and coastal cities. It spans only 110 miles from east to west and 70 north to south, yet is home to Yale University, the renowned Peabody Museum of Natural History, the Mystic Aquarium and Seaport museum which exhibits centuries-old ships and more. A revolutionary state, natural beauty abounds here, and its Connecticut Art Trail boasts 21 world-class museums and historic sites to explore! Book your Connecticut Motorhome today with RVnGO and hit the road to glory.
COVID-19 / CORONAVIRUS UPDATES FOR NATIONAL PARKS IN CONNECTICUT
Connecticut National Park Closure Updates
The National Park Service is modifying its operations on a park-by-park basis in accordance with the latest guidance from the Centers for Disease Control and Prevention (CDC) and state and local public health authorities. While most facilities and events are closed or canceled, outdoor spaces in some parks remain accessible to the public. Before visiting, please check with individual parks regarding changes to park operations. If you choose to visit a national park, please ensure that you follow CDC and state and local guidelines to prevent the spread of infectious diseases and practice Leave No Trace principles. Updates about the NPS response, including safety information, are posted on
The National Parks Service Coronavirus Website.
COVID-19 / CORONAVIRUS UPDATES FOR STATE PARKS IN CONNECTICUT
Click for Up to Date Connecticut State Park COVID-19 Updates
In accordance with Governor Lamont's Executive Orders 7 and 7R, the trails and grounds of Connecticut State Parks and Forests are open for solitary outdoor enjoyment.
If you plan on visiting a park, it should be for solitary recreation, not group activities.
Please plan ahead as many amenities and indoor facilities are closed, and visitors are encouraged to follow these guidelines to enhance social distancing: Reducing community spread of coronavirus is imperative, and DEEP asks visitors to Connecticut State Parks and Forests to take the following steps to enhance "social distancing" when enjoying the outdoors.
Connecticut Attractions
Gillette Castle State Park
This crown jewel of thespian William Hooker Gillette is a 24-room mansion that more resembles a medieval castle and pulls in guests every year to its beautiful location. Situated on a 184-acre estate, building began in 1914 and took 20 men five years to complete the main structure which features many unique carvings from hand-hewn southern white oak. Out of the 47 inside doors, no two are alike. Among the grounds that the
Gillette Castle
sits upon you will find walking trails, a goldfish pond, a three mile long railroad, and more. Any way you decide to explore it, don't miss this extraordinary chance to see a real American Castle with your RV rental in Connecticut.
Rocky Neck State Park
The shoreline on Long Island Sound is an oasis from the bustling urban areas in the New England Region. RVers in a campervan rental in Connecticut will appreciate the soft sandy beaches, salt marsh viewing, train watching and more presented at
Rocky Neck State Park.
Spend the day crabbing, spotting water fowl while hoping for a fish to bite or just soak up some sun and listen to the lapping waves.
Candlewood Lake
Candlewood
is Connecticut's biggest lake where guests can unwind while angling, boating, kayaking, or standup paddle boarding. Along the 11-mile body of water there are a
plethora
of coves, harbors, marinas, parks, and trails to explore.
Candlewood Lake Town Park
is a nice respite and is known for its picture-postcard beachfront which spans 200 yards, benches, boat docking, concession stand, playground and picnic tables.
Connecticut State Parks/Campgrounds
Bear Creek Campground at Lake Compounce
Bear Creek Campground at Lake Compounce
is situated in Bristol, just a couple of minutes from the city of Hartford. A family-oriented campground, it is adjacent to the oldest, continuously operating amusement park which is home to the world's #1 wooden roller coaster! It has 56 accessible full hookups with tables, fire rings, BBQ offices, tables, and space for slideouts. Offices and courtesies include a play area, horseshoes, rec halls, outside activities, lawn bowling, wi-fi access, restrooms and showers, ATM machine, laundry rooms, staple goods, RV supplies and visitor administration. Stop season is from May 1 to October 31 for your Connecticut camper rental.
Seaport RV Resort and Campground
Located in the enchanting town of Old Mystic, the
Seaport RV Resort and Campground
is an ideal docking spot to moor. It has 126 accessible spaces with flame rings, tables, and room for slideouts. Offices and luxuries include wi-fi access, heated pool, horseshoes, structure, mini golf, game room, play area, outside games, goods, fishing supplies, laundry rooms, restrooms and showers, golf carts, RV supplies, and much more. Stop season is from April 15 to October 31.
Riverdale Farm Campsite
Appreciate various outside exercises with the family at the
Riverdale Farm Campsite.
Only a couple of miles from New Haven it is a great home base if you plan to investigate the city and its surrounding land. It has 120 accessible spaces, 85 of which are full hookup destinations with tables, porches, fire rings, and slideouts areas. Offices and enhancements have a game room, outside games, play areas, horseshoes, shuffleboard, fishing, satellite TV, ATM machine, restrooms and showers, RV stockpiling and supplies, basic needs, laundry rooms and much more. Appreciate Riverdale Farm Campsite in your Connecticut trailer rental. Stop season is from April 15 to November 1.
Celebrations and Events
Plainville Hot Air Balloon Festival
An annual endeavor put on by the town's fire company, the
Plainville Hot Air Balloon Festival
is one of the best events in Hartford County. This 3-day extravaganza features live music, fireworks, a sock hop and car show. Beside watching the daily balloon launches, you might be able to hitch a ride with prior arrangement through individual balloon companies. Dazzling colors can also be enjoyed at the craft show and rest assured there will be loads of food and drinks!
Milford Oyster Festival
Seafood lovers will be happier than a clam to attend the Milford Oyster Festival. Held each August going on 45 years, it is said to have the largest variety of oysters of any festival in the USA - 21 varieties from 8 East Coast states. In addition, there will be over 6,000 clams to be shucked, craft beer, premium wine and other great foods. The celebration also has activities for kids, a Schooner cruise, live music, police K-9 shows, a car show, and a fire department open house. Ship the crew on over to the
Milford Oyster Festival
for a swashbuckling good time. Officially known as "The Constitution State," Connecticut overflows with diverse activities and beautiful sights. Locals refer to it as "The Nutmeg State" due to the practice of peddlers traveling about selling nutmeg. Spice up your travel schedule and take the opportunity to cruise the Connecticut shoreline with a motorhome leased at RVnGO!