Rent an RV near Columbus, Ohio
When considering renting an RV near Columbus, Ohio, you're going to have many different types of RVs, motorhomes, campers and travel trailers to choose from. Depending on the type of trip you are taking to or from Columbus, Ohio, you'll want to choose an RV for rent that includes the amenities you'll need for you, your friends or family. RV rentals in Columbus, Ohio are in high demand, especially between Memorial Day weekend and Labor Day weekend, so you'll want to book your RV for rent in advance....
When renting an RV or camper you will need RV Rental protection in case the unthinkable happens. Many people mistakenly believe that their personal auto policy will cover their RV rental only to find out too late that this is untrue. It's likely your Auto Insurance Policy is not going to cover the RV Rental. When you rent an RV on RVnGO.com, RV rental protection is automatically included in your rental. For a low nightly rate, you will receive $1,000,000 in liability coverage and up to $250,000 in property damage coverage. With RVnGO's RV rental protection plans, you can rent an RV with the peace of mind that you are covered in the case something happens on your trip. RVnGO's RV rental protection plans also cover RV owners, in the case something is broken or damaged on the RV during your trip.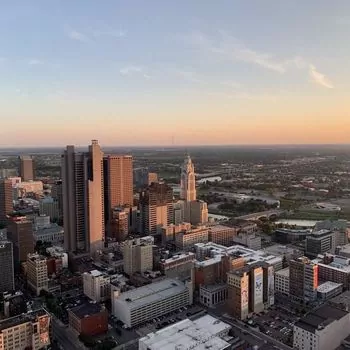 One of the best things about an RV rental in Columbus, Ohio is the flexibility of your stay and where you go. In Ohio, you'll find anything from museums to live music and their welcoming community. One of the best places to explore is Columbus which has a surprising amount of things to see and do. Here's how to enjoy your RV rental vacation near Columbus, Ohio.
Camping and RV Parks near Columbus
The Ohio State Buckeyes are one of the best collegiate sports teams in the USA. Based right here in Columbus, you can go see a football or baseball game or one of their other sporting events. While in Columbus you can also see the beautiful nature with their state parks. This state is full of lakes, reservoir's, waterfalls and other hidden gems. With RVnGO you can stay close to all the action of Columbus and enjoy the true experience in an RV rental. Columbus also offers great RV parks which we have found below.
Just 9 miles West of Downtown Columbus, Columbus South RV Park features 35 full hookup RV sites. Each site is equipped with water, sewer and 30 or 50 amp electrical service. The park offers free Wi-Fi, newly remolded restrooms, showers and an updated laundromat. With reasonable rates this RV park creates a scenic Columbus atmosphere. The park features a historic building that serves as an office for the park staff. With manicured lawns and flowers, sitting outside of the main building at their campfire is the perfect way to unwind on your RV trip!
This municipal park is just outside of Columbus Ohio with a 10 minute drive into the heart of its downtown. The Pastime Park is filled with mature Oak Trees and multiple historical bridges. The park offers 38 grass sites with water and electric and 4 full hookup gravel sites. Enjoy their newly renovated bathhouse, playground and free dump site. At this park you can enjoy a disc golf course, sand volleyball courts, swimming pool, basketball court, and picnic gazebos. In the summer months campers can also enjoy the Free Music in the Park series as well as the popular 4th of July Celebration. Enjoy the quiet beauty of Ohio at this hospitable park!
Hidden Cove RV Resort is a wonderful, family-oriented, camping getaway with first-class amenities. Highly rated by Trailer Life, Good Sam and Google Reviews come see what all the fuss is about in Ohio! Their goal is to provide families with a fun filled camping experience whether you are staying for the weekend or longer. With new activities every week and live music once a week this RV Park is sure to make for an amazing adventure! There are plenty of amenities to experience. The highlights include pool volleyball, wagon rides, candy bingo, fire engine rides, train rides, hiking trails, book exchange and tennis! Other than all these free amenities campers can pay extra for pancake breakfasts, boat rentals at the nearby lake, gem mine, tie die, and 4-person bikes. Explore Columbus and stay at this park for an unforgettable adventure!
National Parks and State Parks near Columbus
There are beautiful National and State Parks near Columbus. Make sure to visit them in your RV rental for a great weekend in the outdoors. Columbus has plenty of nature everyone can enjoy!
This 3000ft long beach on the Alum Creek Reservoir makes for the perfect day trip near Columbus, Ohio. With sandy shores and a beautiful waterfront view this beach is perfect for a hot summer day. The beach frequently hosts food trucks in the parking lot for snacks and meals. The family friendly beach also has bathrooms and kids play areas right next to the shores. This beach is a can't miss spot on your next trip to Columbus!
Buckeye Lake State Park is the oldest park in Ohio. Just East of the city this State Park offers an unforgettable experience. At this state park you can enjoy swimming, boating, fishing, picnicking, and grilling. Take a day trip with the family or friends and enjoy a day on the lake! First serving as a feeder lake for Ohio's canal systems the parkland in the 1800s began drawing tourists from all over Ohio! Today people come from all over to enjoy the scenic views from their over 3,000 acre lake. Their 4 mile shoreline path for hiking and biking connects to the Lieb's island. This path is perfect for exploring and relaxing as well as offers one of a kind fishing spots!
This park may be a secret swimming hole to the locals, but it is well worth the drive from anywhere in the state. The Hayden Falls Park is a gem to find and worth every minute exploring. This park features a 35ft waterfall, boardwalk overlook and picnic tables. With a short hike on paved stairs to the falls this makes for the perfect family trip. Enjoy the surrounding lush forest and the one of a kind sounds a natural waterfall makes. On the other side of the nature preserve you can also enjoy the untouched nature that makes Ohio a beautiful destination. Located in the midst of the city this park makes for an easy getaway!
Columbus Attractions
There are tons of attractions in Columbus that you must check out. Columbus is a great place to visit and find opportunities to find fun wherever you go.
If you are RV camping Columbus, Ohio has lots of places with main attractions. One of the top sights is Columbus Zoo and Aquarium which is home to over 9000 animals. You can watch a polar bear swim and chill out at the Zambezi Bay water park. Or, say hi to the gorillas and enjoy observing the elephants. When you spend the day here, you'll soon see why it has been named America's best zoo.
Columbus has a vibrant art scene so if you are into culture, it is just the place to explore. There are RVs for rent near Columbus, Ohio and places to camp. The Columbus Museum of Art has work from local artists as well as European and American painters. There are interactive displays too. The Short North District Arts Trail is another popular activity and you'll also find some interesting galleries in Franklinton. Columbus, Ohio attractions in the art scene include several performing arts venues.
Columbus Events
There is always something going on in Columbus. You can always find the perfect event that will scratch that itch of experience and adventure. Columbus Events are fun and exciting ranging from the celebration of food, music, history, and everything in between.
The world's largest 3 day Irish Festival has been adapted to the covid era and has now become the Dublin Irish Days. Held in person at Dublin Coffman park, attendees can experience free and ticketed events including 5k race, performing arts, marketplace, live music and more. In 2021 the festival also offers virtual experiences which reoccur daily until August 8th. Catch a classic Irish festival at this one of a kind experience!
Celebrating 10 years in 2021 this Food Truck Festival is perfect for foodies and big eaters. At the heart of Franklinton in Columbus this Food Truck festival offers a new experience in the arts district. The Columbus Food Truck Festival is also apart of the Scrawl 15, a mural and street art festival in the arts district. Here you can enjoy street art masterpieces, brand new murals, live music, DJs and the best food trucks and local brews. Enjoy your artsy side and all the great food Columbus has to offer here!
RV Campgrounds in Columbus
Set up with your household at Alton RV Park for one of the stops. The campers in your family will enjoy a peaceful weekend in one of the nice campgrounds of the city. Wherever you decide to push your RV lease, there are plenty of stops.
| name | address |
| --- | --- |
| Alton RV Park | 6552 W Broad St, Galloway, OH 43119, United States |
| Korbel East Campground | Columbus, OH 43211, United States |
| Korbel North Campground | Columbus, OH 43211, United States |
| Cross Creek Camping Resort | 3190 S Old State Rd, Delaware, OH 43015, United States |
| Greenlawn Co | 6445 S High St, Lockbourne, OH 43137, United States |
| Northern Pines Mobile Home Park | 3137 Westerville Rd, Columbus, OH 43224, United States |
| Caravan Village at Harmon | 1049 Harmon Ave, Columbus, OH 43223, United States |
| Buckeye Lake / Columbus East KOA Holiday | 4460 Walnut Rd, Buckeye Lake, OH 43008, United States |
| Pastime Park | 370 N Chillicothe St, Plain City, OH 43064, United States |
| Reasonable Living LLC | 5037 Kilbourne Run Pl, Columbus, OH 43229, United States |
| Sunbury / Columbus North KOA Holiday | 8644 Porter Central Rd, Sunbury, OH 43074, United States |
| Tree Haven Camp Grounds Inc | 4855 Miller-Paul Rd, Westerville, OH 43082, United States |
| Courtyard Estates | 5019 N High St, Columbus, OH 43214, United States |
| Southwind Villa Mobile Home Park | 1056 Smith Rd, Columbus, OH 43207, United States |
| Dyer's Mobile Home Court | 4715 Sullivant Ave, Columbus, OH 43228, United States |
| By Way Mobile Home Park | 3335 Barr St, Columbus, OH 43224, United States |
| Anchor Mobile Home Park | 1402 Moler Rd, Columbus, OH 43207, United States |
| Highbanks Metro Park | 9466 Columbus Pike, Lewis Center, OH 43035, United States |
| Fairlane Mobile Home Park | 3433 S High St, Columbus, OH 43207, United States |
| Jackson Lake Campground & Park LLC | 3715 Cedar Hill Rd NW, Canal Winchester, OH 43110, United States |
US National & State Parks in or Near Columbus
The state and national parks of Columbus, Ohio offer breathtaking views for almost any outdoor enthusiast. Carry your kayak to among Ohio national or state parks throughout your vacation at one of our RVs. The town is famous for downtown and huge skyscrapers, but views of character are available nearby at Archery Park. Our many travel trailers offer a variety of accommodations to accompany you on your visit.
RV Storage Facilities in Columbus
Store your RV during your visit any of the RV Storage Facilities at the Columbus area.
If you intend on making in any of the parks and attractions in the region, or a stop downtown, you will need to find a place. RV Storage Facilities offer you peace of mind while you enjoy your vacation destination, so that you don't have to be worried about your lease being ruined, or broken into while you are gone. There are various places to choose from in the area, and many provide security guards and surveillance inside the facility.
| name | address |
| --- | --- |
| AAA Storage King | 4552 Lockbourne Rd, Columbus, OH 43207, United States |
| Lee's RV & Boat Storage | 3790 Scioto Darby Creek Rd, Hilliard, OH 43026, United States |
| Rome Hilliard Self-Storage Inc | 466 Hilliard Rome Rd, Columbus, OH 43228, United States |
| Tri-Village Self Storage | 3490 Trabue Rd, Columbus, OH 43204, United States |
| G&K Boat & RV Storage | 6608 Taylor Rd, Blacklick, OH 43004, United States |
| CubeSmart Self Storage | 4061 Roberts Rd, Columbus, OH 43228, United States |
| Tri-Village Self Storage | 195 E Long St, Columbus, OH 43215, United States |
| U-Haul Moving & Storage at Georgesville Road | 775 Georgesville Rd, Columbus, OH 43228, United States |
| Gahanna RV & Boat Storage | 720 Agler Rd, Gahanna, OH 43230, United States |
| CAR-GO Self Storage | 490 N Hamilton Rd, Columbus, OH 43219, United States |
| Briggs Self Storage | 1521 Harrisburg Pike, Columbus, OH 43223, United States |
| Extra Space Storage | 5660 W Broad St, Columbus, OH 43228, United States |
| Simply Self Storage | 810 E Cooke Rd, Columbus, OH 43214, United States |
| CubeSmart Self Storage | 3344 Morse Rd, Columbus, OH 43231, United States |
| Extra Space Storage | 2087 S Hamilton Rd, Columbus, OH 43232, United States |
| CubeSmart Self Storage | 3391 S High St, Columbus, OH 43207, United States |
| Extra Space Storage | 900 Urlin Ave, Columbus, OH 43215, United States |
| Gateway Self Storage | 750 E 11th Ave, Columbus, OH 43211, United States |
| Stor All Self Storage | 4060 E Main St, Columbus, OH 43213, United States |
| CubeSmart Self Storage | 1531 Georgesville Rd, Columbus, OH 43228, United States |
Popular Tourist Attractions in Columbus
Thinking of Going to Columbus, Ohio?
Explore a number of the attractions in the city during your trip! Campgrounds and vistas that are organic are not the only attractions you may encounter on your trip. Many attractions are an easy drive away. Once you've parked your lease at a nearby RV Center, you'll be liberated to explore lots of destinations. Get in touch with the attractions beforehand to determine if they provide accomidations for the RV camper or truck.
| name | address |
| --- | --- |
| Franklin Park Conservatory and Botanical Gardens | 1777 E Broad St, Columbus, OH 43203, United States |
| Center of Science and Industry | 333 W Broad St, Columbus, OH 43215, United States |
| Columbus Museum of Art | 480 E Broad St, Columbus, OH 43215, United States |
| Topiary Park | 480 E Town St, Columbus, OH 43215, United States |
| Ohio Statehouse | 1 Capitol Square, Columbus, OH 43215, United States |
| Scioto Mile Promenade | 233 S Civic Center Dr, Columbus, OH 43215, United States |
| Wagner-Hagans Auto Museum | 476 E Kossuth St, Columbus, OH 43206, United States |
| Ohio History Connection | 800 E 17th Ave, Columbus, OH 43211, United States |
| ZipZone Outdoor Adventures | 7925 N High St, Columbus, OH 43235, United States |
| Schiller Park | 1069 Jaeger St, Columbus, OH 43206, United States |
| SegAway Tours of Columbus | 400 N High St, Columbus, OH 43215, United States |
| Thurber House | 77 Jefferson Ave, Columbus, OH 43215, United States |
| John F. Wolfe Columbus Commons | 160 S High St, Columbus, OH 43215, United States |
| Kelton House Museum & Garden | 586 E Town St, Columbus, OH 43215, United States |
| Bicentennial Park | 233 S Civic Center Dr, Columbus, OH 43215, United States |
| Billy Ireland Cartoon Library & Museum | 1813 N High St, Columbus, OH 43210, United States |
| Stuart Little Household | 717.125 S 3rd St, Columbus, OH 43206, United States |
| Gambrinus: King of Beer | Columbus, OH 43215, United States |
| Hayden Falls Park | 4326 Hayden Run Rd, Dublin, OH 43017, United States |
| Buckeye Escape Room | 1495 Morse Rd, Columbus, OH 43229, United States |
Sports and Entertainment in Columbus
There are various wonderful stadiums nearby. Columbus is home to many sports groups, and matches are currently happening year-round. The town also hosts sports facilities for the athlete on your loved ones. Additionally, there are sporting events that take place through the years that could be enjoyed by all ages. Stadiums nearby:
| name | address |
| --- | --- |
| Empire Sports & Entertainment | 5900 Sawmill Rd #200, Dublin, OH 43017, United States |
| Nationwide Arena | 200 W Nationwide Blvd, Columbus, OH 43215, United States |
| North Columbus Sports Inc | 4241 Rudy Rd, Columbus, OH 43214, United States |
| Classic's Victory's Sports Bar | 547 S High St, Columbus, OH 43212, United States |
| Grand Prix Karting Indoor Entertainment | 1300 Alum Creek Dr, Columbus, OH 43209, United States |
| Stars Indoor Sports | 6124 Busch Blvd, Columbus, OH 43229, United States |
| Buckeye Sports Center | 717 E 17th Ave, Columbus, OH 43211, United States |
| Arena District | 375 N Front St, Columbus, OH 43215, United States |
| RollHouse Entertainment Columbus | 500 Georgesville Rd, Columbus, OH 43228, United States |
| M3S Sports, LLC | 5003 Horizons Dr #100, Columbus, OH 43220, United States |
| The Schottenstein Center | 555 Borror Dr, Columbus, OH 43210, United States |
| Sterling Sports Management | 1227 Kilham Ct, Columbus, OH 43235, United States |