Rent an RV near Cincinnati, Ohio
When considering renting an RV near Cincinnati, Ohio, you're going to have many different types of RVs, motorhomes, campers and travel trailers to choose from. Depending on the type of trip you are taking to or from Cincinnati, Ohio, you'll want to choose an RV for rent that includes the amenities you'll need for you, your friends or family. RV rentals in Cincinnati, Ohio are in high demand, especially between Memorial Day weekend and Labor Day weekend, so you'll want to book your RV for rent in advance....
When renting an RV or camper you will need RV Rental protection in case the unthinkable happens. Many people mistakenly believe that their personal auto policy will cover their RV rental only to find out too late that this is untrue. It's likely your Auto Insurance Policy is not going to cover the RV Rental. When you rent an RV on RVnGO.com, RV rental protection is automatically included in your rental. For a low nightly rate, you will receive $1,000,000 in liability coverage and up to $250,000 in property damage coverage. With RVnGO's RV rental protection plans, you can rent an RV with the peace of mind that you are covered in the case something happens on your trip. RVnGO's RV rental protection plans also cover RV owners, in the case something is broken or damaged on the RV during your trip.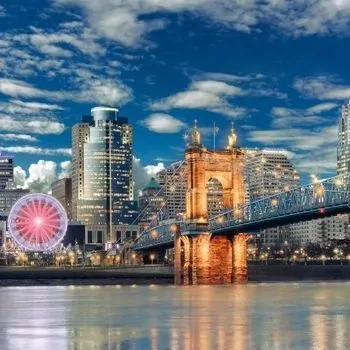 Over 300,000 residents call Cincinnati their home. The city has something extraordinary to offer for every traveler with a unique mix of culture, arts, and outdoor activities. To get the most out of your vacation, consider renting an RV on your next trip to the Queen City. Once you book an RV rental in Cincinnati, you'll get to experience the city like never before. The city is RV-friendly, and there are several locations where you can go RV camping in Cincinnati. When parked here, you can explore the city on foot and get a taste of the Cincinnati culture from its cultural shows, numerous parks, and even outdoor trails.
Camping and RV Parks near Cincinnati
You can easily find an RV rental by owner around Cincinnati with numerous RV rental options. If you plan to rent an RV in Cincinnati, you will want to park it in the best location. The good news is, the city has innumerable offerings for safe and accessible RV parks.
The Cincinnati KOA is one of the most popular RV parks in the Cincinnati area. Staying in this park gives you access to many attractions for kids and adults alike, such as Newport Aquarium and Valley Vineyards. If you plan to rent an RV in Cincinnati, you are sure to meet many other RV campers here. The site is open all year-round and is pet-friendly so that you can bring your pets along for the trip.
Staying at this campsite gives you an unparalleled view of the Ohio River and the surrounding hills. This campsite offers a laid-back feel with the convenience of amenities such as access to full hook-up and Wi-Fi connection. If you're booking an RV for rent near Cincinnati, this site can be the perfect spot for you. You can enjoy nature activities such as fishing. You can even access Coney Island and the Riverbend Music Center through this popular campsite.
This is a popular camping spot, especially if your RV rental in Cincinnati is on a long-term lease. This place offers long-term and short-term stays for a minimum of one week. RVs for rent near Cincinnati often find this a good camping spot as the site is located in central Cincinnati near I-75, I-71, and I-275. You can camp in either one of twenty-seven spacious lots to park your RV rental in Cincinnati.
National Parks and State Parks near Cincinnati
Cincinnati is known to be home to the best parks in the country. There are a total of seventy-four state parks in the area that you can visit with an RV rental in Cincinnati.
This park is Ohio's largest state park. It is located 25 miles from Cincinnati and boasts of a diverse landscape. Your RV rental in Cincinnati can give you a great view of the vast river valleys with picturesque sites of both the rough terrain and lush meadows. There are many activities to do here when you set up an RV camping in Cincinnati. Visitors can participate in swimming, kayaking, and exploring the woodlands.
This campsite is a three-hour drive from downtown Cincinnati, but the scenic views make the drive down here well worth the travel. If you plan to go RV camping in Cincinnati, make this park part of your itinerary. The winding Cuyahoga River is a major attraction for this park and gives way to the natural landscapes with waterfalls, ravines, and plenty of wildlife.
Mammoth Cave boasts 52,000 acres of human history and wildlife. It has been named a UNESCO World Heritage Site and has been recognized as one of the most expansive networks of caves. Having a motorhome rental in Cincinnati can take you to this park, a three-hour drive from the downtown area.
Cincinnati Attractions
You don't have to enjoy mountain climbing or hiking to have fun in and around Cincinnati. If you've splurged on a camper trailer rental in Cincinnati and are looking for some attractions to add to your itinerary, consider these favorites from the area.
Rent an RV in Cincinnati and head over to the Newport Aquarium. Conveniently located in Downtown Cincinnati, this place can let you interact with all sorts of aquatic creatures—from stingrays to sharks. If you have a camper rental in Cincinnati, this place should be on your bucket list.
More into flyers than felines? The Cincinnati Bird Viewing Preserve boasts 140 acres near a water reclamation facility. It's home to thousands of birds, including desert birds and waterfowl that migrate through the area. A paved path makes some viewing areas easy to access, and you can explore and birdwatch around nine ponds.
Operating since 1886, Coney Island Park is a historic landmark in Cincinnati. The waterpark is a great place to visit when you have a camper trailer rental in Cincinnati. This 400-acre property sits on the Ohio river banks and is a great place to cool down and have some fun in the sun when you rent an RV in Cincinnati.
Cincinnati Events
Cincinnati is always alive with many events that can make your vacation more memorable. Take a note of these events for when you book an RV for rent near Cincinnati.
Take your RV rental in Cincinnati and relive the life of old lords and ladies in this yearly event. Held at Ohio Renaissance Park, this event features more than 100 shows daily set against a 16th century English village.
Booking an RV rental in Cincinnati during March can take you to this yearly wine festival. Attendance at this event not only broadens your knowledge of Cincinnati culture, but it is also for a good cause as proceeds of this annual event go to funding for local charities.
Your RV rental in Cincinnati can take you to Paul Brown Stadium. Over three days, the festival features many local and national musicians showcasing the best in all music genres.