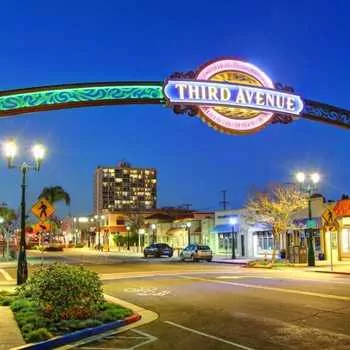 Campgrounds and RV Parks near Chula Vista, CA
California is the most populous state in the US and is home to many natural wonders and campgrounds to enjoy in an RV. With easy and affordable RV rentals from RVnGO, you can check out some of the scenic views and awe-inspiring locations near Chula Vista, CA. Located in San Diego County, Chula Vista is a rapidly growing population and economy.
San Diego Metro KOA Resort
Pio Pico RV Resort & Campground
Agua Caliente County Park
If you are looking for a campground with tons of long trails to explore then San Diego Metro KOA is a great choice. Whether you have an RV, tent, or want to experience renting a cabin, this campground has it all. KOA Resort is one of the most popular camping spots in San Diego and has plenty of fun and activities for the whole family. The campground is less than half an hour away from plenty of great San Diego destinations. You can even purchase tickets to attractions like Sea World, The San Diego ZOO and San Diego Zoo's Safari Park, LEGOLAND, and the USS Midway Museum at the front desk!
Thousand Trails Pio Pico RV Resort & Campground Camping has full-service RV camping spots for all types of recreational vehicles. If you are adventuring around with your RV rental from RVnGO, Pio Pico is one campground to consider. The resort is located in south San Diego and is near attractions like the zoo, Sea World, and multiple museums. The campgrounds are also only 20 minutes away from Mexico. You can easily make a trip down south of the boarder and enjoy a unique RV experience. Pio Pico is perfect for those looking for a quiet and peaceful experience.
Agua Caliente County Park is 910 acres of pristine California nature with some unique features. The park contains geothermally heated springs and spring water pools! The park is located in eastern San Diego County, California. The park has great features like an outdoor swimming pool, an outdoor children's pool for wading, and an indoor therapeutic spa. Site amenities include full and partial hookup RV sites so you can bring your RV rental and camp in luxury. Other facilities include shuffle board, horseshoes, day use picnic area, and dressing rooms. If you enjoy hiking, then the 3.95 miles of hiking trails are perfect for long treks in nature.
National Parks and State Parks near Chula Vista
Chula Vista contains plenty of amazing National and State Parks you should visit during your RV vacation. California is well known for its beautiful locations and nature. Considering visiting some of the parks below if you are looking for a slice of nature you cannot get anywhere else.
Visitors to this 500-acre regional park have quite a palette of activities to choose from. Modern campsites sit at the top of the summit, along with a seasonal splash pad, play areas, a 13-station exercise course, rentable picnic areas, a community room, an outdoor amphitheater and fishing at Sweetwater Reservoir.
Hikers, cyclists and equestrians will enjoy 15 miles of trails that meander up and down the hill, through open grasslands and along streamside vegetation boasting spectacular views of the reservoir and this unique urban oasis. Camper, trailer, and tent camping are all options among 112 sites – many with access to both water and power. Coin-operated showers are available for all campers.
The San Diego Bay National Wildlife Refuge was established to protect wildlife species that were threatened and endangered, and provide exclusive habitat just for them. Sweetwater Marsh provides habitat for four endangered or threatened species, and over 200 species of birds have been seen here. The Refuge is broken up into two distinct areas: the Sweetwater Marsh Unit and the South San Diego Bay Unit.
The Port of San Diego and City of Chula Vista are in the process of transforming the location into a recreational, residential and resort destination. The projects goal is to create new public parks, protect natural coastal resources, provide conference and visitor-serving amenities, and stimulate business and community within the area. Currently, you can enjoy plenty of awesome parts of the project like the San Diego Bay RV resort and Sweetwater Bicycle Path & Promenade.
Chula Vista Attractions
Chula Vista is more than just campgrounds. There are plenty of attractions you should check out to get a slice of the city. Attractions like the Chula Vista Bayfront Park are great for everything from bicycling to enjoying an outdoor picnic. If you find yourself RVing around Chula Vista, consider checking out these attractions on your way.
Looking for an attraction the whole family can enjoy? Then the Living Coast Discovery Center is one location you should check out, particularly if you are an animal lover. Some of the things you can do include going on a private wildlife tour, feeding a sea turtle, petting an opossum, and meeting majestic birds like the barn owl.
Chula Vista Bayfront is the perfect place for getting in some exercise and sun. You can enjoy long walks, biking trails, and multiple park areas. There is also an RV resort so you can easily park and camp in the area. The RV resort includes a mix of 197 RV sites and 49 vacation cottage rentals with a variety of upscale resort amenities including an onsite café and bar, indoor/outdoor gym, arcade, welcome center, and pool with panoramic views of San Diego Bay.
Aquatica San Diego is perfect for those that love water attractions and getting wet. You can enjoy Aquatica's largest wave pool with 500,000 gallons of water at the Big Surf Shores. It's not only the biggest Aquatica wave pool but one of the largest in California!
Events in Chula Vista, CA
There are plenty of things to keep you occupied in Chula Vista, CA during your RVing Journey. If you want to get the most out of your trip, then consider going to some events around the Chula Vista area. Events can range from anything from amusement parks to museum events.
If you enjoy wine and would like to take in the scenic views at the Guadalupe Valle, then this tour is for you! You will visit three artisan winemakers in the valley while enjoying a tasty selection of reds, whites, and roses. The tour will go through the wine-making process and enjoy a succulent BajaMed style lunch at Finca Altozano. The tour begins at 9:00 am and ends back in San Diego by 7:30 pm. Times are approximations, wineries, and restaurants subject to change based on availability and weather conditions. This is a Private Tour. You will have a private van for your party. No strangers. Minimum of four passengers per tour needed. Public tours are currently available also. Prices are $259 per adult.
Being so close to Mexico makes going there and getting a taste of a completely different city is easy. To make it even easier, you can go on a private day tour with a private group. The tour is a six-hour cultural event. Experience the history and beauty of Tijuana while walking the main streets and visiting the city market, museum, and Avenida Revolucion. Also, learn about the culture and unique plants of Tijuana through the botanical gardens in Zona Rio. Minimum of four people per booking needed.
If kayaking and being by the water is more your thing, then Chula Vista Watersports has the events for you. You can rent jet skis, kayaks, sup boards, and beach setups to get the most out of your Watersports visit. You can also host private group events for your family, friends, or company meets up.