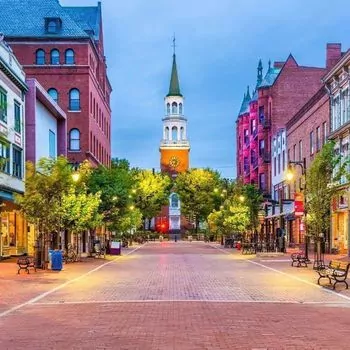 Along the Vermont border of Lake Champlain's shores, and only an hour away from the Canadian border of Quebec, is the charming, bustling city of Burlington. The home of Ben & Jerry's Ice Cream is an incredibly family-friendly city to RV in, with its picturesque shops and easygoing lakeside views.
Campgrounds and RV Parks near Burlington
Burlington is surrounded by rolling green hills to the east and sandy beaches to the west, ensuring that no matter where your RV is parked, it's going to have an incredible view.
North Beach Campground /a>
North Beach Campground is located directly on the shores of Lake Champlain so you never have to leave the beach! The site supports full electric hook-ups and has fully equipped restrooms and showers. Each individual campsite comes with a picnic table and campfire, and a general picnic area has grill access— there's even a snack bar on the beach. The site is pet friendly and perfect for guests that are looking for a lake vacation.
Shelburne Camping
About two miles from Lake Champlain in the nearby woods is Shelburne Camping. The grounds support full electric hook-ups and feature bathrooms and showers, a pool, a camp store, and a nearby restaurant for convenience. The sites are pet friendly and a combination of gravel and grass, so that you're truly surrounded by nature and this laidback resort.
Malletts Bay Campground
Across from the lake, Malletts Bay Campground has a number of amenities that are well suited to visiting families. Aside from basic amenities like bathrooms, fire rings, and picnic tables, the grounds also have access to tennis and basketball courts, a playground, a pool area, and horseshoe pits. There are so many things to do at Malletts Bay that you'll never want to leave!
National Parks and State Parks near Burlington
Burlington is surrounded by mountainous forests and tranquil water, making it a dream come true for those that want a little of everything out of their vacation. Each day can be spent doing something different, whether it's hiking, swimming, or finding hidden shopping gems in this quintessential New England city.
Sand Bar State Park
At Sand Bar State Park, visitors can swim, fish, kayak or canoe, tube, go sailing, grill— you name it. Lake Champlain is a great introduction to Northeast woodland lakes because of its peaceful waters and golden sand shoreline, and there's a ferry that crosses between the New York and Vermont sides of the water daily in the summer. Sand Bar State Park is a great place for a day trip when you're looking to escape the sun and spend the day relaxing (or enjoying water sports!).
Mt. Mansfield State Forest
Nearby Burlington to the east is Mt. Mansfield State Forest, whose sprawling network of trails and water reservoir will keep hikers busy for days. In fact, Mt. Mansfield boasts the highest peak in all of Vermont! An all season attraction, come during summer when the trees and grass are lush and vibrant, in the fall when the crisp air and orange and yellow foliage appear straight out of a Robert Frost poem, or in the winter to take advantage of the mountain's skiing trails.
Burlington Attractions
As a family-friendly destination, Burlington offers adults the chance to let their inner child come out as the homeplace of one of the most popular ice cream brands in America, and some very cute, very iconic teddy bears. But don't worry, Burlington isn't just for the kids.
Ben & Jerry's Factory Tour
Situated about thirty minutes outside of the city is the birthplace of Ben & Jerry's ice cream. The whimsical Ben & Jerry's Factory is open year round for visitors, and the factory tour itself is a must for lovers of all things sweet. In the tour, you'll get a history of the company and see how the ice cream is made, and of course it comes with free samples! What's more, those samples often come from new recipes that haven't hit the market yet! A popular tourist destination, the site has parking for RV, so rest assured that there will be no trouble in getting your ice cream fix.
Church Street Marketplace
The brick covered, tree lined walking district of Church Street Marketplace is a gorgeous feast for the eyes. The rustic buildings and lampposts have been lovingly maintained over the years, and the quality of the indoor-outdoor dining and shops makes this street a favorite amongst locals and travellers. The market is often used to host events like outdoor movie nights, yoga sessions, and various craft and art festivals each year. Bring as much or as little money as you want to Church Street and either way you'll have spent the day (or night) happily.
Vermont Teddy Bear Factory
There's just no competition at all—Vermont's Teddy Bear Factory puts the Build-A-Bear Workshop to shame. Equally as eccentrically decorated as the Ben & Jerry's Factory, and positioned stately atop a sloping hill, the Teddy Bear Factory features a factory tour that has captured the hearts and imaginations of all the thousands of children and adults that have visited the site. You can see how the adorable bears are made and then, of course, make your own custom bear at the end.
Events in Burlington
Within the last decade, Burlington has become a hotspot for craft beer enthusiasts, bringing with them a wave of festivals and celebrations that has put the city on the map with increasingly younger crowds. Don't let the ice cream and teddy bears fool you, Burlington has something for everyone.
Maple Festival
But first, it would be impossible not to mention Vermont's Maple Festival! The three-day event in St. Alban's, about thirty minutes outside of Burlington, is a celebration of Vermont's famous maple crop, so expect to sample lots and lots and lots of maple flavored treats. Be sure to bring your sweet tooth because vendors will be selling maple candy, maple donuts, maple, ice cream, maple syrup, and even maple cotton candy!
Oktoberfest Vermont
Vermont has positioned itself as a champion within the craft brewery scene of New England, and each year Burlington plays host to Oktoberfest in the fall. Over 40 breweries and 80 vendors contribute to the event, all from local New England cities and towns. Of course, what good would beer be without food? Food trucks selling everything from kabobs to lobsters will keep you well fed, and carnival games and live music will keep you entertained. As always, drink responsibly, and enjoy authentic New England craft beer culture!
Burlington Discover Jazz Festival
Summer in Burlington kicks off in June with the Discover Jazz Festival, and puts on a show stopping event. Church Street Marketplace is filled with tents alongside its outdoor dining for live music day and night, and the stage of Flynn's original theater on Main Street hosts rousing performances throughout the week. Plus, this isn't just some casual affair; the grand tent venue is the size and scale of a bonafide rock concert, complete with ambient lighting and effects. During the Jazz Festival, there's dancing in the streets and rhythm in the hearts as the community comes together to celebrate one of America's most famous musical contributions. All of these incredible sights and so many others are just outside of your door when you rent an RV near Burlington with RVnGO. Where will you go next?