Rent an RV near Baltimore, Maryland
When considering renting an RV near Baltimore, Maryland, you're going to have many different types of RVs, motorhomes, campers and travel trailers to choose from. Depending on the type of trip you are taking to or from Baltimore, Maryland, you'll want to choose an RV for rent that includes the amenities you'll need for you, your friends or family. RV rentals in Baltimore, Maryland are in high demand, especially between Memorial Day weekend and Labor Day weekend, so you'll want to book your RV for rent in advance....
When renting an RV or camper you will need RV Rental protection in case the unthinkable happens. Many people mistakenly believe that their personal auto policy will cover their RV rental only to find out too late that this is untrue. It's likely your Auto Insurance Policy is not going to cover the RV Rental. When you rent an RV on RVnGO.com, RV rental protection is automatically included in your rental. For a low nightly rate, you will receive $1,000,000 in liability coverage and up to $250,000 in property damage coverage. With RVnGO's RV rental protection plans, you can rent an RV with the peace of mind that you are covered in the case something happens on your trip. RVnGO's RV rental protection plans also cover RV owners, in the case something is broken or damaged on the RV during your trip.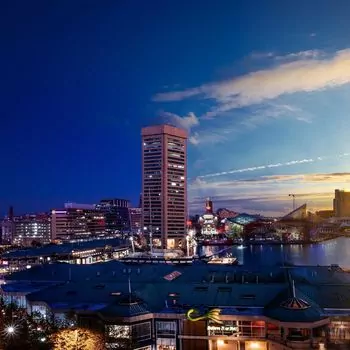 Baltimore
is a unique city full of vibrance and history. This is a great place to visit for their attractions, events, and history. You can get lost in the vibe of the city because of the fun nature and great people. You need to rent an RV and visit Baltimore.
Camping and RV Parks near Baltimore
Baltimore is a city with many options for great camping and RVing. Make sure to get your RV rental and find the best spot to camp at. Explore everything that the city has to offer by having your campsite in a prime location.
This family owned and operated has been around for over 55 years! At Bar Harbor RV Park & Marina, you are only 30 minutes away from the Harbor in Baltimore. Use this as your home base while visiting Baltimore so you can easily access and see everything the city has to offer. Based right off of the Bush river, you have great views and great amenities offered by the park.
Cherry Hill RV Park provides full and partial hook ups, free wifi, and plenty of other amenities when you stay at their site. You will have ample amounts of time to enjoy the pools and parks at the campsite. You also are in a prime location where you can easily take off and have an adventure at the many attractions in Baltimore.
Centrally located between major cities, you can easily go and explore Baltimore and surrounding cities with ease. Camp Meade RV Park is near a lake allowing you to boat, swim, and fish while still at the campsite. They offer full and partial hook ups and offer other amenities that you will need for your stay in an RV rental.
National Parks and State Parks near Baltimore
There are beautiful National and State Parks near Baltimore. Make sure you get out into nature with the state parks nearby. Baltimore offers plenty of places to get out and escape into the outdoors.
Assateague Island National Park is a fun and unique park that you will not find anywhere else. This park is well know for the beautiful beaches, sunny weather, and the wild horses. Camping here is a great way to have a new experience for even the most experience of outdoors enthusiasts. Be sure to check this gem out while in Baltimore.
Sandy Point State Park is a great park for a relaxing getaway to the beaches of Maryland. Here you can enjoy all sorts of water sport activities, as well as camping and hiking. You can always find something fun to do while visiting this state park.
Baltimore Attractions
There are tons of attractions in Baltimore that you must check out. There is a lot to do when in the city so make sure you spend the time doing the things you want to. Have a plan for how you will go and see all the places and activities you would like to go to.
If you are a lover of sports and legends, then you will need to check out Babe Ruth Birthplace and Museum. Here you will see and learn of the legacy the Babe Ruth left on the sport of baseball. This is a unique experience to look into the history and see the birthplace that made the legend of Babe Ruth.
Top of the World Observational Level is a unique experience only offered in Baltimore. This is a level of the World Trade Center where people can go and see the skyline of Baltimore from the 27th level. Getting a full 360 degree view of the city gives you a unique look so you can see the city in a complete new way.
Baltimore Events
There is always something going on in Baltimore. You can always find the perfect event that will scratch that itch of experience and adventure.
Baltimore Events
are fun and exciting ranging from the celebration of food, music, history, and everything in between.
The Moonrise Festival is a large music festival that takes place in Baltimore annually. You come to this event for a fun festival experience of great music, delicious foods, unique art installations, and awesome vendors providing tons of goods. The music consists of electric music and big performances from major DJs and artists.
Artscape is a free-to-attend arts festival that takes place in Baltimore every year. This gives artists and makers a chance to show off their creativity to the crowds of people who are here to enjoy the sites and artworks. This is a great event to attend if you love art and creativity.