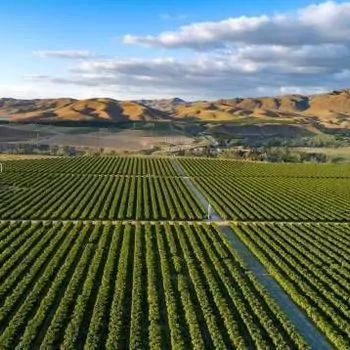 Bakersfield encapsulates a side of California that gets far less attention than the coastal cities, beaches, and mountains. It's the major southern urban hub of the Central Valley, a vast and vital region of rich farmland, where enough fruits, nuts, and vegetables to feed a nation are grown year-round. Renting an RV in Bakersfield puts you right in the heart of the Golden State, in prime position to head west to the coast, east to the glorious Sierra Nevada mountains, or north on I-5 all the way up the West Coast. There's a lot to see and do in and around Bakersfield, too, making it a great place to rent an RV. About Bakersfield Bakersfield is the 9th largest city in California and the largest in Kern County, a region known for its agriculture. The city has a hot, dry climate year-round, making it a perfect off-season destination when you want to
escape the winter
. With the nickname "The Southern Gateway to the Central Valley," Bakersfield is an ideal starting point for exploring the central part of California. It's also a great mid-point between the coast and mountains. However, don't overlook the charms of Bakersfield itself. Along with all the services and amenities you could need during an RV vacation, the city boasts a vibrant downtown arts district, an antiques district, and a plethora of farmers' markets and farm stands where you can get a real taste of the region's bounty.
Camping and RV Parks near Bakersfield
Along with the convenience of finding an RV for rent near Bakersfield through RVnGo, there are dozens of RV parks in and near Bakersfield. Whether you're planning motorhome rental in Bakersfield or camper trailer rental in Bakersfield, it's easy to find a great RV park suitable for your vacation.
Bakersfield River Run RV Park, just of historic Highway 99, offers 121 RV sites, many of which back up to the Kern River. Pull-through and back-in sites up to 200 feet are available, all with full hookups, cable, and Wi-Fi. Guests have access to a large clubhouse with a recreation room, gym, pool, and spa. There's a convenience store on-site along with two laundry and shower buildings.
A Country RV Park is a family-owned park in Bakersfield, just 2 minutes off CA-58. The park offers 120 spaces including pull-through sites with full hookups, patios, tables, Wi-Fi, and cable. Amenities include a dog park, exercise room, a rec hall, swimming pool, and hot tub. There are also laundry facilities, restrooms and showers, and a grocery store at the park.
A highlight of the popular Bakersfield RV Resort is its onsite Crest Bar and Grill, a full-service restaurant open for breakfast, lunch, and dinner. The resort has 215 RV sites, all with 30- and 50-amp service, full hookups, Wi-Fi, and cable. The clubhouse includes a full kitchen available to guests, and there are bathrooms, showers, a laundry room, and a general store available as well. Recreational amenities include a pool and hot tub and gym.
National Parks and State Parks near Bakersfield
If staying at RV parks is not your thing, you can take your rental RV and head on to any of the beautiful state parks near Bakersfield and enjoy the beauty of nature.
Bakersfield sits adjacent to the Sequoia National Forest, which includes 47 miles of the famous long-distance Pacific Crest Trail as well as extensive rivers, streams, and lakes. Visitors can go hiking, fishing, horseback riding, and white-water rafting among other activities.
Fort Tejon State Park, approximately 38 miles south of downtown Bakersfield, is a must-see destination for history buffs. It's also a scenic spot dotted with centuries-old oak trees. Tour restored adobes from the circa-1854 Fort Tejon and take in exhibits about local history. You'll also learn about the 1857 Fort Tejon earthquake, one of the largest ever recorded in the United States.
Colonel Allensworth State Park is another interesting site near Bakersfield. It encompasses the historical town site of Allensworth, founded in 1908 by a small group of African-American settlers as a place to create a thriving community free from racial discrimination.
Fifty miles northwest of Bakersfield is the Kern National Wildlife Refuge, a protected habitat for migratory waterfowl and wading birds. A major attraction for birders, the refuge is also a great place to explore for anyone who enjoys wildlife, fishing, hunting, and photography. It features self-guided trails with interpretive signage.
Bakersfield Attractions
Bakersfield is a great city with many natural attractions and destinations for the whole family. The city of Bakersfield has something from everybody. Take a day or two to experience what the city offers.
Did you know that Bakersfield has its own homegrown country music genre? Discover the "Bakersfield Sound" at Buck Owens' Crystal Palace, a museum, music venue, and restaurant all in one space. It's one of the must-see Bakersfield attractions.
California Area Living Museum (CALM Zoo) is a wildlife rehabilitation center dedicated to native Californian animals and plants. Visitors are welcome to explore the park-like property's peaceful gardens and fascinating animal exhibits, among them a black bear habitat, reptile house, and petting zoo. It also features a children's railroad and a ropes course for even more family fun.
Top arts and cultural institutions in Bakersfield include the Bakersfield Museum of Art, which showcases works by local artists as well as changing exhibitions.
The Kern County Museum, dedicated to the history of the region, includes a Pioneer Village with over 50 well-preserved historic structures. Highlights of the Buena Vista Museum of Natural History and Science include a top-notch paleontology collection and the Native American Lifeways exhibit. For performing arts and concerts, check out the schedules of the Rabobank Arena, downtown's historic Fox Theatre, and the Bakersfield Community Theatre, notable as one of the oldest theaters in California.
Bakersfield Events
While you're browsing
RVs for rent in Bakersfield
, also check out the schedules for annual events in the region. Motorsports fans should check out the
Kern County Raceway Park
schedule for NASCAR series and other events. The
Kern County Fair
takes place every year from late September to early October. Along with carnival rides, livestock shows, and decadent fair food, it typically hosts rodeo and monster truck events, plus concerts by big-name performers. The
Kern County Basque Festival
, a three-day festival held over Memorial Day weekend, is a showcase of Bakersfield's rich Basque heritage. Basque cuisine, dancing, and handball tournaments are all part of the fun.