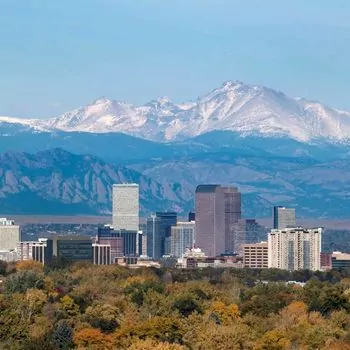 If you're considering renting an RV near Aurora, CO, you can choose from an endless array of styles and models in terms of RVs, campers, and different mobile homes. With RV rental in Aurora, you can set out for the top campgrounds in the local area, and attend Aurora attractions and local Aurora events that the entire family will love! As a major destination in the Denver, CO area, Aurora CO has a lot to offer. As the state's third-largest city, Aurora has many venues to represent local cuisine, art, and culture, as well as outdoor recreation, live theater, and amenities like the City of Aurora Cultural Arts Program and the Aurora Fox Arts Center. The City of Aurora Cultural Services Division helps to put on some of these events, and in addition, the city's collection of local, state, and national parks is second to none. RVnGO is America's best marketplace to find RVs to rent in Aurora, CO. Rent an RV in Aurora: Find your RVnGO! At RVnGO, we perfect the art of online RV rentals alongside compiling the absolute best stops for travelers to visit. For those who are interested in renting an RV near Aurora, Colorado, or are looking for RV camping near Aurora, this compilation is for you! For those looking for the perfect RV getaway trip near Aurora, Colorado, definitely make these stops part of your journey!
Camping and RV Parks near Aurora
Aurora features many campsite options for the RVer. Aurora was originally designated to be a military town, and there is a lot of new technological development constantly taking place in former airfields. Aurora contains six different golf courses, a slew of ethnic restaurants, memorials, events, horse stables, breweries, and much more for an RV renter in the area. RV renters in Aurora should definitely visit the On the Go Wellness Spa, which boasts excellent reviews, as well as the many other attractions that the town has to offer.
Near Sand Creek Park, this RV park is known for having safe, clean, and affordable sites, with full hookups, showers, and laundry. Near local restaurants and shops, it offers visitors a relaxing time and a good vantage point for all that Aurora CO offers.
With 18 acres on the riverfront, Flying Saucer is a hidden gem of Aurora/Denver–full hookups are available, and the park is near Riverpoint at Sheridan shopping by the Broken Tee golf course, and has light rail access to downtown Denver. Casino access is also part of the attraction around this local RV park, which is often described as clean and well-maintained. Get back-in and pull-through sites, and daily, weekly, and monthly rates for 162 sites available at the park, for camper rental in Aurora.
Visitors to this park enjoy local views of Denver and Summit County mountains and other nice Rocky Mountain scenery, with a clubhouse, concierge, pool and hot tub, and showers. Back and pull-through sites and full hookups are also available.
Hundreds of acres of forest and 59 RV sites make this a great RV park option in the Aurora-Denver area. Park is pet-friendly with good trail access for hiking and mountain biking.
National Parks and State Parks near Aurora
Be sure to take in the natural splendor of one of the nearby natural parks or preserves, in between visiting the major attractions. In Aurora Colorado, you will find the most pristine examples of Colorado landscapes. The water is crystal clear, and miles upon miles of nature trails accessible on foot or in a vehicle will be a breath of fresh air for all who visit. Lakes near Aurora are healthy and teeming with wildlife for fishing or viewing. There are smaller parks like Expo and Great Plains park, which accommodate visitors with sports fields and playgrounds.
This state park is magnificent for hiking, boating, fishing, and riding jet skis, with clean concrete and gravel sites, a nice laundry facility, and bike paths. Enjoy picnic lunches on the beachside, with convenient hookups, and get access to wildlife and birds. This renowned state park is a fantastic go-to getaway for RV renters near Aurora, CO. There is a lot to do at this park, with most of the special occasions happening around mid-year. There are attractions from an aesthetic shooting range to horseback riding year-round, as well as a scenic lake with a marina and an amphitheater. The pathways to the different parts of this park are paved, for traveler convenience, and many RV renters near Aurora find this park to be an ideal stay. You may want to get reservations in advance, as this is a very popular area.
Rocky Mountain National Park is 415 square miles of spectacular mountain views. Trail Ridge Road offers multi-trail access and heights over 12,000 feet. Hike scenic views and enjoy the grandeur of this natural area, with waterfalls and other views, and wilderness camping opportunities.
This state park offers canyon trails, rock climbing, and more. It's also a delightful spot for picnicking and watching wildlife. Nature programs are also available, and visitor center exhibits provide information about local wildlife and scenery.
Mountain trails and cruise-worthy curves are part of this park experience. There's a train and scenic byways, and camping inside of the park itself. Golden Gate Canyon State Park is a Colorado State Park located in Gilpin and Jefferson counties northwest of Golden, Colorado. The 12,119-acre Front Range park established in 1960 has 42 miles of hiking trails. Horse and bicycle travel is allowed on 27 miles.
Aurora Attractions
The cool things RV renters in Aurora can expect from Denver include a slowly grown garden variety of buildings and venues. There is an array of different shopping locations, recreational areas, and scenic avenues. They can all be located in the Denver Neighborhood Guide, for visitors to peruse! Located only 30 minutes away from Denver is TheEdgeZip zip line attraction! This site has ten different zip lines and contains some of Colorado's longest lines. It also contains renowned obstacle courses that will thrill any traveler who makes a stop!
This family park is an excellent attraction, with a water park and playground equipment. There's a lot to do here for family reunions or a vacation. Courts and swimming are part of this outdoor area!
This restored movie theater is used for public shows and is close to other attractions like the Stanley Marketplace. Enjoy a historic movie experience put on by the city of Aurora in a historic setting.
This sports park complex has turf fields and other opportunities for the athletically inclined. Nearby, you can find the Rec Room Escape Game and Bouncy Castle, and other family-themed attractions.
For more of the local Aurora CO culture, try the Southland shopping area with AMC movie theater and stores and restaurants.
Aurora Events
Aurora hosts a few different annual events, like the winter festival at the Mile High Station in January, featuring one of Colorado most renowned breweries, epic restaurant prix fixe menus from hundreds of different cultural restaurants in the Mile High City in February, the Brewery Collaboration Fest and Family Fest in March, and so on, all throughout the year. If you are renting an RV in Aurora, you can expect to find one or more annual events in Denver each month of the year!
National Hispanic Heritage month in downtown Denver is an excellent opportunity to celebrate the history of Latinx in Colorado. As part of Latin fashion week, look for museum days and more. Dance, theater, ethnic and cultural fairs and festivals, and exciting temporary attractions make this a great time to explore Aurora.
At this event, you can enjoy mysterious walking tours with historic information about the city. As fall colors come on, the ghost tour is an annual part of what Aurora offers.
Get a look at what local farmers and vendors have to sell with the Cross Orchards market, Dolores farmers' market, and other local markets in the fall.
This national attraction site brings in throngs of visitors each year who examine the mechanics of flight, and who visit the Air and Space Museum! This museum sits on a former air force base, and is a hub for all things space! The museum contains many cultural and historical artifacts like USAFs BA-1 Lancer, and the B-52 Stratofortress bomber. One can get a good look at the various military aircraft used throughout the years. RV rentals in Aurora allow many a traveler to see some of the most scenic parts of the renowned Colorado landscape.