Rent an RV near Stockton, California
When considering renting an RV near Stockton, California, you're going to have many different types of RVs, motorhomes, campers and travel trailers to choose from. Depending on the type of trip you are taking to or from Stockton, California, you'll want to choose an RV for rent that includes the amenities you'll need for you, your friends or family. RV rentals in Stockton, California are in high demand, especially between Memorial Day weekend and Labor Day weekend, so you'll want to book your RV for rent in advance....
When renting an RV or camper you will need RV Rental protection in case the unthinkable happens. Many people mistakenly believe that their personal auto policy will cover their RV rental only to find out too late that this is untrue. It's likely your Auto Insurance Policy is not going to cover the RV Rental. When you rent an RV on RVnGO.com, RV rental protection is automatically included in your rental. For a low nightly rate, you will receive $1,000,000 in liability coverage and up to $250,000 in property damage coverage. With RVnGO's RV rental protection plans, you can rent an RV with the peace of mind that you are covered in the case something happens on your trip. RVnGO's RV rental protection plans also cover RV owners, in the case something is broken or damaged on the RV during your trip.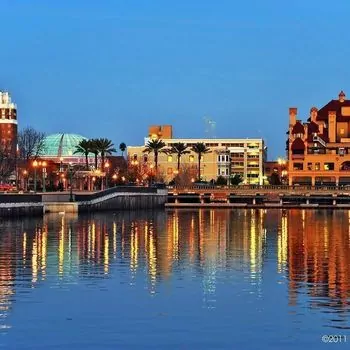 Stockton is a hidden gem of Northern California. Although it's miles from the coast, inlets from the Pacific Ocean meet at this diverse city, giving it an energetic boating and jet skiing scene. Although with its plethora of nearby wineries and cultural events throughout the year, Stockton is rapidly becoming more and more "seen" by tourists to the Bay Area.
Campgrounds and RV Parks near Stockton/b>
Because one side of Stockton consists of a criss-cross of waterways, many of the RV parks in the area have prime real estate right on the water, making it the perfect place to relax and enjoy watersports.
Riverside RV Park is situated on the tip of an island jetty right on the water of White Slough, with 360 water views from all sides. In addition to its showers, restrooms, and laundry facilities, the park also has two popular local restaurants on its grounds (Garlic Brothers and Bob's On the Marina) as well as a convenience store and fishing deck for ultimate vacation convenience. The park is pet friendly and supports electric 30/20/15 and 50 amp.
Located just on the edge of Buckley Cove Park, Riverpoint Marina Resort is another great option for those looking to stay by the water. In fact, in some places of the park, campers can fish directly from their own sites! The park is pet friendly and supports full electric hook ups, with facilities for showers, restrooms, and laundry.
Further north in nearby Lodi, Flag City RV Resort is a modern, "no-frills" RV site that's well known for its hospitality and consistency of service. Campsites are paved, with rock spaces and picnic tables for each individual site. The resort offers the full range of basic amenities (showers, restrooms, laundry facilities), plus a clubhouse recreation area and convenience store. It is located nearby restaurants and is pet friendly, with electric 30/20/15 and 50 amp hookups.
National Parks and State Parks near Stockton
Despite its central location in California, Stockton is known for its many bays that connect all the way out to the Bay Area itself. In fact, if you're lucky, you may even spot a sea lion on your trip.
Surrounded on all sides by water, Brannan Island Recreation Area has many docks for boat access and makes for an excellent place to kayak. The island itself is primarily gently sloping green fields complete with picnic tables and spots to set up grills or volleyball courts. In essence, a day (or even overnight tenting) at the park is a great way to unwind outside of the city itself.
Similarly to Brannan Island, Bethany Reservoir State Recreation Area consists of gorgeous green hills and a vast water feature. When it comes to water activities, there are six miles of shoreline for sailboats, catamarans, and small speedboats to explore (and fish from). The park is also a popular spot for biking trails.
Stockton Attractions
Stockton's seasonal events and attractions reflect the diversity of its city and that California is known for, making it a melting pot for culture and history.
Haggin Museum, of Victoria Park, is home to many works of 19th to 20th century fine art as well as local history to San Joaquin County. Past exhibitions have included Call to Duty: World War One Posters, Masters of American Photography, and Frida Kahlo's Garden.
The Wat Dhammararam Temple is an ornate and awe-inspiring Buddhist temple created by Cambodian refugees. Dotting the grounds of the temple are grand, jewel-encrusted statues of the Buddha himself that visitors are welcome to explore. In April, the temple celebrates Cambodian New Year with its gates open for anyone to attend.
Just outside of the city center are numerous family owned wineries that are beloved within the community, making any one of them a must-visit during trips to Stockton. Notable operations include Gnekow Family Winery, Harney Lane Winery, Michael David Winery, and Sorelle Winery.
Events in Stockton
In addition to its location on the water, Stockton is also a neighbor to several great wineries. Because of this, there are multiple festivals throughout the year celebrating the region's harvest.
Since the region that's home to Stockton is so incredibly blessed for all of its local vineyards, neighboring Lodi celebrates the Lodi Grape Festival for four days in September. The festival of the grape harvest includes live music, competitive exhibitions, wine tastings, a carnival, and more.
Each Labor Day weekend, the grounds of University of the Pacific El Centro hosts a free gathering that all visitors and locals are welcome to attend— the Stockton Community Pow Wow. The event is a celebration of Western Indigenous Peoples' culture, and includes songs, dances, crafts, and food from local Native American tribes. Where will you RVnGO next?