Rent an RV near Atlanta, Georgia
When considering renting an RV near Atlanta, Georgia, you're going to have many different types of RVs, motorhomes, campers and travel trailers to choose from. Depending on the type of trip you are taking to or from Atlanta, Georgia, you'll want to choose an RV for rent that includes the amenities you'll need for you, your friends or family. RV rentals in Atlanta, Georgia are in high demand, especially between Memorial Day weekend and Labor Day weekend, so you'll want to book your RV for rent in advance....
When renting an RV or camper you will need RV Rental protection in case the unthinkable happens. Many people mistakenly believe that their personal auto policy will cover their RV rental only to find out too late that this is untrue. It's likely your Auto Insurance Policy is not going to cover the RV Rental. When you rent an RV on RVnGO.com, RV rental protection is automatically included in your rental. For a low nightly rate, you will receive $1,000,000 in liability coverage and up to $250,000 in property damage coverage. With RVnGO's RV rental protection plans, you can rent an RV with the peace of mind that you are covered in the case something happens on your trip. RVnGO's RV rental protection plans also cover RV owners, in the case something is broken or damaged on the RV during your trip.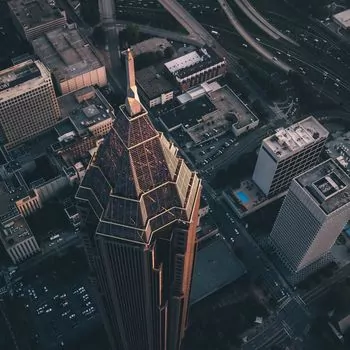 Atlanta
is the 9th largest city in the U.S. and full of rich cultural history and a high diversity of those who populate the city. Everywhere you look, you will find something new and different. Atlanta has deep ties to Martin Luther King, Jr and the Civil Rights Movement. There is many things you can learn and see while in Atlanta.
Camping and RV Parks near Atlanta
There are lots of places to camp in your RV in Atlanta to have a great RV Rental experience. Camping in an RV rental is one of the best ways to enjoy a vacation with friends and family. Be sure to check out some of the best RV Parks in Atlanta.
While on your stay at Stone Mountain Park Campground in your RV rental, there are many things to do. There are many events and activities going on depending on the season of the year. The campground offers a wide array of amenities such as free wifi, dumping station, and full or partial hook ups.
A family owned and operated RV park resting on its own private lake. There are 130 RV spots and offer full hook ups. There are fun games such as horse shoe to play while at this RV park, as well as swings and other fun activities. Make sure to bring your fishing pole because you can catch-and-release at the site. Also the campsite is pet friendly, so bring your furry friend along with you. This would be a great RV park for you to camp in your RV rental.
You will not find a better family friendly RV park in Atlanta that is better than Yogi Bear's Jelly Stone RV Park. This is an amazing experience for both kids and parents because they kids can be entertained and have an amazing experience while the parents get to relax. Activities include arts & crafts, movie nights, and of cource – Yogi Bear visits! This is the perfect place to take your family in an RV rental.
National Parks and State Parks near Atlanta
There are beautiful National and State Parks near Atlanta. Escape the city and connect with your friends and family in the great outdoors. Enjoy scenic wonders, diverse hiking trails and places to fish and camp. National and State parks in Atlanta are great destinations for you in your RV Rental.
With over 2,500+ acres of land and 200+ acres of lakes, this well preserved land is meant for those who care and appreciate nature. Offering some of the best hiking trails that Atlanta has to offer, is the perfect place to get away and connect with nature. With places to fish, camp, and play – this is a perfect state park to enjoy with close friends and family.
The Chattahoochee National Recreation Area is famous for its beautiful river and scenic views. Connecting with nature away from the stress of the busy world. This is a great place to get away and have a great experience. You can fish, hike, boat or you can help volunteer your time to help keep the river clean. This can be a bonding experience that everyone should try at least once in their lifetime.
Atlanta Attractions
There are tons of attractions in Atlanta that you must check out. Full of rich and scenic sites and locations to visit and see. There is something for everyone to have a memorable stay in Atlanta.
Atlanta is home of the Martin Luther King, Jr. National Historical Park. It is one of the best attractions for anyone who wants to see the life of MLK JR and how he was able to impact the world. You can see where he was born and how he was raised to make him the man that history knows today.
The chick-fil-a College Football Hall of Fame is a must see attraction when visiting Atlanta. For anyone who is a fan of College Football, this is one of the most coveted places for history and entertainment. There are over 50 exhibits that you can experience while attending this attraction. Relive all your favorite moments that made the College Football Hall of Fame.
You have to stop by the World of Coca Cola for an inside scoop of what makes Coca Cola the most popular beverage brand. Get the inside track of how the soda is bottled and made. You can see the brand is hundreds of new and fashionable ways. Taste exciting and different flavors that you have never heard of. It is a fully emersive experience into the World of Coca Cola.
Altanta Events
There is always something going on in Atlanta. You can always find the perfect event that will scratch that itch of experience and adventure.
Atlanta Events
are fun and exciting ranging from the celebration of food, music, history, and everything in between.
The major art festival that takes place annual in Atlanta is the Atlanta Dogwood Festival. Here you can sell and purchase all types of art. There is something that will catch the eye for everyone who attends. There are also fun activities and delicious food served at the event. Be sure to put this one on your calendar!
Dragon Con is the "comic con" of the south. With all your favorite characters to dress up and see at the event and even meet some of the actors or artists that depict your favorite character. This event allows likeminded people a chance to express there passions of the pop culture and interact with others to have the same interests. There are so many fun ways to interact and experience all of your favorite stories and characters while at Dragon Con.
The annual Music Midtown Music Festival is a popular destination for many music lovers. With tops artists performing ranging from hip hop to pop to rap, there is a lot to look forward to. The singers are top notch and there are plenty of other fun activities to enjoy while attending. There is the popular ferris wheel where you can see the entire Midtown skyline, as well as other vendors and food trucks to purchase all the goods to remember the festival by. Make sure you get your tickets before they sell out!