Rent an RV near Anchorage, Alaska
When considering renting an RV near Anchorage, Alaska, you're going to have many different types of RVs, motorhomes, campers and travel trailers to choose from. Depending on the type of trip you are taking to or from Anchorage, Alaska, you'll want to choose an RV for rent that includes the amenities you'll need for you, your friends or family. RV rentals in Anchorage, Alaska are in high demand, especially between Memorial Day weekend and Labor Day weekend, so you'll want to book your RV for rent in advance....
When renting an RV or camper you will need RV Rental protection in case the unthinkable happens. Many people mistakenly believe that their personal auto policy will cover their RV rental only to find out too late that this is untrue. It's likely your Auto Insurance Policy is not going to cover the RV Rental. When you rent an RV on RVnGO.com, RV rental protection is automatically included in your rental. For a low nightly rate, you will receive $1,000,000 in liability coverage and up to $250,000 in property damage coverage. With RVnGO's RV rental protection plans, you can rent an RV with the peace of mind that you are covered in the case something happens on your trip. RVnGO's RV rental protection plans also cover RV owners, in the case something is broken or damaged on the RV during your trip.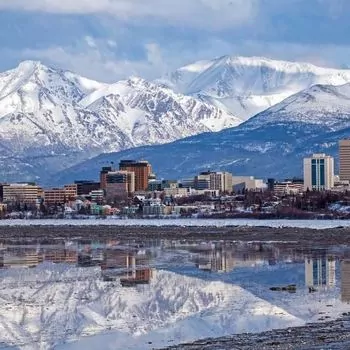 The best part about having an RV is the freedom to explore. And while Anchorage, Alaska may not be the most accessible city to the continental U.S., it still packs a lot of interesting places to visit. RV rentals in Anchorage, Alaska can help you explore the city with the benefits of an RV without having to drive across the border to visit. Once you get there, these stops are worth checking out so you can have the best trip possible.
Camping and RV Parks near Anchorage
Anchorage is a fantastic city with plenty of activities to keep you busy. In fact, there are so many exciting things to do that one of the best options for getting around Anchorage is using an RV rental. You don't have to worry about getting a hotel room, as you have the perfect place to stay that holds all your stuff. When you rent an RV in Anchorage take comfort in the solace and hospitality of these RV Parks!
This RV park is located just off the major highway into Anchorage, making it a perfect getaway while still being near all the excitement of Anchorage. From this RV park you can enjoy their live music and entertainment. You can catch comedy and magic shows, live music, dancing and even karaoke here! The park amenities include a swimming pool. Laundromat, rest rooms and a nearby golf course. They offer sparkling clean restrooms, private showers, laundry facilities, and nearby access to several shopping and dining areas. In terms of activities withing walking distance the site has plenty of nature trails to get you into the beautiful Alaskan wilderness.
Only a few blocks from the center of the city, this RV park is perfect for people who want easy access to Anchorage. At this RV park you can enjoy the scenic views and the city lights at night. The campsites are convenient, and the Park offers bike rentals, perfect for exploring the over 120miles of paved trails. Wind through Anchorage's city on a bike and experience the scenic views and a one-of-a-kind riding experience!
In the middle of Anchorage this state park is a hidden gem for RVers looking for a place in Anchorage. With full hookup spots being around $25-$30 a night this park is a no brainer for people looking for long term stays or anyone on a budget. Their sites are no frill and are situated on a gravel lot, but for a full hookup spot with a great location many find the park to be one of Anchorage's best. At this no frill camp you can have the ease of exploring Anchorage with the best deals you could find!
National Parks and State Parks near Anchorage
There are beautiful National and State Parks near Anchorage. Make sure to visit them in your RV rental for a great weekend in the outdoors. Anchorage has plenty of places to choose from so find the best for your RV adventure!
This famous national park is a big part of the classic Anchorage skyline. Its looming mountains and tall peaks create an unforgettable backdrop to the town of Anchorage. With the mountains so near the city this park is a must see for anyone in Alaska! The park is a 5 hour drive if you want to take it on yourself, but some people prefer a ride out. The Alaska Railroad makes the trip in 7 hours, and for those really pressed on time you can charter a plane to the mountaintops. No matter how you decide to get to Anchorage it's well worth the trip. Full of wildlife, narrated tours, maintained hiking trails and limitless wilderness this park is like no other! If you aren't sure where to start the Denali Visitor Center is one of the best places. Here you can watch films, view exhibits and join one of the many ranger led tours through the wild!
Chugach State Park is a wonderful place to spend a day, and it's only about 20 minutes from Anchorage. Chugach is a huge park featuring many beautiful areas for you to explore. It's also home to some of the most beautiful scenery in Alaska, including a beautiful ocean shoreline that you can explore best in warmer months. This park is excellent for hiking and fishing, so you can spend your time there enjoying all that this national park has to offer. There are even some campgrounds available to park for the night. Check out the Bird Creek Campground or the Eagle River Campground for a relaxing place to stay.
Anchorage Attractions
There are tons of attractions in Anchorage that you must check out. Anchorage is a great place to visit and find opportunities to find fun wherever you go.
If you like aerial views, then the Alyeska Tramway is an excellent choice to take in Anchorage. This tramway offers a bird's-eye view of Anchorage. You can even go to the summit of the tramway to get even more views. This ride is not for everyone, as it requires some climbing and walking, but it's an excellent way to see Anchorage from a different perspective.
If you have a bit of experience with gold panning, then you can try your hand at panning gold at Crow Creek. Gold pans are great fun, even if it no longer produces a lot of treasure. The right area will also yield some amazing rocks that can make a great souvenir for those who want to remember their trip to Alaska.
Anchorage Events
There is always something going on in Anchorage. You can always find the perfect event that will scratch that itch of experience and adventure. Anchorage Events are fun and exciting ranging from the celebration of food, music, history, and everything in between. While there aren't very many festivals other than the local one offs there are plenty of exciting events that take place in nature!
If you're lucky, you may get a chance to see the northern lights while you're in Anchorage. But if you don't want to wait for a random sighting, your best chance of seeing the Northern Lights is during the active season of September through April. There are many places to see them, but Eklutna Tailrace is among the most popular choices.
Beluga whales live in Turnagain Arm, but you can look for them from shore. In fact, there are some people who make it their full-time jobs to watch for the animals and report on their activity. If you're going to go whale spotting, keep in mind that they tend to be skittish and are often spotted by boat or kayak, so that may be the best way to see them. If you do get a chance to see one from the shoreline, just make sure not to approach too closely.