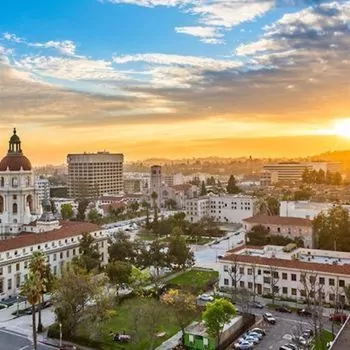 The city, being home to Disneyland, is built on imagination, Anaheim is where all of your inner child enthusiasts can have their day. Visit Anaheim and discover an atmosphere where cool hangouts and hidden gems inspire animated, outspoken attitudes from visitors and locals alike. Popularly recognized as the "The OC," Orange County is a world-famous visitor destination in the center of all the Southern California fun. Anaheim, the second largest city in "The OC," is ideally located halfway between Los Angeles and San Diego. RVers find plenty of things to see and do: inviting beaches, unparalleled shopping and entertainment, trendy restaurants, sexy nightlife, championship golf, lively art districts, beautiful historic landmarks and legendary, internationally famed family attractions. Here are 3 great spots to park your RV.
Camping and RV Parks near Anaheim
Anaheim features many campsite options if you're planning an RV camping trip, with everything from state park camping to RV Parks and Resorts with all the bells and whistles in amenities.
If you want to get close to the magic, then this is the spot. You will be walking distance from Disneyland® Resort; minutes away from the Anaheim Convention Center, Angel Stadium and the Honda Center; and a short ride to Southern California's famous beaches, deserts and mountains. The rates are very competitive as well. It's not just the location that makes this park desirable. Enjoy full hook ups with 30 and 50 amp service and accommodations for RVs up to 40 feet. Get in a few rounds of golf on the 5 hole course while here.
Arguably, this is the highest rated RV park in the LA and Anaheim area. this RV park offers wide, pull through RV sites, a heated pool, free wifi and cable and full hook ups. The park was built in 1972 on an orange orchard and the same family still operates Orangeland today.
If you are a member of the US military as Active Duty, National Guard, Reservists, Retired Military, 0-100% DAV, Purple Heart Recipients, Former POW, Veteran Caregivers, DoD civilians, you may want to stay at this RV park. Reservations are highly recommended 6 months or more in advance. Located at the Naval Weapons Station Seal Beach, the RV Resort features 85 concrete 50 ft. x 20 ft. pads complete with direct hookups to water, electricity, Direct TV, and sewage. Come enjoy the attractive landscaping throughout the Resort which compliments Naval Weapons Station's existing Quality of Life facilities. Amenities within walking distance include Navy Exchange Mini-Mart, park and picnic area which includes covered cabanas, barbeque grills, a sand volleyball court, horseshoe pits and children's playground. You may also enjoy our 27-hole championship Navy Golf Course open to the public, located approximately 5 miles away in the city of Cypress.
National Parks and State Parks near Anaheim
Be sure to take in the natural splendor of one of the nearby natural parks or preserves, in between visiting the major attractions.
This 10-acre park includes direct access to the Santa Ana River Trail. Amenities include the connection to 14.6 miles of the trail and trash receptacles. Parking is limited so plan ahead
Chino Hills State Park is nestled in the foothills surrounded by the communities of Corona, Chino Hills, Yorba Linda, and Brea. The State Routes 57, 71, 91, and 142 border or are the near the park for easy travelling and accessibility from almost anywhere in Southern California. Because of its great variety of habitats and microclimates, Chino Hills State Park is an ideal location for observing many wildlife species native to southern California. Red-tailed hawks and turkey vultures soar above. Coyotes, deer, bobcats, and other mammals are often seen in the woodlands, shrubs, and grasslands. Visitors with good ears and sharp eyes will enjoy the many songbird species seen and heard foraging and raising young in the trees and shrubs.
Anaheim Attractions
Anaheim's theme parks are places to play with your favorite movie and comic book characters. Let your imagination run wild! The highlight for most trips will be Disneyland® Park, the most iconic of all theme parks. Anaheim has other well known theme parks that you are already aware of like Knott's Berry Farms, Universal Studios, Seaworld, and Legoland, but there are others that are well worth the trip.
Davy's Locker provides whale watching and deep sea fishing excursions year round. Davey's Locker is located minutes from downtown Los Angeles and minutes from most of Orange County located in Newport Beach. Departing from a natural harbor, Davey's Locker is the most popular option for those considering whale watching in southern California. Thousands of whales viewed each season and beautiful coastline combines to make a world renowned whale watching destination. The same pristine habitat that draws whales and dolphin supports amazing inshore and offshore fisheries year round. With that, you can experience fishing trips for the whole family. Trip lengths vary from ½ day (5 hour excursions) and ¾ day (full day excursions) to overnight trips and longer.
Experience a quiet retreat from the LA hustle and bustle at the Fullerton Arboretum which has served the community as a premier resource for ecological, horticultural, and historical education. In fact, the Arboretum is the largest botanical garden in Orange County. Encompassing 26 lush acres, it has assembled a permanent collection of over 4,000 unique and unusual plant species from around the world.
Six Flags Magic Mountain is another entertainment venue for thrill seekers of all ages. From coaster favorites like Twisted Colossus to pint-sized thrills like Canyon Blaster, there's excitement for every family member. Known as the "Thrill Capital of the World," the 260-acre theme park features 19 world-class roller coasters and over 100 rides, games and attractions that everyone will enjoy at a fraction of the cost of that other theme park.
Anaheim Events
Throughout the year, thanks to the great weather, there are plenty of exciting events to experience around Anaheim. Visiting is a sure bet for fun, but it's also an opportunity to expand your horizons and do something that you never imagined experiencing.
Enjoy five days and nights, of the Anaheim International Film Festival which screens approximately 100 of the latest and best contemporary narrative feature films, documentaries, live action and animated shorts and student films from all across America created by talented filmmakers and actors.
Tis 3 day event have everything the Halloween holiday you expect. There are costume contests, live entertainment, crafts, seasonal food, carnival games and rides, and a Halloween parade.