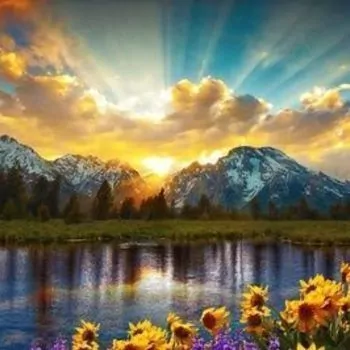 Home to many beautiful views, Wyoming is known for its famed Yellow Stone National Park. A 3,5000 square mile wilderness recreation area with hundreds of animals, canyons, rivers, and the iconic Old Faithful geyser. Another natural gem to the south is Grand Teton National Park, with forested trails, backcountry skiing, and the Snake River to enjoy, while the eastern side of the state is known as the High Plains, comprised high plateaus and prairies. Wyoming is packed with wonderful sights and beautiful places to visit!
COVID-19 / CORONAVIRUS UPDATES FOR NATIONAL PARKS IN WYOMING
Wyoming National Park Closure Updates
The National Park Service is modifying its operations on a park-by-park basis in accordance with the latest guidance from the Centers for Disease Control and Prevention (CDC) and state and local public health authorities. While most facilities and events are closed or canceled, outdoor spaces in some parks remain accessible to the public. Before visiting, please check with individual parks regarding changes to park operations. If you choose to visit a national park, please ensure that you follow CDC and state and local guidelines to prevent the spread of infectious diseases and practice Leave No Trace principles. Updates about the NPS response, including safety information, are posted on
The National Parks Service Coronavirus Website.
COVID-19 / CORONAVIRUS UPDATES FOR STATE PARKS IN WEST WYOMING
Click for Up to Date Wyoming State Park COVID-19 Updates
COVID-19 Coronavirus - Important Information: In an effort to slow the spread of COVID-19, all Wyoming State Park: overnight camping facilities, cabins, yurts, group sites/shelters, showerhouses, some non-essential restrooms, and playgrounds are closed until further notice. All parks currently remain open for day-use outdoor recreation activities including: trailheads, hiking/biking trails, boat ramps, fishing access, essential restrooms, individual picnic areas/tables. Normal park fees apply; visitors are urged to use fee canisters. State Historic Sites are closed to the general public until further notice. While we encourage citizens to enjoy the great outdoors while maintaining social distances, please know the Governor has also urged citizens to stay home whenever possible. This is an ever-changing situation.
Well known Tourist Attractions
Grand Prismatic Spring - Yellowstone National Park
Appreciate a beautiful drive in your RV rental in Wyoming to Yellowstone and be awed by the largest hot spring in the nation. The Grand Prismatic Hot Spring is a must visit when you go in your RV rental to Wyoming. Located in
Yellowstone National Park,
it is named after its crystal-like rainbow of colors caused by the pigmented microorganisms in the microbial moss that develops around its edges. It is 160 degrees Fahrenheit and discharges 560 US gallons per minute amazing guests who visit Midway Geyser Basin in a Wyoming RV rental.
Jackson Hole Ski Resort
This noteworthy territory of Jackson Hole highlights innumerable attractions and activities. With picturesque views of the Teton Mountains, hitting the slopes at the
Jackson Hole Ski Resort
is an unforgettable experience. For those looking for thrills, the ski resort includes the longest and steepest slopes in the United States. Appreciate the staggering perspectives of untamed life, magnificent eating, and cross-country skiing in your Wyoming trailer rental.
Buffalo Bill Center of the West
The state has a rich history and the
Buffalo Bill Center of the West
keeps this history alive and interesting! A partner of the Smithsonian Museum, the Center of the West contains the Buffalo Bill Museum, Draper Natural History Museum, Whitney Western Art Museum, Plains Indian Museum, Cody Firearms Museum, and the McCracken Research Library. Local American culture and workmanship, firearms, natural history, as well as stories of the westbound push in America can be explored. Hands-on exhibits are available to help guests engage in United States history in a tangible way. Drive your RV rental in Wyoming to Cody to appreciate this incredible historical center.
Campgrounds and State/National Parks
Scenic Route Trailer Park and Campground
Traveling in your RV rental in Wyoming to Cheyenne, the
Scenic Route Trailer Park and Campground
is the place to stay for a few days while appreciating the various attractions in the area. It has a total of 29 accessible full hookup destinations. Services and comforts include wi-fi, digital TV, restrooms and showers, and dry-cleaning services. Scenic Route Trailer Park and Campground is open through the entire year for your camper rental Wyoming.
Ponderosa Campground
An ideal home base for your RV trailer rental in Wyoming, the
Ponderosa Campground
is only a short distance from Yellowstone National Park and the attractions situated in the city of Cody. It has 132 accessible shaded full hookup locales with space for slideouts. Services and luxuries include wi-fi, play area, game room, recreation lounge, restrooms and showers, laundry facilities, and RV supplies for your RV rental Wyoming. Appreciate water sports at the Shoshone River which adjoins the campground. Stop season is from April 15 to October 15 for RV trailer rentals in Wyoming.
Casper East RV Park and Campground
A perfect campground for your RV rental in Casper, Wyoming, the
Casper East RV Park and Campground
is only a couple of minutes from the various events and restaurant choices of the city. It has 55 spaces accessible, 50 of which are full hookup spots with space for slideouts. Services and amenities include web access, heated pool, game room, play area, outside activities, staple goods, RV supplies, restrooms and showers, and laundry rooms for your campervan rental Wyoming. Enjoy this pet-accommodating RV Park at any time of the year.
Celebrations Jackson Hole Old West Days Commending the area's notoriety for being "The Last Stand of the Old West," Jackson Hole Old West Days is a four-day event held each May. For the past 35 years, Jackson Hole Old West Days aims to be a family-oriented celebration highlighting a shootout in the town square, bow and bolt and peddle cut rivalries, rides, wine fest, performances and artwork, incredible food, rodeos, fun events for children, and shows including rancher songs, Western music, mechanical bull, and line artists. Experience Wild West fun for days at the Jackson Hole Old West Days. Cheyenne Frontier Days Rodeo Round up your posse for some more festivities as you travel in your Wyoming RV rental and giddy up to the Cheyenne Frontier Days. From mid to late July in the city of Cheyenne, this ten-day event holds the world's biggest open-air rodeo, attracting proficient riders throughout the nation vying for money and prizes. In addition to the fast-paced rodeos, the celebration also includes three free hotcake breakfasts, four parades, nightly shows, wild steed races, an Indian Village with Native dances, heaps of food, and a USAF Thunderbird flying demonstration.
With a cornucopia of sights to see and things to do, Wyoming offers celebrations and attractions that can be enjoyed all year long. The best way to soak in the magnificence of this state is with an RV rental. Lease at RVnGO and begin arranging your Wyoming adventure now!