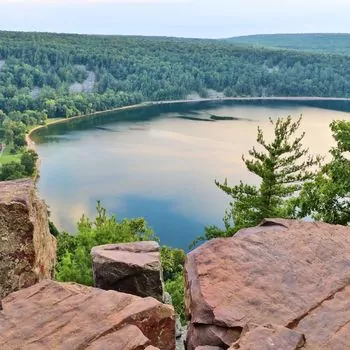 Beautiful Wisconsin; the Toilet Paper Capital of the world. Wisconsinites consume nearly 21 million gallons of ice cream every year in one of the coldest states in the U.S. Wisconsin is also one of the most gorgeous states to visit during your RV rental trip. Countless state and national parks, nature preserves, scenic trails, and that's not counting the dozens of events and celebrations held all throughout the state.
Camping and RV Campsites in Wisconsin
The state of Wisconsin is packed with forests, rivers, and lakes. Dozens of campgrounds are scattered across the land mass, all located around these beautiful landmarks and scenic areas. Below is only a fraction of options you can reserve for your RV rental trip.
Admit it: you'd book at this campground just because of the name. Well this is the official-themed campground fun for the whole family, and it provides many spots for your RV rental. Some of their amenities include a Water Zone mini-water park, a gigantic jumping pillow trampoline, a small ice cream shop, and even an outdoor mini theater. However, all of that pales in comparison to the family-friendly Haunted Trail and Halloween activities they plan during the month of October. You can reserve your spot now through their website
here.
Like the name suggests, you'll find yourself snug and comfortable while staying at Snug Harbor. With 30/50 Amp electric services, full sewer hook ups, and laundry services on-site, you can relax on your RV rental trip knowing you'll be taken care of, and with great amenities like fishing, marshmallow roasting, and canoeing, you and the family will enjoy yourselves at
Snug Harbor
for your trip.
The Dells of the Wisconsin River are one of the best scenic past-times to do while in the beautiful state, so why not stay at a campground only a single mile away for easy access convenience! The Dells KOA offers all the basic amenities of full hook-ups and sewer, as well as great opportunities for biking through the woods, outdoor pavilions, and even a dog park. Staying at
Wisconsin Dells KOA Holiday
provides kills two birds with one stone: being able to see one of the greatest landmarks in Wisconsin, and relaxing comfortably in style during your RV rental trip.
National Parks and State Parks near Wisconsin
Wisconsin is simply breath-taking with the numerous state parks and national scenic trails that encompass its territory. Whether its hiking through a forest or sailing over a glorious lake, Wisconsin will provide you with awe-inspiring moments on your RV rental trip.
With 21 islands that span across 12 miles of mainland, the Apostle Islands are a treasure trove of natural beauty. Windswept beaches and cliffs provide an awe-striking experience for visitors around Lake Superior. With cavern tours, hiking trails, and paddleboat/sailing options, there are numerous ways to enjoy yourself at the
Apostle Islands National Lakeshore
during your RV rental trip.
The third oldest state park in Wisconsin, Devil's Lake State Park is also the largest and most visited state park in the entire state. Visitors can overlook the 360-acre lake from 500-foot-tall quartzite bluffs. Open year-round, the state park offers 29 miles of hiking trails, lakeshore picnic areas, sandy beaches with swimming and fishing opportunity, and so much more. Visit their
website
for more information and the best time for you to visit during your RV rental trip.
Devil's Lake may be the most visited state park, but Peninsula is considered the most "complete" of all the state parks in Wisconsin. This glorious park offers countless amenities, including but not limited to 468 campsites, a summer theater, 18-hole golf course, 8 miles of shoreline on a sandy beach, and even archery! It's an added bonus that the rollicking waves seen from the shore are part of the Niagara Escarpment. Visit their
website
to see all it has to offer for your RV rental trip.
COVID-19 / CORONAVIRUS UPDATES FOR NATIONAL PARKS IN WISCONSIN
Wisconsin National Park Closure Updates
The National Park Service is modifying its operations on a park-by-park basis in accordance with the latest guidance from the Centers for Disease Control and Prevention (CDC) and state and local public health authorities. While most facilities and events are closed or canceled, outdoor spaces in some parks remain accessible to the public. Before visiting, please check with individual parks regarding changes to park operations. If you choose to visit a national park, please ensure that you follow CDC and state and local guidelines to prevent the spread of infectious diseases and practice Leave No Trace principles. Updates about the NPS response, including safety information, are posted on
The National Parks Service Coronavirus Website.
COVID-19 / CORONAVIRUS UPDATES FOR STATE PARKS IN WEST WISCONSIN
Click for Up to Date Wisconsin State Park COVID-19 Updates
COVID-19 Update Due to COVID-19, Governor Evers has directed the DNR to close the following properties effective Friday, April 10 to protect the health and safety of Wisconsinites:
Wisconsin Attractions
Wisconsin is full of natural beauty and wondrous attractions. With its numerous nature preserves, extensive walking trails, and historic landmarks, you will surely find a way to pack your day with eventful activities while on your RV rental trip.
Milwaukee, believe it or not, is the birthplace of the famous Harley-Davidson "Hog". Not only is it the birthplace, but it is also home to the official Harley-Davidson Museum. This facility houses more than 450 classic motorcycles, with numerous displays and exhibits that tell the story of the people and places behind the vehicles. Grab a bite to eat at their Harley-themed restaurant, and if you can, schedule your RV rental trip with one of the museum's busy "bike nights", so you have the opportunity to witness fans and owners show off their own bikes in style. You can find more information on the museum
here.
The state's largest river, the Dells of the Wisconsin River is a breath-taking 5-mile gorge that showcases Wisconsin's natural beauty. It boasts many unique sandstone rock formations, canyons, and cliffs that can reach up to 100 feet tall. Being a State Nature Area, it is difficult to access, and requires a boat to experience the Dells. There are numerous boat tours and excursion areas available to the common visitor that visit both the upper and lower areas of the river, so stop by during your RV rental trip in Wisconsin, and if you'd like to read more about the state river, click
here.
Now, you may not be a Packers fan, but if you are a football fan, then learning the history of the Green Bay Packers will definitely catch your interest. Considering the team is the third oldest in the NFL, the league's only non-profit team, and the stadium is in a simply small town, there is so much to learn about the Packers. You can tour Lambeau Field, the team's stadium, on an in-depth behind-the-scenes look at how a major league team operates. The Packers have also two self-guided tours of landmarks: the Walk of Legends that showcases 24 statues celebrating Green Bay football since 1895, and the Packers Heritage Trail, which is a walking tour around the city landmarks associated with the team. So pack up your RV rental, don your team's apparel, and enjoy a little football history while visiting Wisconsin.
Wisconsin Events and Celebrations
Wisconsin has a little bit of everything for the average visitor. If you're passing through with your RV rental, you might be interested in the Lumberjack World Championships, or perhaps the State Fair. Regardless, the state has so much to offer you, and here are a select few things to see throughout the year.
Northwest of Milwaukee is the small town of Oshkosk on Lake Winnebago. One weekend every summer, usually July, the world's largest meeting of aviators is held and has been since 1970. Up to 15,000 aircraft varying in all sorts of shapes and sizes descend upon the town's airport, all while roughly half a million visitors watch in attendance. Alongside the phenomenal aerodynamic displays are educational workshops, movie showings, and even various aircraft rides. Make the EAA AirVenture Oshkosh a must-see stop on your RV rental trip, and visit their
website
for more information.
The most recognized professional snowmobile race in the world, more than 300 professional racers from around the world will compete for the world championship. With over 30,000 spectators in attendance, not only can they witness the high-speed races, but enjoy beautiful trail rides and scenery of the Northwoods. Don't miss what is considered "The Indy 500 of Snowmobiles", and get more information
here
to plan around your RV rental trip.
Milwaukee's Irish Fest is the largest cultural gathering and celebration of Irish music in the world. 100 entertainers are spread out over 16 stages that scatter Lake Michigan's shorelines. Alongside the musicians are dancers, athletes, poets, and so many more that offer live shows and performances, as well as educational workshops and hands-on instruction. There are plenty of family-fun activities like freckle contests, parades, crafting sessions, and marketplaces showcasing the different items and trinkets of the Irish culture. Visit their
website
for more details, and make it a stop on your RV rental trip.