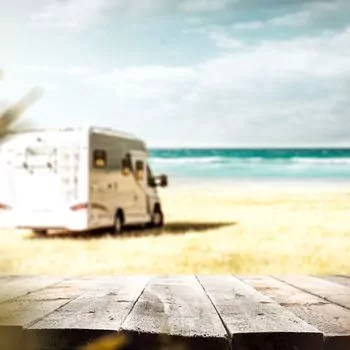 Tampa is a city on Tampa Bay, along Florida's Gulf Coast. The city is a major business center, and is also known for its museums and many other cultural offerings. Busch Gardens is an African-themed amusement park with thrill rides and animal-viewing areas. The historic Ybor City neighborhood, developed by Cuban and Spanish cigar-factory workers at the turn of the 20th century, is a dining and nightlife destination that should not be missed on any visit to Tampa.
Camping and RV Parks near Tampa
Before getting to Tampa, it is helpful to know where you will stay at the end of a long day of exploration. Choose the camping ground according to your itinerary, so you can get close to the Tampa events and attractions you wish to experience. Here are our top choices:
The Tampa RV Park is 1 mile from Busch Gardens, minutes away from, MOSI, Lowry park Zoo, 3 large Shopping Malls, Raymond James Stadium, George Steinbrenner Legends Yankees Field, Tampa Bay Times Forum, Port Tampa/Carnival Cruises, Florida Aquarium, Tampa Convention Center and Florida State Fair grounds. The park offers 20,30, and 50 AMP Hook Ups and dump stations. Take advantage of the showers and laundry facilities. They can accommodate big rigs, Class A RVs, pull throughs, fifth wheels and campers of all sizes. It's the only RV Park within the City of Tampa.
This Laid-back RV campground offers a swimming pool, dog parks, fishing docks & group activities. There is something for everyone at one of Florida's best RV parks - Bay Bayou RV Resort! It is conveniently located minutes from Tampa's top attractions and the beautiful Gulf of Mexico beaches. Join fellow vacationers in Bay Bayou's spacious clubhouse for scheduled activities and events, and enjoy a swim in the heated pool.
Happy Traveler RV Resort is a fantastic balance between the relaxing mature 55+ RV Campground vacation destination, and the proximity to major attractions in Tampa and Orlando, Florida! It is the closest campground to Busch Gardens in Tampa, and only 78 miles to the heart of Orlando where you can visit all the favorite Florida Destinations - Sea World, Walt Disney World, Universal Studios or just take in the sights and sounds of Tampa. Guests younger than 55 years old are welcome to stay for up to 2 weeks, making this RV Resort perfect for a family looking to spend a few days at Busch Gardens, Adventure Island (Busch Garden's Water Park), or visit nearby beaches like Clearwater Beach. Accommodations include heated swimming pool, a Pickleball court, Shuffleboard courts, and Horseshoe pits, along with Full Hookup Pull-thru, and Back-In sites (30/50 amp), 62 Channels free cable, and WiFi.
National Parks and State Parks near Tampa
While cruising America along the highways in your RV rental in Tampa, you will find some must-stop sites all within a day's trip. There are plenty of destinations in Florida. Nature provides beautiful backdrops during any season at any of the state parks, forests, recreation areas and trails. There's fun for the entire family in Tampa, Florida. Whether you're traveling alone, as a couple, or with children, everyone will find something they love to do here!
Lettuce Lake Conservation Park is one of Hillsborough County's most visited parks. Over half of the park's property lies in the natural floodplain of the Hillsborough River, consisting of a hardwood swamp forest, so there is plenty of opportunities to see wildlife. The remainder of the park consists of hardwood hammocks and pine flatwoods plant communities. The park features wooded picnic areas and playgrounds, a 1.25-mile paved exercise trail and 3,500-foot boardwalk with an observation tower provides scenic views of the Hillsborough River. Park ranger and volunteer-led nature education tours are available on weekends. Canoe and kayaks rentals provide up-close encounters with a variety of aquatic birds and wildlife.
McKay Bay Nature Park is a 38-acre park in Tampa. There is a 900-foot boardwalk trail through mangroves and mudflats, an observation tower that doubles as an education pavilion, a paved 1.25-mile multi-use trail and .5-mile nature trail. Picnic tables and interpretive signage are offered. McKay Bay Nature Park is a national avian sanctuary where birding and wildlife observation opportunities abound. A boardwalk trail weaves through the mangroves toward the extensive mudflats of McKay Bay. Many species of wading birds can be seen foraging, particularly in winter months.
Hillsborough River State Park is located in the northeast corner of Hillsborough County, Florida near Zephyrhills. It is a popular park due to its proximity to the city of Tampa. The park consists of over 3,383 acres, and there are more than seven miles of trails that run throughout it. Hillsborough River State Park offers RV camping with electric on most of the campsites in the 112-site campground. Each site is equipped with water, a fire ring and picnic table. The park has restrooms with hot showers and laundry facilities. The campground offers a dump station for your convenience. Pets are welcome and must be confined, leashed (up to six feet in length), or otherwise under the owner's physical control at all times.
Tampa Attractions
There are tons of attractions in and around Tampa that will be fun for the whole family. If you're on the search for unlimited fun and adventure, then you have come to the right place! Here are 3 unique destinations that are worth experiencing outside of the world famous attractions that Tampa Florida is known for.
The Ybor City Museum State Park is an urban park and historical museum in the heart of Tampa's National Historic Landmark District. This park consists of an exhibit space in the historic Ferlita Bakery building, as well as a lush Mediterranean-style garden and a recreated cigar worker's house. Take in a guided tour through the park with one of the knowledgeable park rangers or volunteers, or embark on a walking tour of the Ybor City Historic District to immerse yourself in the unique flavor of the area. Cubans brought with them a variety of food, architecture, traditions, and culture that helped shape - and continues to shape - the communities of Tampa. This park shows you some of these traces of Cuba.
As an alternative to the "Big Aquarium" that gets a lot of attention, The Florida Aquarium enables you to get up close to many of Florida's aquatic and terrestrial animals and ecosystems, as well as others from around the world. More than a must-see attraction, the staff works to protect and restore our blue planet on many conservation fronts, including research and rescue efforts that help restore Florida's sea turtle and coral populations and to ensure that sharks continue to swim our seas.
Who ya gonna call? Don't be fooled by the cheap imposters. Experience the first and original Tampa Ghost Tour by Ghost Party Haunted Tours. Enjoy a whole evening with add-on dinner reservations in the most haunted restaurants in Florida. Be a part of a real paranormal Investigation. Reserve a special event like a haunted vacation, a Ghost Hunting Birthday, spooky Wedding Bachelorette Pub Crawls or, the ultimate paranormal ghost tour.
As one of only 4 fully-operational WWII ships in the country, the American Victory Ship is a true American icon and is recognized on the National Register of Historic Places. This maritime museum is dedicated to honoring the men and women who built, sailed, protected and provided service during times of peace and war. The American Victory Ship and Museum honors veterans, active military and its community and relies heavily on private donations.
Tampa Events
For events, you will never run short of options in Tampa! There is everything for everyone, with both seasonal and yearly events. In Tampa Bay, any excuse to celebrate will do and locals break out the fireworks, parade floats, food vendors and live entertainment nearly every month for the area's fantastic line-up of festivals and events. Unlock Tampa Bay through the perspective of a pirate, a foodie, a history buff, a thrill seeker and even a kid; you can do it all here.
More than just a celebration of food and Cuban sandwiches, meet celebrity chefs, enjoy live music and dance performances and so much more during this incredible tradition of Tampa! The Cuban Sandwich Festival has become Worldwide sensation bringing local, National, and International contestants to compete every year in the Cuban Sandwich Contest.
From 5 – 7PM, the Friends of the Riverwalk celebrate Independence Day with an inaugural July 4th Boat Parade and Blessing of the Fleet. The parade route is similar to the holiday light boat parade, plus three blessing stations. A day of family fun evening filled with live music and a fireworks display that is worth the trip.
The festival takes place in Curtis Hixon Waterfront Park and Kiley Gardens Park in October. The festival features musical acts from a wide variety of genres on several stages and cuisine from local top restaurants.