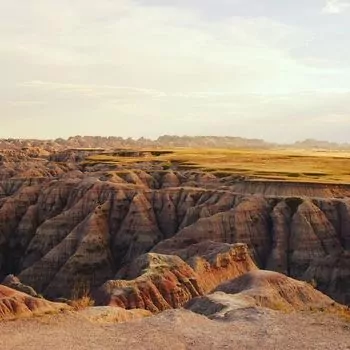 South Dakota Intro Content (Use links:
South Dakota
) South Dakota is an expansive, sparsely populated midwestern U.S. state where rolling prairies give way to the dramatic Black Hills National Forest. Take your RV rental on an iconic journey through the American prairies and badlands of South Dakota. Visit the glacial lakes, travel the same trails as Lewis and Clark. See Mount Rushmore and the Crazy Horse Memorial. Satisfy your sense of wonder, here where everything is larger than life.
Camping and RV Campsites in South Dakota
There is more than enough room to navigate your RV rental in the great state of South Dakota. You can park your RV near the shores of the Missouri river, cruise the land yacht across the flowing prairies or set up camp in the ponderosa pine forests of the Black Hills. This state has many options for the RV Camping Enthusiast.
For those visiting Mount Rushmore or exploring the Black Hills this RV Campsite is in a convenient location. Easy access to the feeway and it's close to the main attractions that people come to see plus 5 National Parks. Relax in our heated pool or hot tub. Play giant chess or play with the dogs in Kamp K9. Camp in comfort as our sites have 50 amp hookups.
Yippy Kye Aye Partner! Get ready to experience some genuine western hospitality along your RV Adventure under the star lit nights of the open prairie. The spirit of the west is alive and well here. That doesn't mean that you have to rough it. Camp in the comfort of your RV, play some horseshoes, or go to the nearby lake for fishing. It is also known for abundant hunting in the area for those interested.
Located in Central South Dakota, this RV park boasts super easy access for Large RV's, campers and, motorhomes and it's located right off I-90. There are 35 Pull Thru spots with full hookups and up to 50 amps. You get plenty of elbow room for your RV with 65 foot pads. Enjoy the pool during the day and later, the starry nights. Check our calendar for activities and events during your stay.
National Parks and State Parks near South Dakota
Many of the attractions in South Dakota are the state and national parks which highlight the glorious natural landscape of lakes, rivers and, rolling hills. Explore 6 National Parks and 56 State Parks and recreational areas that showcase and honor this great state's wilderness. Discover 8 Adventures you didn't know were possible. Make an EPIC RV Road Trip that you and your family will never forget.
Badlands National Park
There is nothing quite like the rugged splendor of the Badlands with its chiseled ravines and mountain butte pinnacles. This was once home to saber-tooths and now you will find bison, sheep, and even ferrets. You will also find plenty of ancient fossil remains. The park offers 16 designated scenic overlooks that make for outstanding photo opportunities. Take advantage of overnight camping to thoroughly enjoy the glorious sunsets and sunrises. Take in the bountiful beauty of wildflowers and local wildlife. You will need to check for RV accommodations and limitations regarding overnight stays and access.
Snake Creek has it all; hunting, fishing, hiking and camping. This 695 acre park is popular for it's scenic views along the Missouri River and history buffs will enjoy learning about the Lewis & Clark expedition.
The American Shrine to Democracy. It needs no introduction. The 60 foot faces of 4 American Presidents look over the expansive landscape below. The park includes trails, a museum, a gift shop and dining. Every evening you can watch the lighting ceremony, May through September. Take a Ranger tour and see the wildlife such as mountain goats that call the area home.
COVID-19 / CORONAVIRUS UPDATES FOR NATIONAL PARKS IN SOUTH DAKOTA
South Dakota National Park Closure Updates
The National Park Service is modifying its operations on a park-by-park basis in accordance with the latest guidance from the Centers for Disease Control and Prevention (CDC) and state and local public health authorities. While most facilities and events are closed or canceled, outdoor spaces in some parks remain accessible to the public. Before visiting, please check with individual parks regarding changes to park operations. If you choose to visit a national park, please ensure that you follow CDC and state and local guidelines to prevent the spread of infectious diseases and practice Leave No Trace principles. Updates about the NPS response, including safety information, are posted on
The National Parks Service Coronavirus Website.
COVID-19 / CORONAVIRUS UPDATES FOR STATE PARKS IN SOUTH DAKOTA
Click for Up to Date South Dakota State Park COVID-19 Updates
State parks remain open, adapt to COVID-19: GARRETSON, S.D. (KELO) — While many places are closed due to COVID-19, South Dakota's State Parks remain open. The state parks are open, and for the time being, they're free of charge. "Our Governor has waived the entrance fee requirement to our parks. So folks can come in and use our parks for free right now, through May 2nd," Regional Park Supervisor Jeff VanMeeteren said. "You know having no fee, it's nice, it's nice. It's bringing people, getting people outdoors that may typically not visit the parks," District Park Supervisor Luke Dreckman. The parks department is busy preparing for the summer season, but is doing so with a reduced staff.
South Dakota Attractions
Most people don't think about the large cities when they think of South Dakota, but there are is a gem of a city in Sioux Falls which is home to the Great Plains Zoo and Delbridge Museum of Natural History. There are also vineyards to discover along the Winery Trail. Naturally there are a ton of outdoor adventures to be had that are fun for the whole family. You will want to visit the glacial lakes in the northwest region of the state which provides countless camping and glamping opportunities. No RV Trip to South Dakota is complete without stopping in the Black Hills, Badlands and Mount Rushmore in the Western region of the state.
This zoo has over 1,000 animals to see and learn about their living habits and conservation efforts. Experience hands-on education about various animals from story time to STEM program for grade school to junior high aged children. The zoo is also home to the Delbridge Museum of Natural History. View 150 mounted animals. Most of which belonged to Henry Brockhouse, a local businessman and were donated to the museum. Many of these animals are now severely endangered
Just 13 miles from the town of Custer, walk through the crystal cave which is the 3rd longest cave in the world. Take one of the many guided tours through the cave or hike one of the many trails above ground. The cave tour includes 723 stairs in a half mile loop so come prepared with proper shoes. The jewels are calcite crystals and form shapes named nailhead, dogtooth, and formations of boxwork, cave popcorn and even a ribbon lie drapery known as cave bacon. One caution is White Nose Syndrome which is contracted from bats. All visitors are screened after exiting the cave to prevent the spread.
This 50 foot tall sculpture of a Native American woman combines art and history. It honors the Lakota and Dakota people. It represents courage, perseverance and wisdom. She holds an outstretched quilt designed with 128 stainless steel blue diamond shapes move in the wind and catch the sun while at night, they glow. The statue is visible from the interstate.
South Dakota Events and Celebrations
There are several year round events in South Dakota from the Sturgis Motorcycle Rally, the Laura Ingalls Wilder Pageant to the biannual night blast at the Crazy Horse Memorial. Enjoy festivals such as Forks, Corks And Kegs, and the annual Schmeckfest honoring Germans who emigrated from Russia.
The Fort was an Army Outpost in the late 1800's which provided a strong natural defense. Travel back in time to feel what life was like for the locals and experience a living history with re-enactments and period architecture, tents and horses for the Calvary and Infantry complete the scenery. You may even see Abraham Lincoln. You will also get to enjoy live music, black powder pistol shootouts and a tomahawk throwing demonstration and period dancing instruction. Get your fill of grub at the authentic chuck wagon and judge a dutch oven cook off. There will also be arts and crafts throughout the weekend. Enjoy camping at Fort Sisseton to complete the experience.
The historic town of Deadwood comes alive to celebrate the life of Wild Bill Hickock. See Top musical artists perform during free concerts all weekend long. Watch the classic car auction, check out the National Dock Dogs Competition. Learn to gold pan. Eat amazing food from local chefs and definitely catch the Wild Bill Motorcycle Classic.
Pow Wow's have changed over the years During this event enjoy and even participate in a 3-D Archery Shoot or a Golf Tournament as part of the festivities. Watch the Native American Parade and see who will be crowned Miss He Sapa Win. There will be traditional dancing, singing. Come and visit with old friends and make new ones. The Black Hills Pow Wow, or He Sapa Wacipi Na Oskate, has been attracting thousands of attendees for over 22 years. Come and experience the festivities.