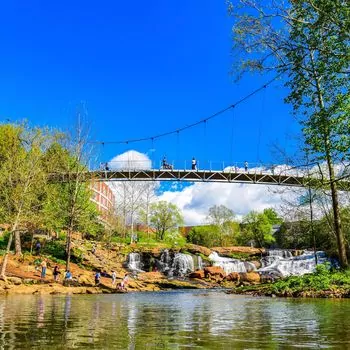 South Carolina Intro Content (Use links:
South Carolina
) South Carolina, known for its shoreline of subtropical beaches and marshlike sea islands. It is a fantastic RV Vacation Destination with it's historic cities and ocean front attractions. Visit places like Myrtle Beach, Hilton Head and Charleston.
Camping and RV Campsites in South Carolina
South Carolina has some of the best campgrounds for the RV rental vacation. There are over 3,000 campsites in the state from lakeside, ocean front and mountain locations. Your family has plenty of options for creating a memorable vacation.
Willow Tree RV Resort is a great place for an RV vacation. They have lakeside and premium pull-thru RV sites. The RV campsites offer full hookups, with full sized paved pads with awesome views. Whether you have a 5th Wheel, a camper or a motorhome, you will have 30-50 amps of electric power, water and sewer hook ups. Choose from lake front sites, pull thru sites and, Motorhome Only Sites. Enjoy a whole host of activities from swimming to oyster roasts, cookouts and holiday festivities.
Hilton Head Island Motorcoach Resort is one of the Country's best kept secrets. Located an hour from Savanah Georgia and 2 hours from Charleston and Exclusive to RVs, this resort sits on 50 acres of gorgeous woodlands and sites that accommodate Class A, C, and Super B motorcoaches. Amenities include the standard full hookups, cable and wifi, but also include tennis and pickleball courts, walking distance from the beach and a luxurious spa.
This exclusive gated, luxury, waterfront RV Resort is located on the beautiful Intracoastal Waterway, at mile marker 348, in the quaint town of Little River South Carolina at one of the state's oldest and most unique towns called Little River. Drive your RV rental here and step back in time to where everything still moves slower. Offering extra large paved RV campsites, boat docks, jet ski rentals and a large pool with a 150 foot waterslide. Leave the stress and hustle of the big city behind. This resort is close to many attractions, golf courses and world class entertainment.
National Parks and State Parks near South Carolina
Discover our nations history and visit the many landmarks that fill the state with your RV rental. Take the road less traveled across our State and National Parks, paddle down the Edisto River and even stay in a treehouse. The State Parks have accommodations to suit your RV trip. Whether you are on a short retreat, or on an RV Adventure, experience the great outdoors and uncover the beauty of the Palmetto State's gardens.
Hike along a mountain waterfall or paddle a low country swamp wilderness and mountain bike in the Epic Forks Trail. There is plenty to explore in this national park and learn about the area at the environmental education center. There are areas for fishing, kayaking and even rifle ranges. Take part in recreational activities as diverse as their terrain.
The Smoky Mountains National Park sits on the border between North Carolina and Tennessee. Drive your RV rental through the thick lush forest and see the flowers that bloom all year around. As part of the Appalachian Trail, you will see mist covered mountains, waterfalls, Rivers, fireflies and black bears too. Be sure to visit Cades Cove, one of the most popular sites in the park. This is a very wild area. Hikers enjoy the Smokey Mountains all year round. The backcrountry is managed as a pristine natural area and the seasonal and sometimes sudden weather conditions determine the conditions of trails.
Congaree National Park is a 26,276-acre American national park in central South Carolina. No words can do justice to the natural beauty of this park area. This is the largest old growth bottomland hardwood forest in the Southeast. This is a must-see ecosystem. While here, have fun Canoeing, hiking, fishing, camping under the stars or in your RV rental.
COVID-19 / CORONAVIRUS UPDATES FOR NATIONAL PARKS IN SOUTH CAROLINA
South Carolina National Park Closure Updates
The National Park Service is modifying its operations on a park-by-park basis in accordance with the latest guidance from the Centers for Disease Control and Prevention (CDC) and state and local public health authorities. While most facilities and events are closed or canceled, outdoor spaces in some parks remain accessible to the public. Before visiting, please check with individual parks regarding changes to park operations. If you choose to visit a national park, please ensure that you follow CDC and state and local guidelines to prevent the spread of infectious diseases and practice Leave No Trace principles. Updates about the NPS response, including safety information, are posted on
The National Parks Service Coronavirus Website.
COVID-19 / CORONAVIRUS UPDATES FOR STATE PARKS IN SOUTH CAROLINA
Click for Up to Date South Carolina State Park COVID-19 Updates
Beginning Saturday, March 28, all state parks in South Carolina will be closed through Thursday, April 30, to support the state's response to COVID-19. This includes the State House Tour Service and gift shop. The closure is designed to keep visitors and employees as safe as possible by mitigating the spread of the Coronavirus. Visitors who are currently occupying campsites and cabins can remain through the duration of their rental reservation as long as they continue to practice the state's recommendations for social distancing. All new reservation arrivals, however, from Saturday, March 28, to Thursday, April 30, will be cancelled and refunds issued. Reservations for day-use rentals will be taken for dates beginning May 1 and overnight reservations for cabins and campsites for reservations beginning May 8. All boat ramps and landings to all lakes, rivers and waterways and all public beach access in South Carolina have been closed due to an Executive Order issued by Governor Henry McMaster.
South Carolina Attractions
I hope you are rested up because you will need a lot of energy with so many attractions to see and activities to do in South Carolina. Par the RV and and explore the wonders we have to offer your family. Hike the BBQ trail, take in the tranquil lakes and be entertained.
Experience hands-on learning. This museum and activity center is 62 acres large with classrooms, labs and even a living history farm. Of course no science center is complete without an observatory, housing the U.S.'s eighth-largest refractor telescope. If that's not enough, visit the planetarium. The center even has a rainforest. There is something here for every member of the family to enjoy.
This large scale model railroad attraction will be the first one in the USA and promises to be more advanced than anything seen at Disney World or the Miniature Wonderworld of Train Exhibit in Hamburg Germany. This attraction was set to be completed in 2017 and is still in the works. If you are fascinated by miniature trains than help us make this a permanent attraction in Greenville for families to visit from across the country.
No summer RV Vacation is complete without a trip to a waterpark. Slide down winding tunnels, swim in wave pools or float down a lazy river. Discovery Island has all of it. Park your RV and put on your swim trunks for a day of wet and wild fun for the entire family.
South Carolina Events and Celebrations
The Carolina Cup Racing Association holds an annual horse race. First organized in 1963, the Springdale Race Course is the home for training race horses and hosting races including the Carolina Cup and the Colonial Cup. Drive your RV rental to the track and have a day at the races.
This annual event is totally unique nature event of it's kind and the largest in the US. There are wildlife artists, painters, sculptors. Of course there are wildlife exhibits, educational demonstrations and shows, outdoor outfitters and activities that involve people of all ages.
When you think of South Carolina, a rich history and Americana come to mind. Well, you will want to take part in the American Heritage Festival held in Lake City. Watch the dramatic reenactments of civil war battles, go back in time and purchase goods from local merchants. Listen to period music played by talented musicians and watch 18th century presenters give educational speeches.