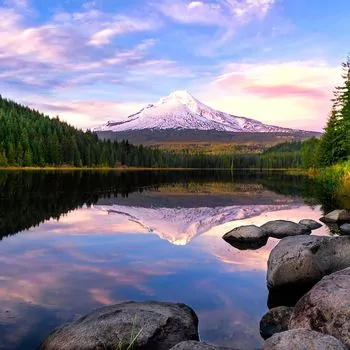 Oregon
is the heart of the Pacific Northwest. Full of diversity and culture, there is always new ideas and innovation coming from Oregon. Full of state parks and scenic beauties, this is the perfect place to reconnect with nature.
Camping and RV Campsites in Oregon
Camping in Oregon is the perfect way to experience the Beaver State. Camping in a rental RV is the best way to have a fun and flexible trip to get all the site seeing and fun activities you have planned for your vacation. Make sure to find the perfect RV Campsite while in Oregon.
Crater Lake RV Park is the best way to visit Crater Lake. This RV Park is perfect for visiting in your RV rental. With great scenic areas and trails to explore, there is a lot to do while at the campsite. You can stay at this RV park as you spend your vacation at Crater Lake National Park. Make sure to check this out as you visit Oregon.
Cannon Beach RV Resort is an ideal campsite to be in a great location in Oregon. With full hook ups and pull throughs that can accommodate any RV rental. Next to the famous Cannon Beach , you can see all the adventures that Oregon has to offer. This RV park offers a comfortable stay while camping in your RV rental.
Right next to the beautiful coastline of Oregon, Sea & Sand RV Park is waiting for visitors in their RV rentals. With great views and comfortable campsites, this is a great place to stay while visiting Oregon. Here you can explore Oregon and come back and enjoy all the amenities you would need in your RV rental.
National Parks and State Parks near Oregon
Oregon is home to some of the world's most famous and beautiful National and State Parks. With amazing landscapes and formations what will take your breath away. Make sure to get out into nature and away from the world during your stay in Oregon.
The deepest lake in the US in none other than Crater Lake National Park. This is due to the eruption of a volcano that caused the collapse that created a crater. There is no rivers or creeks that flow into this lake, it is purely filled by rain and snow. One of the most beautiful places on earth is Crater Lake. You can boat, fish, hike, and camp at this national park. You have to see this place to see the true beauty of the Crater Lake.
The largest National Scenic Area is located in Oregon at the Columbia River Gorge. Explore this beautiful area where you can find waterfalls, wildlife, and waterfronts. Every twist and turn you take is a new sight that will blow your mind. There is so much to do and see you can spend as much time here as you want and never get bored.
Mount Hood is the closest national park to Portland. You can hike, fish, and camp year round at this park. You can also participate in skiing and snowboarding and other winter sports at Mount Hood. There are plenty of places to stay and do to have an incredible experience while visiting this national park.
COVID-19 / CORONAVIRUS UPDATES FOR NATIONAL PARKS IN OREGON
Oregon National Park Closure Updates
The National Park Service is modifying its operations on a park-by-park basis in accordance with the latest guidance from the Centers for Disease Control and Prevention (CDC) and state and local public health authorities. While most facilities and events are closed or canceled, outdoor spaces in some parks remain accessible to the public. Before visiting, please check with individual parks regarding changes to park operations. If you choose to visit a national park, please ensure that you follow CDC and state and local guidelines to prevent the spread of infectious diseases and practice Leave No Trace principles. Updates about the NPS response, including safety information, are posted on
The National Parks Service Coronavirus Website.
COVID-19 / CORONAVIRUS UPDATES FOR STATE PARKS IN OREGON
Click for Up to Date Oregon State Park COVID-19 Updates
COVID-19 Response: Parks closing. We have made the difficult decision to close the entire state park system by March 23. No daytime or overnight visitors are permitted at any state park. This does not affect the ocean shore. We'll revisit that decision if people don't maintain 6' social distance and if cities/counties make a formal request through the state's Office of Emergency Management.
Read the closure announcement.
This closure will last at least until May 8. We'll decide before then whether it's time to re-open. The COVID-19 situation is very fluid and we're following Governor Kate Brown's executive order dated March 23, 2020.
Oregon Attractions
Oregon offers many famous and popular cities and attractions to visit. From Portland to Salem to Newport there is a lot to do and see in the state of Oregon. You can find the perfect trip with fun activities and attractions while visiting Oregon.
Oregon is known for its quirky personalities and ideas. The Oregon Vortex is a place where the right seems wrong and forwards is backwards. A place where there is unnatural phenomena going on all the time. You need to visit this place so you can find out for yourself if true or if there is truly something paranormal going on.
Food Trucks are a staple of cuisine in Oregon. With so many options to choose from, people love to find the perfect truck to satisfy their carvings. At these food carts you can taste authentic food made by people with a passion for what they do. If you are looking for something to eat while in Oregon, look no further than the Food Carts Portland.
Outside of Japan, this is said to be the most beautiful and authentic Japanese Garden. Portland is home to the Portland Japanese Garden with 12 acres of gardens and walk ways. This is a beautifully scenic garden with a Tea house and streams throughout. This is a must visit attraction while in Oregon.
Oregon Events and Celebrations
Oregon is a state where the people love to celebrate events and festivals. Celebrating music, art, food, and everything in between is represented in the events in Oregon. You can find the perfect event for you while in Oregon.
Created over 100 years ago to put Portland on the map to be recognized as the "summer capital of the world". The Portland Rose Festival is a popular event that brings people far and wide to this diverse and cultural festival. There are parades, food, and activities that make it one festival that you have to attend while in Oregon.
The Oregon State Fair is an annual fair that occurs in Salem Oregon. There are many fun activities and attractions at the fair that you can do. There are rides and concerts that you can participate in. The food is delicious, and you can find all sorts of deep fried dishes. There are also fun competitions that go on during the fair. This is a fun event that you can attend while in Oregon.
The Newport Seafood & Wine Festival is an annual food and wine festival that takes place in Newport Oregon every year. You can experience delicious and fresh seafood and high quality wines from local vineyards. Sample and try new dishes and wines to find your new favorites to stock up.