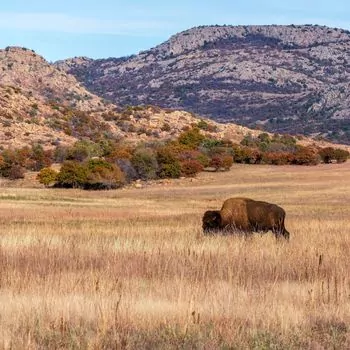 Bordering 5 states, Oklahoma has the greatest accessibility from its neighbors. Not only is the Sooner State brimming with beautiful nature and awe-striking sights, it is packed with American and Native Historic Sites. Learn about the legendary Cherokee or take the day to ride dune buggies. All that and more can be experienced in the great state of Oklahoma, so read below to see where best to book for your RV rental trip.
Camping and RV Campsites in Oklahoma
Numerous campgrounds both in the city and out in the country are sprinkled across the Sooner State. Many offer the standard amenities of 30/50 Amp hookups, water, sewer, etc., but with all the attractions Oklahoma has to offer, you'll find yourself conveniently located near luscious lakes, beautiful forest and state parks, and national historic sites. There are even extraordinary events like go-karts, gofling, and dune buggies depending on the location you select, and all can be found on Travel OK's
website.
A few highlights are listed down below for quick exploration for your RV rental trip.
With 170 sites featuring 30/50 Amp setups, Rockwell RV Park is an excellent stop to make if you are looking to visit the state capital during your RV rental trip. On site there are 2 laundry mats, bathhouses, an indoor pool and even a spa. And with the regular amenities of cable, water, and sewer, you'll find yourself in the "Oasis of Oklahoma City" as they call it, so visit their
website
for more information.
If you're wanting to find a campsite with more of an outdoor theme, then Lakeshore RV Park is perfect for your RV rental. It features RV sites on Lake Hudson's shores, offering great opportunities for swimming and fishing. It even has boat ramp access in case you decide to bring your own water toy. With well-maintained showers, restrooms, and standard hookups, you'll have everything you need to make your vacation a memorable one at
Lakeshore RV Park.
Maybe on your RV rental trip you want all the big amenities, but not the big city. Then mark your destination for Hochatown RV Park, located near Broken Bow. The entire park has free Wi-Fi to connect to the internet at any time, standard hookups, and easy-to-maneuver pull-through sites. While it does have standard amenities like picnic tables and campfire ring pits, you'll be amazed to enjoy their mini-golf course, go-karts, and even a day spa all located within walking distance. The icing on the cake: Beavers Bend State Park is right across the road. It truly is an all-in-one RV park, so browse their
website
for more information and reserve your spot today.
National Parks and State Parks near Oklahoma
Dozens of State parks lay scattered across the great state of Oklahoma. These locations vary with beautiful hiking trails into the forests, and serene fishing opportunities along their lake and stream shorelines. Many of the state parks will even offer camp and RV sites which is convenient for your RV rental trip. Multiple national historic sites, trails, and monuments can be visited through the Sooner State, giving Oklahoma in-depth insight to America's culture and history.
Home to springs, streams, lakes, puddles, etc., is the water attraction Chickasaw National Recreation Area. Open for public swimmers, there are plenty of shaded streams and swimming holes to enjoy the day at. A couple locations even offer fishing, such as Veterans Lake and Lake of the Arbuckles, which also provides excellent opportunities for motorboating and skiing. And with nearly 10,000 acres of forest and water,
Chickasaw National Recreation Area
is an ideal spot to spend your time during your RV rental trip.
Hidden away in northeast Oklahoma near the Oklahoma/Arkansas border is a breath-taking 77-foot waterfall descending downward through rock formations into the serene atmosphere at the bottom of the natural valley. Observation points allow visitors and hikers to view the falls from above and below. If you find the beauty is too captivating to leave after a short visit, they even have convenient RV sties for your RV rental trip, where you can experience the Red Fern Reunion Center, hiking/nature trails, volleyball, basketball, and countless other activities. Visit their a href=" https://www.travelok.com/state-parks/5293/" target="_blank"> website for further details, and enjoy the Natural Falls.
Not only is Boiling Springs State Park an awe-inspiring sight to behold for visitors, but it doubles itself as an amenity-packed luxury campsite, including RV sites. You can enjoy hiking, fishing, campfires, and so much more while viewing the park's namesake attraction of the flowing natural "boiling" spring. The park is one of the seven original state parks built in the 1930's by the Civilian Conservation Corps, giving it such rich history that needs to be explored during your RV rental trip, so visit
Boiling Springs State Park
today.
COVID-19 / CORONAVIRUS UPDATES FOR NATIONAL PARKS IN OKLAHOMA
Oklahoma National Park Closure Updates
The National Park Service is modifying its operations on a park-by-park basis in accordance with the latest guidance from the Centers for Disease Control and Prevention (CDC) and state and local public health authorities. While most facilities and events are closed or canceled, outdoor spaces in some parks remain accessible to the public. Before visiting, please check with individual parks regarding changes to park operations. If you choose to visit a national park, please ensure that you follow CDC and state and local guidelines to prevent the spread of infectious diseases and practice Leave No Trace principles. Updates about the NPS response, including safety information, are posted on
The National Parks Service Coronavirus Website.
COVID-19 / CORONAVIRUS UPDATES FOR STATE PARKS IN OKLAHOMA
Click for Up to Date Oklahoma State Park COVID-19 Updates
Oklahoma State Parks: COVID-19 Information & Updates These unprecedented times have presented our state parks with the unique task of providing folks with a place to escape for essential mental solace and communion with nature while minimizing any sort of exposure risk to the COVID-19 virus.
Oklahoma Attractions
The Sooner State is brimming with countless attractions. With multiple amusement and water parks, culture sites and centers, outdoor family activities and historic sites, you'll find plenty to do to fill your schedule on your RV rental trip. Below are just a few examples of what Oklahoma has to offer!
One of the most important stories in American history is the Trail of Tears, a forceful removal of the Cherokee people who traveled thousands of miles and settled in what is now Oklahoma. This National Historic Trail hosts multiple "original trail" spots that you can walk and observe the nature and history around you. Staff members and volunteers provide cultural education and insight to the events that took place, and if you're on your RV rental trip, you need to make a stop to visit even just one of the many miles of the
Trail of Tears National Historic Trail.
A beach in landlocked Oklahoma? How can this be?! Indeed, Bricktown Beach is the only opportunity in the state to experience a taste of the coastline and get some sand between your toes. A large outdoor park area, Bricktown features umbrellas, lounge chairs, volleyball, and various other outdoor games. And aside from the wintertime, the beach is open 24/7, letting you find any time and day to enjoy yourself at this unique amenity of the Sooner State. To learn about Bricktown Beach, visit their website
here.
If you're looking for a spookier, more mysterious activity to do on your RV rental trip, look no further than Magnetic Hill in Springer, Oklahoma. For decades this site has stumped hundreds of people who try to solve the mystery of the hill. By turning your car off at the bottom of the hill and leaving it in neutral, you will actually roll uphill. Nobody can explain this phenomena. Is it ghosts? Aliens? A simple magnetic force? Visit it yourself and see if you can solve the mystery of
Magnetic Hill.
Oklahoma Events and Celebrations
Winter Wonderland, Bartlesville Egg Drop, and Kids' Fishing Derby. These are only a few of the couple dozen events that run throughout the state of Oklahoma. The luscious lakes, culture centers, and state parks offer great respite for the average visitor, but visit Travel OK's
website
to find a full list of family-friendly, fun-filled activities you can schedule during your RV rental trip to make it that more special. A few highlighted events are listed below.
Every spring, hundreds of people spend a pleasant afternoon at Ardmore's Regional Park to spectate the colorful kites that take to the sky. With so many designs, colors, and patterns, awards are given out for highest/lowest flying kites, biggest and smallest, and so many other categories. Food trucks cater the event, and don't worry if you don't have a kite to join in; free kites are given out to those in need! Visit Travel OK's
Festival of the Child
Spring in Oklahoma is always bustling with activity, especially family-friendly events, and it doesn't get more friendly than the Festival of the Child. This one-day, outdoor event is designed specifically to celebrate children and the essence of childhood itself. For children 12 and under, there are over 50 different activities such as storytelling, hands-on workshops, magic shows, balloon animals, and so, so much more. Over 200 volunteers come together to entertain more than 3,000 visitors every year to provide an exciting day for kids and their families. Schedule the
Festival of the Child
somewhere on your RV rental trip, and bring the kids; they'll love it.
During the last two weekends of October, Oklahoma City Zoo indulges in one of the city's most Spooktacular events. Daytime trick-or-treating for kids and their families occurs on the zoo grounds, allowing them to see the animals as they visit. Not meant to be a horror attraction, Haunt the Zoo is geared more towards fantasy-themed fun and thrills for children of all ages. And if you decide to miss the Halloween event, make sure you visit the
Oklahoma City Zoo
anytime of the year.