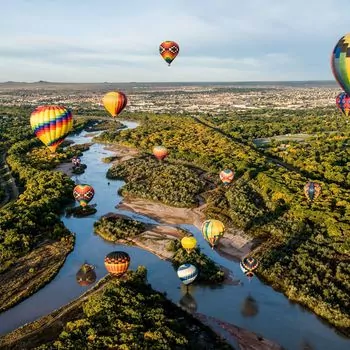 The Land of Enchantment, New Mexico, was founded in 1610 and is popular for the vibrant arts scene in its capital city of Santa Fe. Santa Fe offers upscale spas, the Georgia O'Keeffe Museum, and the open-air Santa Fe Opera. The gorgeous landscape of the state ranges from desert cactus to white sand ridges to tree covered mountains. A great state for your RV rental,
New Mexico
is considered as the UFO capital of the world, the expansive sky makes it easy to keep an eye on the stars. Real urban communities include Albuquerque, Santa Fe, Las Cruces, Taos, and Roswell. Most of the urban communities are incredible areas for you to trip to New Mexico in an RV rental.
COVID-19 / CORONAVIRUS UPDATES FOR NATIONAL PARKS IN NEW MEXICO
New Mexico National Park Closure Updates
The National Park Service is modifying its operations on a park-by-park basis in accordance with the latest guidance from the Centers for Disease Control and Prevention (CDC) and state and local public health authorities. While most facilities and events are closed or canceled, outdoor spaces in some parks remain accessible to the public. Before visiting, please check with individual parks regarding changes to park operations. If you choose to visit a national park, please ensure that you follow CDC and state and local guidelines to prevent the spread of infectious diseases and practice Leave No Trace principles. Updates about the NPS response, including safety information, are posted on
The National Parks Service Coronavirus Website.
COVID-19 / CORONAVIRUS UPDATES FOR STATE PARKS IN NEW MEXICO
Click for Up to Date New Mexico State Park COVID-19 Updates
All state parks are temporarily closed to the public as a public health precaution due to the COVID-19 (coronavirus). These closures are part of the larger effort by state government to minimize public exposure. Visit New Mexico State Parks for more information. The closures will remain in effect until April 30, unless an extension of closures are deemed necessary. Common spaces, museums, bookstores, and visitor's centers at many of New Mexico's National Parks are also closed, though other park spaces remain open and accessible. Check with the National Park Service website for more information. Prospective visitors are also encouraged to find your virtual park online.
New Mexico Attractions
Carlsbad Caverns National Park
A state gem,
Carlsbad Caverns National Park
is a filled with beauty and wonder both above and below. More than 119 caves are hidden beneath the surface, you can learn about the park with a guided ranger talk or tour at your own pace. Access is available by elevator or hiking. Be sure to catch the sunset flight of the bats, which begins in May and runs through the summer months. Open year-round except for on Christmas Day, this is a geological must see!
Petroglyph National Monument
RVers going in their RV rentals in New Mexico to Albuquerque will want to make a stop at the
Petroglyph National Monument.
One of the largest sites of its kind in North American, these ancient pictograms reflect designs and symbols of the Native American and Spanish settlers from 400 to 700 years ago. The images are carved into volcanic rocks and hold a profound spirituality for Native Americans. There are four hiking trails in the monument from which to view these archeological treasures, they range in length from one hour onwards.
White Sands National Monument
In the northern Chihuahuan Desert of New Mexico, a dramatic landscape of rippling rare white gypsum sand dunes captivates the eyes for more than 250 square miles. The
White Sands National Monument
has a few walking trails with interpretive exhibits on wildlife from which to bask in the scenery or there is a 16-mile looped road called Dunes Drive to explore via car or bicycle. The more adventurous can hike up the dunes and take an exhilarating ride down on a sled.
New Mexico State Parks/Campgrounds
Pecos National Historical Park
Close to Santa Fe, nestled among the pion, juniper and ponderosa pine woodlands of the Sangre de Cristo Mountains you will find
Pecos National Historical Park.
Notable for the remains of Indian pueblos (mud made residences) which date back a thousand years, guests are invited to explore the culture and rich history of the Pecos Valley. In addition, there is hiking, fishing, and guided tours with artifacts from the peoples who once inhabited the area.
Santa Fe Skies RV Park
Do you know the way to
Santa Fe Skies RV Park
? Its minutes from the various attractions, eating choices, and business corridor of Santa Fe, New Mexico and a great place to stay to explore the area. It has 98 accessible spaces, 96 of which are full hookups with tables, porches, and space for slideouts. Service includes a game room, recreational hall, nature trails, exercise classes, RV supplies, nearby RV benefit restrooms, and showers, laundry area, and wi-fi web access for your camper rental New Mexico. Make the most of its quiet setting all through the year.
Stagecoach Stop RV Park
Perfect for a travel trailer rental in New Mexico, the
Stagecoach Stop RV Park
is a choice stop to dock at and explore the urban communities of Rio Rancho, Albuquerque, and its encompassing territories. It has 40 accessible full hookups with space for slideouts. Its services include a heated pool, whirlpool, game room, recreational hall, wi-fi, digital TV, RV stockpiling, restrooms and showers, and laundry area. The Stagecoach Stop RV Park is open any time of year for your travel trailer rental in New Mexico!
Celebrations and Events
Albuquerque International Balloon Fiesta
Generally held the second week of October, the
Albuquerque International Balloon Fiesta
is a nine-day colorful feast for the eyes. The worlds largest ballooning event started in 1972 and hosts 600 inflatables, musical performances, daily inflatable glows, flying competitions, firework shows, a balloon gallery, arts & crafts stalls, chainsaw carving competition, wandering entertainers, food and drinks, and a ton more. Best of all you can stay in the RV on site (book early, reservations required), so bring the whole family and be hypnotized by the Albuquerque International Balloon Fiesta!
Taos Pueblo Pow Wow Festival
A three-day occasion held each July, the
Taos Pueblo Pow Wow Festival
is a cultural rich event that preserves Native American ceremonial heritage. A gathering of Indian nations, the powwow invites tribes throughout the country to come together in a circle of friendship, to connect in song, dance, and trading. It is a competition of tribal dances for women and men, that is divided by age group and dance style. A spectacular performance to behold, the beat of the drums will beckon you to move along. The festival will also tempt you with artistic wares of jewelry, beadwork, pottery, paintings and more specialties sellers. The celebration held at the Taos Indian Reservation has a variety of food to enjoy and is a liquor and medication free occasion. New Mexico, filled with the amazing natural landscape, points of interest and cultural to behold, will more than enchant you. Book an RV rental to New Mexico at RVnGO to make New Mexico part of your own history. Much thanks to you for picking RVnGO for your RV rental in New Mexico!