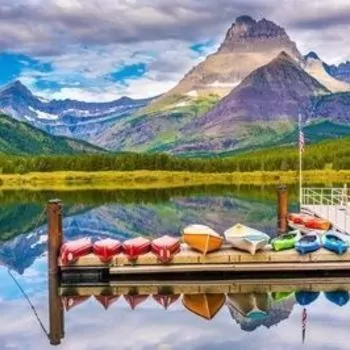 Without an official nickname, Montana is popularly known as a "Big Sky Country." Defined by its stunning landscape of Rocky Mountains to the Great Plains, it boasts Glacier National Park, Going-to-the-Sun Road, Lake McDonald and Logan Pass, which has epic vistas from the Continental Divide; as well as 29 historic sites, most notable is the Little Bighorn Battlefield National Monument. From state parks to the historic monuments, the best way to enjoy
Montana
is to hope in your RV rental leased from RVnGO! Fun urban areas include: Missoula, Bozeman, Billings, Great Falls, Kalispell, Helena. These urban areas are incredible for a RV rental in Montana!
COVID-19 / CORONAVIRUS UPDATES FOR NATIONAL PARKS IN MONTANA
Montana National Park Closure Updates
The National Park Service is modifying its operations on a park-by-park basis in accordance with the latest guidance from the Centers for Disease Control and Prevention (CDC) and state and local public health authorities. While most facilities and events are closed or canceled, outdoor spaces in some parks remain accessible to the public. Before visiting, please check with individual parks regarding changes to park operations. If you choose to visit a national park, please ensure that you follow CDC and state and local guidelines to prevent the spread of infectious diseases and practice Leave No Trace principles. Updates about the NPS response, including safety information, are posted on
The National Parks Service Coronavirus Website.
COVID-19 / CORONAVIRUS UPDATES FOR STATE PARKS IN MONTANA
Click for Up to Date Montana State Park COVID-19 Updates
Park facility closures are extended through April 24, 2020, in accordance with the Governor's COVID-19 directive. Most State Parks will remain open for day use recreation. Campgrounds, visitor centers, group use facilities, playgrounds, fishing piers and some latrines have been closed until further notice.
Montana Attractions
Montana Snowbowl
Appreciate a nice drive in your RV rental in Montana to Missoula and have a blast at the
Montana Snowbowl.
From novice green runs to expert black diamonds, everyone will enjoy the flawless powder like the snow of this mountain paradise. Camp in close-by Missoula and make a beeline for the slopes, where you can rent gear, eat at the delicious restaurants, and take a lift up to the summits for a day of winter fun. Summer guests are invited to hike, zip line, play disc golf (Folf) and mountain bike, making this a beloved a year-round attraction.
Yellowstone Valley Brewing Company
Steer your RV rental in Montana to Billings and spend an evening at the
Yellowstone Valley Brewing Company.
One of Billing's most famous attractions, the Yellowstone Valley Brewing Company is a microbrewery which makes the best specialty lager in Billings. You can test its blends, eat some food, play a few games, and tune in to live musical performances. It is an excellent place to chill and meet a few local people. The "Carport" is open from Monday through Saturday, 4:30 pm to 8:30 pm.
Lewis and Clark National Historic Trail Interpretive Center
If you are a history fan, drive your RV rental in Montana to Great Falls to visit the
Lewis and Clark National Historic Trail Interpretive Center.
It is a place where you can learn more about their 8,000-mile journey across North America, which was critical to the expansion of the United States. Begin your voyage by watching one of two introductory movies in its 158-seat theater, afterward check out at the displays loaded with ancient treasure and memorabilia of the trek, which is surrounded by a two-story diorama of the portage of Missouri River's five great falls. Additionally, you can simply enjoy the nature trails outside the center.
Montana State Parks/Campgrounds
Lincoln Road RV Park
Minutes from the downtown region of Helena, the Lincoln Road RV Park is "In the Heart of Montana. It has 56 accessible spots, 44 of which are full hookup spots with tables, porches, and space for slideouts. It can contain a wide range of RVs including Class B and Class A rentals. Services and amenities include wi-fi web access, recreational hall, nature trails, restrooms and showers, and laundry rooms. Enjoy connecting with nature at the
Lincoln Road RV Park
in your camper rental in Montana!
Sunrise Campground
Sunrise Campground
is a spectacular destination if you are heading your RV rental in Montana to Bozeman. It is the nearest RV Park to the downtown area and only a couple of minutes to the Yellowstone National Park. It has 50 accessible full hookup spots with space for slideouts. Services and conveniences include wi-fi web access, recreational halls, play area, restrooms and showers, laundry room, and self-serve RV wash. Stop season is from April 1 to October 30 for your RV rental Montana!
Celebrations and Events
Sweet Pea Festival
Held each August in Bozeman, the
Sweet Pea Festival
is a three-day event committed to promoting and cultivating the arts. With activities for the whole family, the 40-year-old festival includes music, theater, dance, more than 100 arts, and craft vendors, a flower show, chalk on the side-walk, workshops, beer and wine garden, the nibble of Bozeman, an adult and children's run, as well as a parade.
Montana Cowboy Poetry Gathering and Western Music Rendezvous
Take a ride in your Montana RV rental and visit the city of Lewistown in mid-August to appreciate the community of ranchers at the
Montana Cowboy Poetry Gathering and Western Music Rendezvous
Nearly 25 years ago the event was formed and is dedicated to celebrating and preserving the history, heritage, and values of the cowboy lifestyle in the Upper Rocky Mountains West. With more than 120 cowboy poets, western musicians and artists sharing their talents, it also includes a Western Art and Gear Show, a Jam 'n Dance night, and loads of cowpoke food and drinks to enjoy! The state of Montana isn't all about cowboys; it also has many scenic landscapes, fun attractions, and memorable monuments to explore. Lease a RV to Montana at RVnGO and make the most of its wonderful views and incredible history!