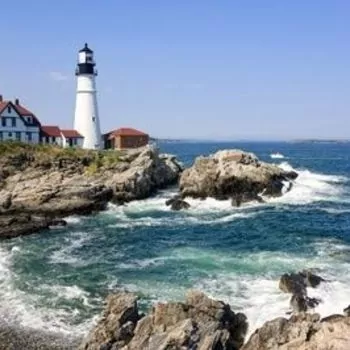 At the tip of New England, Maine is the northeastern-most state. With candy-striped lighthouses, its rocky coastline, maritime history, the end of the Appalachian Trail and lobster shacks draw much-deserved attention. In addition to being home to many a moose and sandy beaches, it is famous for Kennebunkport and Bar Harbor.
Maine
is filled with scenic beauty and natural spaces to explore in your Class A RV rental!
COVID-19 / CORONAVIRUS UPDATES FOR NATIONAL PARKS IN MAINE
Maine National Park Closure Updates
The National Park Service is modifying its operations on a park-by-park basis in accordance with the latest guidance from the Centers for Disease Control and Prevention (CDC) and state and local public health authorities. While most facilities and events are closed or canceled, outdoor spaces in some parks remain accessible to the public. Before visiting, please check with individual parks regarding changes to park operations. If you choose to visit a national park, please ensure that you follow CDC and state and local guidelines to prevent the spread of infectious diseases and practice Leave No Trace principles. Updates about the NPS response, including safety information, are posted on
The National Parks Service Coronavirus Website.
COVID-19 / CORONAVIRUS UPDATES FOR STATE PARKS IN Maine
Click for Up to Date Maine State Park COVID-19 Updates
Midcoast and Southern Maine Coastal State Park Closures Extended: (April 6, 2020) - In response to public health guidance related to COVID-19, ten Midcoast and Southern Maine coastal State Parks and beaches are closed until April 30, 2020. BPL will continue to monitor the need for park closures and curtailed services and will reopen when it is safe to do so. Park closures include Reid State Park, Popham Beach State Park, Fort Popham, Fort Baldwin, Kettle Cove State Park, Two Lights State Park, Crescent Beach State Park, Scarborough Beach State Park, Ferry Beach State Park, and Mackworth Island. All other State Parks are open, with existing COVID-19 precautions in place.
Maine Attractions
Cabbage Island
For those who enjoy the spray of the sea and are looking to partake in a classic New England tradition, a boat trip to
Cabbage Island
is a choice day time activity. It a unique experience offered June through the weekend post-Labor Day. Not only will you delight in spotting many uncommon birds and wildlife around the island, you get to partake in a traditional Downeast Clambake at Boothbay Harbor cooked on the water's edge. Guests are welcome 7 days a week during the season.
Ram Island Ledge Light
At the northern entrance into Portland's outer harbor, there is a jagged finger of rock, one-quarter mile long. This jutting landscape first hosted a navigational aid for those at sea in 1855. Today,
Ram Island Ledge Light
sits as a ninety-foot tall rock beacon. A stunning landmark, it was built in 1905 and makes for a lovely picture. Visit the Maine Lighthouse Museum while you are there, too, as you travel the shores of Maine in your RV rental.
Maine State Parks/Campgrounds
Sickle Beach State Park
Found just eight miles south of busy Portland,
Crescent Beach State Park
offers a picturesque escape while not being too far away from the attractions accessible in the city. The rec center opened in 1966 and highlights sandy shorelines, saltwater tidepools, and fun events for beachgoers, nature spectators, and fishing and water sports fans. Many travelers appreciate picnics, rowing, and walking around the mile-long, sickle molded shoreline when passing by in their RV trailer rental in Maine. The Park has a spot where you can relax for two or three-day stay in your Maine RV rental.
Shore Hills Campground and RV Park
Ideal for a camper rental in Maine,
Shore Hills Campground and RV Park
is as close as it gets to the Boothbay Harbor territory and boat ride to Cabbage Island. It has 136 aggregate spaces, 82 of which are full hookup spots. Offices and courtesies incorporate a play area, horseshoes, game room, restrooms and showers, fire rings, dump station, and self-serve RV wash for your RV rental in Maine. You can also appreciate taking a boat ride along Cross River. This RV Park, perfect for a camper rental in Maine, is open from May 15 to October 15. Celebrations and Events
Bangor State Fair
A considerable measure of RVers drive their RV rentals in Maine to Bangor to participate in one of the most seasoned state fairs in the nation, the
Bangor State Fair.
The Bangor State Fair is a ten-day event that happens at the end of July to early August. Known as a game and farming get-together of the locals of Bangor, everybody is invited to the celebration. Carnival highlights include games and rides, shows for all ages, the Maine logger show, Stoney Roberts destruction & demolition derby, loads of food and drinks, horse shows, and fireworks display. Make a point to bring the whole family with your trailer rental to Maine.
Old Port Festival
Rent a RV and travel to Maine to enjoy the state's biggest one-day celebration, The
Old Port Festival
happens each June in the city of Portland. It highlights live jazz, acoustic, blues and bluegrass music in eight locations, with Maine-influenced specialists, There will be games, food from all over, and a foot parade down Exchange Street. Old Port Festival has been attracting a huge number of tourists from throughout the nation for more than 40 years! You can lease a RV to Maine, any time of the year to have an amazing vacation. Think how much fun you will have in your RV rental from RVnGO enjoying a lobster roll picnic on the shoreline!