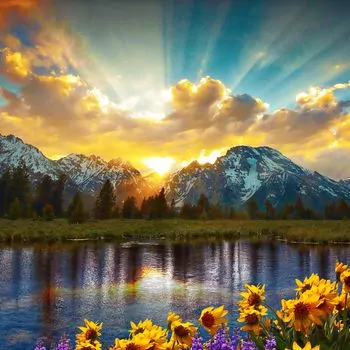 Take a trip in your RV rental to Kansas, also known as the Sunflower State, to enjoy its numerous attractions, landmarks, and natural wonders. Its fertile soil and beautiful landscape draw in thousands of RV travelers annually. In fact, that's why there are so many movies and TV shows filmed in Kansas. Fun loving RV tourists will enjoy the abundance of activities and attractions, making an RV vacation to Kansas a vacation to remember! Major cities include Wichita, Topeka, Overland Park, Kansas City, and Olathe.
COVID-19 / CORONAVIRUS UPDATES FOR NATIONAL PARKS IN KANSAS
Kansas National Park Closure Updates
The National Park Service is modifying its operations on a park-by-park basis in accordance with the latest guidance from the Centers for Disease Control and Prevention (CDC) and state and local public health authorities. While most facilities and events are closed or canceled, outdoor spaces in some parks remain accessible to the public. Before visiting, please check with individual parks regarding changes to park operations. If you choose to visit a national park, please ensure that you follow CDC and state and local guidelines to prevent the spread of infectious diseases and practice Leave No Trace principles. Updates about the NPS response, including safety information, are posted on
The National Parks Service Coronavirus Website.
COVID-19 / CORONAVIRUS UPDATES FOR STATE PARKS IN KANSAS
Click for Up to Date Kansas State Park COVID-19 Updates
UPDATE (04/10/20): Via Executive Order No. 20-21, sales of general nonresident turkey permits have been suspended. See https://ksoutdoors.com/COVID-19 for details. Kansas state parks, fishing lakes and wildlife areas are currently open to the public. Help us keep these areas open by practicing social distancing and avoiding gathering in groups. KDWPT offices remain closed to the public through May 3. For all KDWPT updates, visit https://ksoutdoors.com/COVID-19. For the latest information on the COVID-19 virus, visit http://www.kdheks.gov/coronavirus/index.htm.
Kansas Attractions
Kansas Cosmosphere and Space
Located in Hutchinson, the
Kansas Cosmosphere and Space Center
is a Smithsonian affiliated museum and is even affiliated with NASA. Popular with aspiring space explorers and astronomy buffs, this 100,000 square foot facility houses the most significant collection of U.S. and Russian space artifacts in the world. In addition to its stellar collection, it has a digital dome theater where documentaries and movies are shown daily. The Kansas Cosmosphere and Space Center is open every day except for major holidays.
Kansas Speedway
2001 brought the Kansas Speedway to Kansas City, along with all the excitement of NASCAR and the Indy Car Series. Visitors and NASCAR fans have the opportunity to watch a race, see the race cars up close, and even experience the speedway from behind the wheel of a car in the Richard Petty Driving Experience. The Speedway is adjacent to several RV campsites where you can park your trailer rental in Kansas, making it convenient for you to spend days enjoying the
Kansas Speedway.
Tuttle Creek Lake
Camping on
Tuttle Creek Lake
is a favorite activity for locals and tourists alike. It is an opportunity to experience the wide-open plains of Kansas. This man-made reservoir hosts a 188-acre park ideal for the RV outdoor lifestyle. Visitors can fish, boat, and hike the surrounding prairie lands in this secluded Kansas spot.
Kansas State Parks / Campgrounds
Clinton State Park
This massive state park is best known for its fishing and hunting opportunities.
Clinton Lake
has a reputation of being a favorite fishing spot of Kansas fishers. Other water activities include water skiing, boating, and swimming. If you are more into the sand than the surf, the beaches are open to the public with your RV rental in Kansas. Other activities include horseback riding, hiking, and cross-country skiing. Plus, RV visitors in their RV rentals in Kansas can camp right in the state park with a permit.
All Seasons RV Park-Wichita
Located just minutes away from the downtown area of Wichita,
All Seasons RV Park-Wichita
is a terrific choice for a travel trailer rental in Kansas. Although its proximity to the various attractions and establishments of the city is an advantage, it is nestled in a very peaceful and quiet area, making you feel like you are far away from the hectic noise of the city. It has 30 available full hookup sites with tables and room for slideouts. Facilities and amenities include wi-fi access, nature trails, playground, recreational hall, outdoor games, planned activities, horseshoes, groceries, cable TV, laundry facility, and restrooms and showers for your Kansas travel trailer rental. All Seasons RV Park-Wichita welcomes your stay at any time of the year.
Deer Creek Valley RV Park
One of the best RV Parks in Topeka, the
Deer Creek Valley RV Park
has all the facilities and amenities you need for your trailer rental in Kansas. It has 59 available paved full hookup sites with patios, tables, and room for slideouts. Facilities and amenities include a heated pool, playground, recreational hall, outdoor games, horseshoes, laundry facility, restrooms and shows, onsite RV service, cable TV, wi-fi internet access, storm shelter, fenced dog park, and a control access gate for your motorhome rentals in Kansas. Deer Creek Valley RV Park is open all year round.
Festivals and Events
Beef Empire Days
If you are traveling on a Class B RV rental in Kansas during the month of May, you should make a stop in Garden City, and enjoy
the Beef Empire Days.
It is a ten-day event that celebrates the beef industry. Established more than 45 years ago, the Beef Empire Days aims to promote and educate people on the benefits of the cattle feeding and beef industry. The event features a parade, ranch rodeos, cattle feeder challenges, team roping and barrel racings, a variety of sporting events, drag races, square dances, tractor pulls, numerous races and contests, beef trivia, prospect steer shows, movies, treasure hunts, pancake feeds, ice cream socials, and cowboy poetry. Bring your entire family and enjoy the Beef Empire Days.
Wichita Riverfest
Established more than 40 years ago, the
Wichita Riverfest
is one of the most popular and anticipated events in Kansas. It is a week-long event that draws in thousands of tourists from across the country and the world. Held annually from late May to early June, the festival features more than 60 events including fireworks displays, a parade, traveling exhibits, numerous children's activities, musical entertainment performed by more than 40 bands, river events, shopping and food courts, sporting events, and so much more! Rent a motorhome to Kansas at RVnGO and fall in love with the Sunflower State!