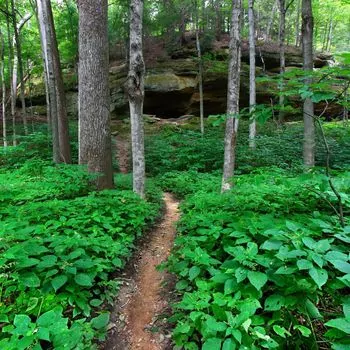 Located in the heart of the Great Lakes country,
Indiana
(which means Land of the Indians) has vast swaths of farmland and is most popular for its auto racing with flagships, the Indianapolis 500, the Brickyard 400 and the Red Bull Indianapolis Grand Prix. It attracts a large amount of RV tourism because of its beautiful scenery, culture, state parks, historic places, and of course, the NASCAR facilities. The popular motor sport draws in millions of fans yearly, and there is no better way to take in the Hoosier State than in a RV!
COVID-19 / CORONAVIRUS UPDATES FOR NATIONAL PARKS IN INDIANA
Indiana National Park Closure Updates
The National Park Service is modifying its operations on a park-by-park basis in accordance with the latest guidance from the Centers for Disease Control and Prevention (CDC) and state and local public health authorities. While most facilities and events are closed or canceled, outdoor spaces in some parks remain accessible to the public. Before visiting, please check with individual parks regarding changes to park operations. If you choose to visit a national park, please ensure that you follow CDC and state and local guidelines to prevent the spread of infectious diseases and practice Leave No Trace principles. Updates about the NPS response, including safety information, are posted on
The National Parks Service Coronavirus Website.
COVID-19 / CORONAVIRUS UPDATES FOR STATE PARKS IN INDIANA
Click for Up to Date Indiana State Park COVID-19 Updates
Indiana DNR COVID-19 Response: The Indiana Department of Natural Resources has adjusted services, events and operations to protect Hoosiers and prevent further spread of COVID-19. Outdoor activities, and travel to and from those activities, are still permitted. These include hiking, fishing, boating, birding, hunting, bicycle riding (on paved trails and roads) and geocaching. Bike use (on unpaved trails) and horseback riding on DNR properties is temporarily suspended. On DNR properties, some services and trails are closed. See below for list. Hoosiers should follow posted restrictions and practice social distancing. Open: All DNR properties including state parks, state forests, fish and wildlife areas, nature preserves and state recreation areas are OPEN. However, some services and trails are closed. See below for list. Entrance fees at all properties have been temporarily suspended.
Indiana Attractions
Indianapolis Motor Speedway
The
Indianapolis Motor Speedway
is the home of the Indianapolis 500 and the Brickyard 400. Considered to be a mecca for NASCAR fans, this racing arena holds races all year round for visitors to watch. Enjoy the day watching the races, get a peek inside the race garages, and take a tour of the racing museum. There are campsites nearby where you can park your RV rental in Indiana while enjoying the thrill of the races!
Clifty Falls State Park
The Clifty Falls State Park boast a seasonal creek that has four distinct falls, each over 60 feet tall. This natural wonder even has a view of downtown Madison. Swim, explore the Clifty Trails or historic abandoned railroad, as well as check out the staffed nature center. The
Clifty Falls
has a few campsites suitable for a camper rental in Indiana but they book up fast so make your reservation well in advance.
Perfect North Slopes
Skiers flock to the
Perfect North Slopes
because of its abundance of trails. With over 23 options for skiers of every skill level, Perfect North is a popular winter attraction. However, if you wish to visit the slopes in the summer, you'll still have fun, as they have mud slides to slip on down the hill! Visitors can take advantage of the ski shop for equipment purchases and rentals as well as the five chairlifts, which escort skiers to the various trails. You can even try snow tubing if you need something more thrilling and exciting!
Indiana State Parks / Campgrounds
Turkey Run State Park
Indiana's second oldest state park has an eccentric name, but it is teeming in natural beauty. Home to several natural gorges, it also stars the Rocky Hollow Falls Canyon, which was formed by glacial melts millions of years ago. There are several trails to conquer, the most notable of which is the wooden ladder trail that snakes up the sheer cliff face. The
Turkey Run State Park
has a campground where you can enjoy a stay in your Indian travel trailer rental.
Yogi Bear's Jellystone Park Camp-Resort
When heading to Northwest Indiana to spend a few days exploring the region, you must stay at the
Yogi Bear's Jellystone Park Camp-Resort.
It is a family-oriented campground guaranteed to delight kids of all ages. It has 140 available full hookup sites with fire rings, tables, and room for slideouts. Facilities and amenities include swimming and wading pool, water activities on Lake Minnehaha, mini-golf, tennis court, game room, pavilion, playground, recreational hall, outdoor games, bike rentals, fishing supplies, snack bar, groceries, ATM machine, golf carts, restrooms and showers, laundry facility, and many more. You can even take a quick trip in your RV rental to
Indiana Dunes
and enjoy more water activities! Park season is from May 15 to September 30.
Little Farm on the River RV Park Camping Resort
Located about 30 minutes away from Perfect North Slopes, Little Farm on the River RV Park Camping Resort is one of your best options to explore the surrounding areas. It has 152 available full hookup sites with fire rings, tables and room for slideouts. Facilities and amenities include a heated pool, water activities at the Ohio River, planned activities, pavilion, recreational hall, playground, mini-golf, game room, outdoor games, horseshoes, groceries, snack bar, laundry facility, restrooms and showers, golf carts, on-site RV service, RV supplies and storage, and self-service RV wash. Ideal for a Class A RV rental in Indiana,
Little Farm on the River RV Park Camping Resort
is open all year round.
Festivals and Events
Pierogi Fest
If you are a foodie, you must drive your motorhome rental in Indiana to the city of Whiting to enjoy the
Pierogi Festival.
This Eastern European heritage celebration takes place every July, and it draws in thousands of people to the city. It is a three-day event which features dumplings filled with anything from cheese, sauerkraut, cabbage, potato, meat, onion, hard-boiled eggs and even fruits! Aside from the dumplings, you can also enjoy a wonderfully weird and wacky polka parade, other entertainment, and fun activities for the kids.
Jasper Strassenfest
Traveling a little later in the summer? Head over to the city of Jasper in August for a taste of fun at the
Jasper Strassenfest!
It is a four-day family-oriented festival which features German food, dancing, music, carnival rides, a car show, beer garden, games for all ages, a baby photo contest, over 30 food and merchandise booths, as well as entertainment on three downtown stages. The Jasper Strassenfest pays tribute to the German heritage of the city. Indiana is a pleasant surprise for seasoned travelers with its ethnic celebrations, sporting events and natural wonders. Book your RV rental at RVnGO and enjoy Indiana before it becomes an over crowded vacation hot spot!