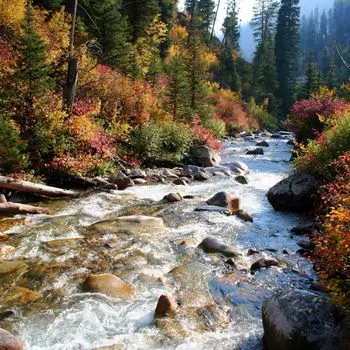 The natural beauty of Idaho abounds with canyons, rivers, mountains, and woodlands, making it an excellent choice to travel to in an RV rental! More than 40% of this large state is dedicated to preserving and exploring the wildlife and it is home to the famous Yellowstone National Park. The great outdoors can be enjoyed by biking, climbing, hiking, or boating and is especially picturesque while driving in a RV rental along the Idaho highways.
COVID-19 / CORONAVIRUS UPDATES FOR NATIONAL PARKS IN IDAHO
Idaho National Park Closure Updates
The National Park Service is modifying its operations on a park-by-park basis in accordance with the latest guidance from the Centers for Disease Control and Prevention (CDC) and state and local public health authorities. While most facilities and events are closed or canceled, outdoor spaces in some parks remain accessible to the public. Before visiting, please check with individual parks regarding changes to park operations. If you choose to visit a national park, please ensure that you follow CDC and state and local guidelines to prevent the spread of infectious diseases and practice Leave No Trace principles. Updates about the NPS response, including safety information, are posted on
The National Parks Service Coronavirus Website.
COVID-19 / CORONAVIRUS UPDATES FOR STATE PARKS IN IDAHO
Click for Up to Date Idaho State Park COVID-19 Updates
IDAHO STATE PARK VISITOR CENTERS CLOSE TO CURB COVID-19 SPREAD; PARKS REMAIN OPEN. Visitor centers at Idaho State Parks shut down Thursday March 19 as a precautionary measure to limit propagation of the novel coronavirus (Covid-19) – but the parks will remain open to the public. Rangers and other staff will be on duty to assist visitors and can be contacted by telephone. Parks continue to offer day use and most camping options – but hands-on activities and large group events are discontinued. Premium cabins and picnic shelters also have been closed to reduce infection potential. The visitor centers will stay closed through April, and possibly longer, depending on the progression of the Covid-19 outbreak. Closing the centers, gathering places for groups of people, protects visitors and park employees and follows the guidance of Idaho Gov. Brad Little and public health officials. At this stressful time, the public is encouraged to visit Idaho's spacious parks to experience the outdoors and fresh air as an alternative to staying sheltered indoors. Hiking, biking and snow sports provide healthy alternatives that allow for the social distancing (at least six feet of space between individuals) recommended by experts.
Idaho Attractions
The Museum of Idaho in Idaho Falls
Discover an assortment of materials at the
Museum of Idaho,
which references the scientific history. The gallery's permanent displays include "Falcon Rock," which depicts provincial life in the 1880s, and "Race for Atomic Power," which tells of the country's commitments to the field of atomic knowledge. The museum also offers a regularly changing series of exhibits, covering topics like the human body, the Lewis and Clark expedition, dinosaurs, and insects.
Craters of the Moon National Monument and Preserve
Magma streams run through the fields of central Idaho, making for an exceptional and intriguing landscape, in addition to giving a home to hearty plants and untamed life. Start your visit at the Craters of the Moon where you'll learn about the scenery through several displays and film. A circle drive will take you through a segment of the national landmark, with stops to investigate magma cones, craters, and lava flows. Trails are open during the winter months, offering cross-country skiing and snowshoeing. There are various campgrounds for a RV trailer rental in Idaho close to the
Craters of the Moon National Monument and Preserve.
Lake Coeur d'Alene
Situated in North Idaho, Lake Coeur d'Alene is long and twisting highway with miles of forested shoreline, sandy beaches, and inlets that house a perfect play area to boaters, fishers, and paddlers. The city of Coeur d'Alene sits at the north end of
Lake Coeur d'Alene,
and offers shopping, eateries, one-of-a-kind hotels, and magnificent parks for RV rentals in Idaho. Even if you are not staying overnight you can still enjoy the Coeur d'Alene Resort's amenities, which include a full-service spa and plenty of restaurants.
Idaho State Parks/Campgrounds
Bear Lake State Park
Bear Lake State Park of high mountain valley, sits in the southeast corner of Idaho, close to the Cache mountain run. At 5,900 feet tall, the recreation area offers a wide assortment of both summer and winter activities for those traveling in a RV rental in Idaho. A well-known spot for lake lovers,
Bear Lake
consistently has around 15,000 campers visiting throughout the year.
Snake River RV Park and Campground
Ideal for a RV rental in Idaho Falls, the
Snake River RV Park
and Campground is just a mile away from the downtown region and it's greenbelt. It is an incredible home base to explore the city and its encompassing territories. It has 90 accessible spaces, 60 of which are full hookup spots with BBQ barbecues, fire rings, tables, and space for slideouts. Offices and grounds include heated pool, jacuzzi, play area, horseshoes, wi-fi access, RV stockpiling and supplies, restrooms and showers, and laundry rooms.
Blackwell Island RV Resort
In the city of Coeur d'Alene,
Blackwell Island RV Resort
is the perfect place on the water! If you want to enjoy Idaho's beautiful lakes, this RV Park is the go-to spot. It has 182 accessible full hookups with space for slideouts. It can house a wide range of RVs including a Class A and Class B RV rentals. Offices and comforts include a wide range of water activities, nature trails, outdoor games, game room, rec halls, horseshoes, play area, wi-fi access, fishing guides, staffed and self-serve RV wash, restrooms and showers, RV stockpiling and supplies, and laundry rooms for your RV trailer rental in Idaho. Stop season is from April 1 to October 15 for any outdoor camp tenting!
Celebrations and Events
Lewiston Dogwood Festival
The Lewis Clark Valley Dogwood Festival happens in the city of Lewiston each April. It is a month-long celebration which includes a dog show with more than 180 thoroughbred canines, works of art, culture, entertainment, lots of good food, lager and wine sampling, kids activities, family fun, and games! Take in more about the city and its kin at the
Dogwood Festival
for a howling good time.
National Old Time Fiddlers' Contest and Festival
The state of Idaho is known as "The Fiddle Capitol of the World" and the
National Old Time Fiddlers' Contest and Festival
is held in the city of Weiser each year in late June. The celebration was built 60 years ago and the great fiddlers world-wide make their way here to compete in what is frequently called the "Superbowl of Fiddling." This week-long event includes live exhibitions of widely acclaimed fiddlers, banjo challenges, a parade, art and antiques sellers, and lots of amazing food. Bring the whole family to revel in some serious knee-slapping tunes! Under the radar for most sightseers and travelers, but don't overlook it Idaho, its unique charm will make you fall head over heels. Book a camper rental to Idaho at RVnGO and begin investigating this lovely state!