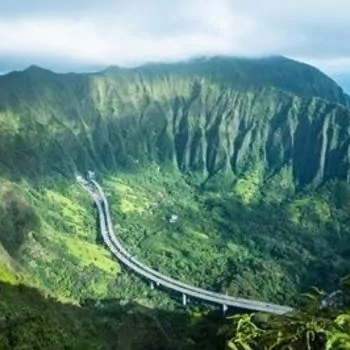 With many views, campgrounds, and attractions, renting an RV in Hawaii is really a standout way to fully appreciate the Aloha State. There are plenty of islands that make Hawaii a beautiful spot to visit, yet the most well-known, is Oahu. Oahu is a special mix of volcanoes, shorelines, city, and remote wildlife. It's refreshing tropical atmosphere and lavish woodlands make it a perfect place to camp and go exploring in a Class B RV. Find waterfalls, hollows, concealed pools, and unparalleled views when you take a road trip in Hawaii!
COVID-19 / CORONAVIRUS UPDATES FOR NATIONAL PARKS IN HAWAII
Hawaii National Park Closure Updates
The National Park Service is modifying its operations on a park-by-park basis in accordance with the latest guidance from the Centers for Disease Control and Prevention (CDC) and state and local public health authorities. While most facilities and events are closed or canceled, outdoor spaces in some parks remain accessible to the public. Before visiting, please check with individual parks regarding changes to park operations. If you choose to visit a national park, please ensure that you follow CDC and state and local guidelines to prevent the spread of infectious diseases and practice Leave No Trace principles. Updates about the NPS response, including safety information, are posted on
The National Parks Service Coronavirus Website.
COVID-19 / CORONAVIRUS UPDATES FOR STATE PARKS IN HAWAII
Click for Up to Date Hawaii State Park COVID-19 Updates
COVID-19 LEADS TO PARKS AND FACILITIES CLOSURES SYSTEM WIDE : Diamond Head State Monument Among Closed Parks (Honolulu) – To facilitate social distancing recommendations, The Hawaii Division of State Parks is announcing the closure of all State Parks, Recreation Areas, State Monuments, Historic Parks and Wilderness Areas, and Recreational Piers to help reduce the potential spread of COVID-19.
Hawaii Attractions
USS Arizona Memorial
The
USS Arizona Memorial
is dedicated to the individuals who battled and lost their lives at Pearl Harbor. This tragic event in U.S. history has everlastingly molded the nation and this feat of engineering draws guests to honor those who made the ultimate sacrifice. The landmark floats in the blue water of Pearl Harbor. Guests can watch film footage from that era and view the sunken ship just beneath the surface through the glass base of the landmark.
Diamondhead Crater
Not far from the damp green backwoods and waterfalls of close-by Manoa Valley is a landscape that looks out of this world, the
Diamondhead Crater.
This 300,000-year-old well of lava site is a prominent climbing goal for the more adventurous. Well-known for the spectacular view at the very top, climbers lift their way up to the summit of the crater and are rewarded with a view of the entire Waikiki coastline. Make certain to pack a lot of water and safe shoes as the trail can be hot and uneven. This hot spot is very accessible for your Hawaii RV rental .
Hawaii State Parks/Campgrounds
Wahaiwa Freshwater State Park
The
Wahaiwa Freshwater Lake
is inland from the bustling of Honolulu, Oahu and is a popular recreational area with RVers in Hawaii for those who want a more peaceful experience. Guests can fish, picnic, and climb about while feeling totally apart from the world even though it's just a couple of miles from the city in their Hawaii campervan rental!
Malaekahana Campground
A "no nonsense" campground, Malaekahana Campground is one of the best choices for RV rentals in Hawaii, Oahu Island. It can contain RV's without any hookups. RVers can utilize its restrooms and showers with their Hawaii camper rental. It includes a camp store, and a food truck where you can have flavorful Hawaiian meals from 8 am to 2pm every day. Take advantage of the opportunity to learn how to body board, surf, or SUP with lessons and rentals. A few steps from the beach,
Malaekahana Campground
is an island paradise for your campervan rental in Hawaii.
Camp Olowalu
RVers who intend to spend a couple of days in RVing on Maui will enjoy
Camp Olowalu.
Truly an idyllic paradise, Camp Olowalu, is 6 miles southeast of Lahaina. It offers a limited number of auto and RV spaces without any hookups, so reserve your Hawaii campervan rental spot early. Offices and comforts have open air picnic tables, bathrooms, showers, sinks, and drinkable water. The ocean breeze and mountain views are a little slice of heaven, where can bask in your Maui RV rental!
Celebration and Events
Billabongs's Pipeline Masters
Hawaii is a surfer's dreamland, and the
Billabongs's Pipeline Masters Competition
held annually at the Banzai Pipeline in the island of Oahu is one of the most exciting surfing competitions on the planet. Surfers throughout the world come to Oahu each December to test their surfing abilities and tame the monstrous waves of the sea. You will be astonished by the skill and bravery of these surfers when you lease a RV and ride the wave of glory for a visit!
Merrie Monarch Festival
Each April on the Big Island of Hawaii there is a week-long jubilee that pays tribute to King David Kalakaua, otherwise called the Merrie Monarch. The occasion starts with a major show on Coconut Island highlighting hula rivalries, featuring troupes from around the world, hula shows, art exhibitions, a Miss Aloha Hula expo, and a Merrie Monarch Royal Parade. Learn about the Hawaiian way of life and its history at the
Merrie Monarch Festival.
Hawaii is one place not to miss. Its mixture of various Polynesian cultures, natural beauty and history are unrivaled. Whether you want to hop on the road to Hana or cruise to the Northshore, booking a RV rental in Hawaii is a great way to explore. Dive into the fun with a RV rental in Hawaii to fully appreciate what each island has to offer! Much obliged to you for picking RVnGO for your RV rental in Hawaii!