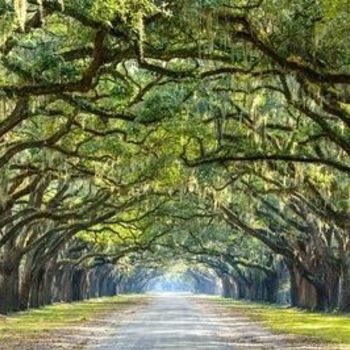 With one foot in the past, and the other on the front line of history, Georgia is a state that bridges time. Loaded with Civil War period zones, a world-class technology college, and present-day engineering marvels. Georgia sits in the heart of the South. The Appalachian mountain range is a magnificent outdoor adventure to explore when you need a break from the attractions that Atlanta, Savannah, Marietta, Alpharetta, Macon, and Augusta have to offer.
COVID-19 / CORONAVIRUS UPDATES FOR NATIONAL PARKS IN GEORGIA
Georgia National Park Closure Updates
The National Park Service is modifying its operations on a park-by-park basis in accordance with the latest guidance from the Centers for Disease Control and Prevention (CDC) and state and local public health authorities. While most facilities and events are closed or canceled, outdoor spaces in some parks remain accessible to the public. Before visiting, please check with individual parks regarding changes to park operations. If you choose to visit a national park, please ensure that you follow CDC and state and local guidelines to prevent the spread of infectious diseases and practice Leave No Trace principles. Updates about the NPS response, including safety information, are posted on
The National Parks Service Coronavirus Website.
COVID-19 / CORONAVIRUS UPDATES FOR STATE PARKS IN GEORGIA
Click for Up to Date Georgia State Park COVID-19 Updates
Georgia State Parks & Historic Sites is actively monitoring COVID-19 and its impact on our state. Below are the most updated steps we are taking to protect visitors, staff, and all Georgians.
Georgia Attractions
Atlanta Area
Teeming with activities, there is so much to do that visiting it once does not do
Atlanta
justice. From carnivals to historical centers to zoos and greenhouses, Atlanta is a tourist's dream. Stop at the World of Coca Cola exhibition hall and rediscover the world's most loved drink or make a beeline for the Centennial Olympic Park to watch the moving water fountains. Six Flags over Georgia is about 15 minutes from central Atlanta and has its own deluxe RV campground. One of the top picks for guests is to stroll through the
Atlanta Botanical Garden.
The 30-acre wonderland has a large number of colorful plants and creatures and highlights a Japanese garden, Canopy Walk, and Skyline Garden. A great number of RVers drive their RV rentals in Georgia to Atlanta for this must-see attraction.
Northeast Georgia Mountains
The mountains northeast of Atlanta have many fun activities and is great stress reliever for RVers in their private RV rentals in Georgia. Appreciate water games, climbing trails, biking, and strolls through places like the Habersham Winery, where guests can savor wine sampling. The
Northeast Georgia Mountains
are additionally known for stunning waterfalls, the Raper Creek Falls in Habersham County is a beauty. Stop your RV rental for scenic beauty with full hook ups and wi-fi when you are ready to
camp
near the Lake Lanier Islands, to enjoy the fairways, shorelines, and shops in your Georgia RV rental.
Lookout Mountain
Sitting on the fringe between Tennessee, at the tip of Georgia, lies Lookout Mountain. It is known for its family friendly attractions, and ravishing views, like the one accessible at Lovers Leap. From the highest point of Lovers Leap you can see seven states, at 1700 feet above ocean level you will feel like you are on top of the world.
Lookout Mountain
even offers accommodations for camper rentals in Georgia.
Georgia State Parks/Campgrounds
Stronghold McAllister State Historic Park
This state stop is loaded with American Civil War History. Just south of Savannah, this is the final leg of General Sherman's March to the Sea.
The Stronghold McAllister State Historic Park
sits along the banks of the Ogeechee River where guests can visit the grounds of the old confederate fortress that still has its unique guns and garrison huts. There are a few campgrounds nearby for RV trailer rentals in Georgia for you to unwind at with a bit of fishing or sailing.
Cecil Bay RV Park
About 35 minutes from the city of Moultrie, Cecil Bay RV Park is located on a picturesque spot in Cook County. There are 80 accessible spots, 72 of which are full hookups with space for slideouts. Offices and conveniences include wi-fi access, water activities, horseshoes, rec halls, RV stockpiling, restrooms and showers, and laundry rooms for a Class A RV rental in Georgia. Appreciate a stay at
Cecil Bay RV Park
any time of the year!
Red Gate Campground and RV Park
Perfect for RV rentals in Savannah, Georgia, the Red Gate Campground and RV Park is the place for southern charm. It has 30 accessible spots, 24 of which are full hookups with tables and space for slideouts. Appreciate fishing at one of its fishponds or horseback riding on its various trails. Offices and civilities have wi-fi access, a salt-water swimming pool, play area, game room, rec hall, horseshoes, restrooms and showers, and laundry rooms for your Class B RV rental in Georgia.
Red Gate Campground
and RV Park is open through the year for any private RV rental!
Celebrations and Events
Martin Luther King March and Rally
Blessing of the Fleet
The
Martin Luther King March
and Rally pays tribute to Martin Luther King Jr., winner of the Nobel Peace Prize, he was instrumental to the civil rights movement. This event is the biggest commemoration celebrating his birthday and is held in his city of birth, Atlanta.
Blessing of the Fleet
A 3-day celebration, viewed as one of the headliners in Georgia, the Blessing of the Fleet is held every year in Darien, Georgia. It pays tribute to the major shrimping business of Georgia. The occasion includes a marine parade, daily live music/acts, food and drink stalls, artwork, children's activities, a YMCA 5K, and an auto show. The grand finale happens on a Sunday when shrimp vessel skippers are honored. The
Blessing of the Fleet
is the place to dock your private RV rental in Georgia at for big time fun. The best way to visit Georgia is with an RV to experience its full beauty! If you are on a budget, or just looking to save money, you can book a cheap RV rental to Georgia at RVnGO. Georgia will amaze you with its history, lovely landscapes, galleries, and charm.