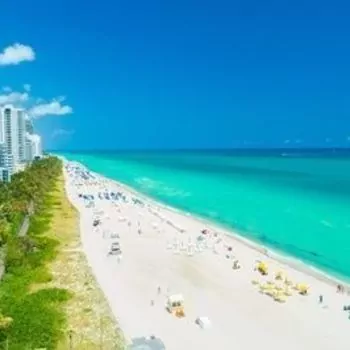 With the Atlantic Ocean one side and the Gulf of Mexico on the other you can choose from hundreds of miles of beaches to catch a sunrise or sunset. Tranquil, trendy, and tourist friendly, Florida delivers the options for a diverse RVing experience. The city of Miami has a vibrant arts community and nightlife, with many Latin-American cultural influences. Orlando is best known as an amusement mecca with Walt Disney World, Universal Studios, Sea World, Legoland and more. Plan to stop at the Kennedy Space Station, Golf Hall of Fame or check out the only Coral Reef in the continental United States. From alligators in the Everglades to dolphins in Key West, hanging on the banks of the Kissimmee River or fishing in the fresh water of Lake Okeechobee a Florida motorhome trip has many attractions to lure you.
COVID-19 / CORONAVIRUS UPDATES FOR NATIONAL PARKS IN FLORIDA
Florida National Park Closure Updates
The National Park Service is modifying its operations on a park-by-park basis in accordance with the latest guidance from the Centers for Disease Control and Prevention (CDC) and state and local public health authorities. While most facilities and events are closed or canceled, outdoor spaces in some parks remain accessible to the public. Before visiting, please check with individual parks regarding changes to park operations. If you choose to visit a national park, please ensure that you follow CDC and state and local guidelines to prevent the spread of infectious diseases and practice Leave No Trace principles. Updates about the NPS response, including safety information, are posted on
The National Parks Service Coronavirus Website.
COVID-19 / CORONAVIRUS UPDATES FOR STATE PARKS IN FLORIDA
Click for Up to Date Florida State Park COVID-19 Updates
SAFETY UPDATES: At the direction of Governpr DeSantis and to successfully uphold CDC guidance to maximize scoial distancing and avoid gatherings larger than 10 people,
DEP will close all Florida State parks to the public effective Monday, March 23.
DEP has taken many measures to continue providing resoruce recreation at our state parks during this time, such as limiting operating hours and reducing visitor capacity at parks with high visitation. Unfortunately, this has not resulted in the reductions needed to best protect public health and safety as Florida continues to mitigate the spread of COVID-19. We appreciate your cooperation and understanding as we work to prioritize the welfare of our communities and staff. We look forward to welcoming you again to our award winning state parks as soon as possible.
Florida Attractions
Orlando Theme Parks
Home to the greatest gathering of amusement stops on the planet, Orlando is full of family friendly activities. Each park offers something unique. A visit to
Walt Disney World
is easy fit into the schedule when you can stay at the Davy Crockett themed RV Campground and set up your RV rental in Orlando, Florida. Also nearby is
Sea World Orlando
and
Universal Studios,
which welcomes both wizards and muggles to Harry Potter Land. A portion of the parks have recently been remodeled, so returning guests will appreciate new attractions. Looking for a bit of outdoor fun? Orlando has some of the best water spots and most parks are just a thirty-minute drive from lovely shorelines.
Orlando
offers many amusements and is an ideal vacation in a private Florida RV rental.
Key West Butterfly and Nature Conservatory
Nature lovers, beeline your RV rental to Florida Keys and take a gander at the
Key West Butterfly and Nature Conservatory.
The Butterfly Park is home to more than 50 distinct types of butterflies from around the world. In addition to the butterflies, you can experience blossoming plants, rich trees, cascading waterfalls, and over 20 exotic and colorful bird species. Explore butterfly anatomy, physiology, life cycle and more in The Learning Center. Don't miss the gallery, Wings of Imagination, where you can buy unique butterfly works of art by craftsman Sam Trophia. Also, you can pick up some great goodies for friends and family, at the gift shop where nearly everything is butterfly-related!
Fort Lauderdale Antique Car Museum
Auto buffs rejoice, put the brakes on your Florida Motorhome rental and cruise into the
Fort Lauderdale Antique Car Museum
for a spectacular display of rides. The 30,000 square foot historical center is a reproduction of a Packard showroom from the 1920s and exhibits collectible and exemplary automobiles going back to 1900. On display is at least one model for each year from 1900-1958 that includes 22 Pre-War Packard Motorcars, which are all still in running condition! Along with many other vintage paraphernalia to peruse, there is an entire exhibit dedicated to Franklin D. Roosevelt.
Florida State Parks/Campgrounds
Tallahassee RV Park
In the event that you intend to travel in your RV rental to the Florida Panhandle, you should definitely stop at the Tallahassee RV Park, smack dab in the middle of the rolling hills of this capital city. This family-owned RV Park has 66 accessible full hookup spots with space for slideouts. Offices and civilities incorporate a swimming pool, rec halls, horseshoes, arranged activities, wi-fi, digital TV, restrooms and showers, and laundry rooms. Appreciate southern charm at the
Tallahassee RV Park
in your RV rental Florida!
Tampa RV Park
Cruise your Florida RV rental down Tampa way to spend a couple of days in the city and pull on in to the
Tampa RV Park,
found right in the heart of it all. It has 86 accessible full hookup destinations with yards and space for slideouts. Luxuries include wi-fi, laundry rooms, restrooms and showers, RV stockpiling, and self-serve RV wash. Because of the proximity to the various attractions in Tampa, it is a fabulous location for anybody in a RV rental in Florida.
Siesta Bay RV Resort
Take your RV rental in Florida to Fort Myers and appreciate the civilities and accommodations of
Siesta Bay RV Resort.
It has 60 accessible full hookup spots with tables, yards, and space for slideouts. Full of conveniences including a heated pool, whirlpool, game room, shuffleboard, putting green, outdoor activities, wi-fi, satellite TV, cafes, laundry rooms, restrooms and showers, RV stockpiling, self- RV wash, and a ton more! This RV mecca is open throughout the year to make the most of your Florida trailer rental vacation!
Celebration and Events
Coconut Grove Arts Festival
If you want to monkey around in Miami, swing on over to the
Coconut Grove Arts Festival
which happens each February! The three-day celebration started in 1963 as a artist showcase and has developed into one of the biggest events in the nation, highlighting an extensive variety of advanced workmanship, illustrations, and artistic creations. There is also a gems and craftsmanship workshop for kids, along with live music and culinary events, it is the perfect outing to enjoy on your Florida RV road trip.
Orlando Film Festival
With 220 movies playing in six theaters, the Orlando Film Festival is a must for cinephiles. Showcasing high-quality independent films from all over the world, this festival includes workshops, pitch boot camps, award shows, chats with well-known movie producers, on-screen characters, and of course, parties. Make a point to stop by the
Orlando Film Festival
in your Florida RV rental for this premier event! The Sunshine State has such a great amount of variety to offer. One visit isn't enough to fully appreciate the landscape, attractions, culture, and sights of Florida. Begin your adventure to Florida by booking a Class B RV on RVnGO. Have a fabulous time in your private RV rental in Florida!