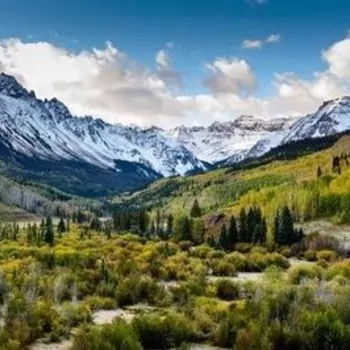 Colorado is the eight largest state in the nation and is amongst the most picturesque with its majestic perspectives of the Rocky Mountains. Vibrant urban communities, like Denver, Boulder, and Breckenridge, provide plenty to see and do in addition to outdoor activities. Colorado, Spanish for "colored red," takes its name after the river that runs through it; early Spanish explorers deemed it such due to the reddish silt washing down from the mountains. However, it is referred to as the 'Centennial State,' since it was enlisted into the Union on the one hundredth year after the marking of the Declaration of Independence. Drive your RV rental through Colorado and make the most of its natural environment and cityscapes.
COVID-19 / CORONAVIRUS UPDATES FOR NATIONAL PARKS IN COLORADO
Colorado National Park Closure Updates
The National Park Service is modifying its operations on a park-by-park basis in accordance with the latest guidance from the Centers for Disease Control and Prevention (CDC) and state and local public health authorities. While most facilities and events are closed or canceled, outdoor spaces in some parks remain accessible to the public. Before visiting, please check with individual parks regarding changes to park operations. If you choose to visit a national park, please ensure that you follow CDC and state and local guidelines to prevent the spread of infectious diseases and practice Leave No Trace principles. Updates about the NPS response, including safety information, are posted on
The National Parks Service Coronavirus Website.
COVID-19 / CORONAVIRUS UPDATES FOR STATE PARKS IN COLORADO
Click for Up to Date Colorado State Park COVID-19 Updates
DENVER (KKTV) - While folks are encouraged to get outside in their own neighborhood while practicing social distancing during the stay at home order, some are trying to enjoy the great outdoors at a time that may be putting others at risk. Packed parking lots at trailheads across Colorado have forced some local officials to close lots and even roads. "Local law enforcement will enforce those road closures and violators could be ticketed," Colorado Parks and Wildlife officials wrote in a release in regards to the closed roads. "Colorado Parks and Wildlife is reminding anglers, hunters and all other outdoor recreationists that it is your responsibility to research and understand the specific guidance, ordinances and restrictions in place for any planned local recreation activities." The agency wanted to remind the public on Tuesday, camping is not allowed in any state park or state wildlife area at this time. The federal government has also placed camping and recreation restrictions on U.S. Forest Service, National Park Service and BLM lands.
Colorado Attractions
Pikes Peak
There are a few mountains in Colorado that are higher than fourteen thousand feet, and
Pikes Peak
is the most staggering. Called "America's Mountain," it invites you to climb on up for the chance to appreciate one of the best panoramic landscapes in the nation. Not a hiker? Don't despair, guests can also get to the highest point of Pikes Peak by taking the Cog Railway to the summit. Once you've crested it, you'll feel as though you are top of the world. Scroll down for details on RV Parks close to Pikes Peak where you can stop your Colorado Class B RV rental and catch some breath.
Strawberry Park Hot Springs
Nothing is more relaxing than kicking back and unwinding in a beautiful 104-degree hot spring. Dividers allow the pools to have different temperatures, so everybody who visits can find their ideal spot to soak up nature. Situated outside of Steamboat Springs, this mineral bath comes with options for a massage in one of their huts or watsu therapy in a private pool.
Stawberry Park Hot Springs
is a wonderful place to stop along the way.
Wild Animal Sanctuary
The Wild Animal Sanctuary was made to be a refuge for lions, tigers, bears, panthers, cougars, wolves, and different wild animals that have experienced abuse or been kept wrongfully. More than three hundred creatures now call the sanctuary home, they are free to wander aimlessly in species-particular environments covering more than 10,000 acres of land across two sites. The
Wild Animal Sanctuary
is open every day and offers a lifted walkway, enabling guests to see the creatures as they meander openly over the field.
Colorado State Parks/Campgrounds
Pikes Peak RV Park
Pikes Peak RV Park
is situated in the area of Manitou Springs with easy access to many sites. It has 48 accessible full hookup spots with tables and is only a couple of minutes path from various restaurants, museums, shops, and attractions. You can also appreciate water activities at the Fountain Creek. Offices and conveniences incorporate a walking/biking trail, rec halls, restrooms and showers, nearby RV shops, and laundry rooms. Stop season is from March 1 to October 31 for all RV trailer rentals in Colorado.
Garden of The Gods RV Resort
The ideal home base for an deluxe RV rental in Colorado, the
Garden of The Gods RV Resort
offers 5 star luxuries in a focal area in Colorado Springs. It has 173 accessible full hookup spaces with porches, tables, fire rings, and room for slideouts for a Class B RV rental in Colorado. Offices and amenities include a heated pool, office, game room, horseshoes, play areas, nature trails, arranged activities, rec halls, lunch room, restaurant, RV stockpiling and supplies, restrooms and showers, laundry rooms, and much more for your trailer rental in Colorado. Prospect Place R.V. Stop and Campground Found only a couple of minutes from the heart of the city of Denver,
Prospect Place R.V. Stop and Campground
is your hot spot to crash in your campervan. It has 46 accessible locations, 24 of which are full hookup spots with tables for a motorhome rental. Offices and pleasantries incorporate wi-fi access, restrooms and showers, laundry rooms, and RV stockpiling for your RV rental in Colorado. Rather lacking as far as recreational offices go, its closeness to Denver attractions makes it a marvelous place to dock!
Celebrations and Events
RUN GORILLA, RUN!
If you plan to visit Denver in the fall, you can't miss the
RUN GORILLA, RUN!
It is one of the wackiest occasions Denver hosts every year. It includes more than three thousand individuals in gorilla suits running a 5K. If you want to run too, you can rent out a gorilla suit, included in the registration and race fees. This race benefits the mountain gorillas of the Democratic Republic of the Congo, Uganda and Rwanda.
Cañon City Music & Blossom Festival
If you are wandering in the Royal Gorge region of Colorado, be sure to schedule it during the beginning of May so you won't miss the
Cañon City Music & Blossom Festival.
This four-day extravaganza can be enjoyed by the whole family. It is jam packed with fun: visit the carnival, chow down on food, peruse the craft fair & kid zone, listen to the choir competition or statewide band rivalries, and don't miss the parade! Last but not least, you can also get on over to the Royal Gorge Rodeo, which happens Friday and Saturday night for some bucking broncos. Not enough running around for you? Hobnob with the locals as they make their way through the historic down town and Riverwalk trotting for a 5K or half-marathon. A get-away heaven, you'll be awed by its wildlife, plentiful landscapes, history and city life. On a budget? Don't stress, a Colorado excursion is super affordable with the modest RV rental prices at RVnGO! Much obliged to you for choosing RVnGO for you RV rental needs.