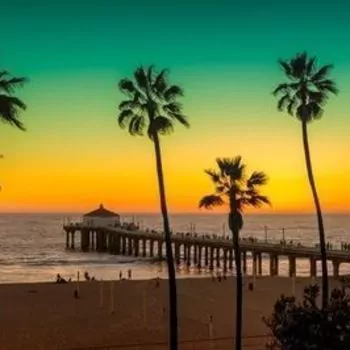 The Golden State, California, is an ideal place to travel via RV year-round. It offers a plethora of things to do, you could surf in the Pacific Ocean and ski in the mountains all in the same day! The state offers many high-end RV camping options with super amenities. For a complete list of camp grounds that accept RVs, check out
Camp-California.com.
When planning a RV trip to California, you can choose a specific area to visit, like the
San Francisco Bay area
or San Diego. You can also cover a lot of ground, crisscrossing California. RVing from San Diego to San Francisco on Highway 1 or Pacific Coast Highway (PCH) is tops on many a bucket list. The must-see sights along PCH include places such as Santa Monica Pier, Hearst Castle, and Big Sur. The Monterey Bay Aquarium is one of the best in the country. And who wouldn't get a thrill from driving over the Golden Gate Bridge for the first time, much less a second and third time to visit Muir Woods or the wine county in Napa? For help planning your RV trip along Pacific Coast Highway check out the recommendation at
PCHtravel.com.
For a complete guide on how to plan a camping trip, check out
OutsideHow.
COVID-19 / CORONAVIRUS UPDATES FOR NATIONAL PARKS IN CALIFORNIA
California National Park Closure Updates
The National Park Service is modifying its operations on a park-by-park basis in accordance with the latest guidance from the Centers for Disease Control and Prevention (CDC) and state and local public health authorities. While most facilities and events are closed or canceled, outdoor spaces in some parks remain accessible to the public. Before visiting, please check with individual parks regarding changes to park operations. If you choose to visit a national park, please ensure that you follow CDC and state and local guidelines to prevent the spread of infectious diseases and practice Leave No Trace principles. Updates about the NPS response, including safety information, are posted on
The National Parks Service Coronavirus Website.
COVID-19 / CORONAVIRUS UPDATES FOR STATE PARKS IN CALIFORNIA
Click for Up to Date California State Park COVID-19 Updates
As the State of California continues to issue guidance on preparing and protecting Californians from COVID-19 (coronavirus), California State Parks is monitoring the situation and implementing safety measures to prevent employees, volunteers, partners and the public from exposure to the pandemic disease. State Parks has taken various proactive efforts, including the development of a COVID-19 Resource Center. This online resource serves as a one-stop center to find park safety and closure information, and messaging and graphics from the
Flatten the COVID-19 Curve at Parks
social media awareness campaign. Please check this webpage regularly, as it will be updated with new information as it becomes available. The department is monitoring the coronavirus situation closely and is following guidance provided by the
Governor's Office
via the
California Department of Public Health
,
Centers for Disease Control and Prevention
and the
Governor's Office of Emergency Services
.
California Attractions
Venice Beach, Los Angeles
Venice Beach is three miles of perfect sandy coastline near Los Angeles, however the vast majority don't visit just to surf. The Venice boardwalk is the place you will locate a phenomenal exhibit of craftsmen, road entertainers, nourishment merchants, and fascinating characters in your private California RV rental! At
Venice Beach
you can spend the day sunbathing and swimming in the ocean, check out the chic shops, gawk at the muscles per the outdoor gym or show off your Ollie at the skateboard park. There are a few RV campgrounds in the area or you can simply stop the RV for a few hours in the parking lot overlooking the beach.
San Diego Zoo, San Diego
San Diego, California is acclaimed for its zoo, it is the largest on the planet and voted #1 in the world. Host to more than 650 different types of creatures,
San Diego Zoo
draws a huge number of guests every year, making it an awesome destination for your trailer rental in California. It has the biggest gathering of Koalas outside of Australia, and the most Giant Pandas outside of China! A must see for any animal enthusiast, there are many options to dock your California RV rental. Hook your trailer up at one of the campgrounds close to Balboa Park or the select a spot along the beaches which line San Diego and Coronado Island.
Safari West, Santa Rosa
On the off chance that you have ever envisioned going on a Safari but Africa is a bit of a drive in your RV, why not do the next best thing in Santa Rosa, the home to Safari West. There are many close-by RV
campgrounds
to rest up at before a visit with the more than 200 African species, which includes giraffes. You can even take a jeep tour onto the 'Sonoma Serengeti' to see these beauties in a natural habitat. Get more information from
Safari West
about their outdoor expeditions.
Yosemite National Park
Yosemite National Park
is a true natural wonder, making it the ideal destination for a campervan rental in California. The 1200 square miles of wilderness is graced with valleys, waterfalls, woodlands, and granite outcroppings that are a genuine demonstration of the magnificence of nature. The recreation center offers hiking, climbing trails, water sports, and an assortment of activities that enable you to soak in the experience. A highlight to visit is the
Mariposa Grove of Giant Sequoias,
a stunning forest of 500 enormous redwoods that are hundreds of years old. Usually full from April through September, there are ten
campgrounds
that permit RVs, we recommend you book ahead as early as possible for your private RV rental in California. For a great guide to visiting Yosemite, check out
Mountain IQ.
California State Parks/Campgrounds
San Francisco RV Resort
If your schedule incorporates driving your RV rental in California to San Francisco to tour in and around the city, a great alternative place to stay is the
San Francisco RV Resort.
It is situated about 15 miles from San Francisco, which means you can tour around and be back before the sun sets. It has 83 accessible spaces, 64 of which are full hookups with slideout accommodations. The offices have wi-fi, there's a heated pool, play area, whirlpool, digital TV, restrooms and showers, RV supplies, and clothing office. Appreciate the stunning climate at the San Francisco RV Resort in your California RV rental; though keep in it's been said, "The coldest winter I ever spent was a summer in San Francisco!"
Castaic Lake RV Park
Southern California is a get-away hotspot, and on the off chance that you intend to drive your RV rental in land a bit, you can stay at the
Castaic Lake RV Park.
It is less than an hour from Los Angeles and only a couple of minutes away from Magic Mountain. A recently remodeled RV Park, Castaic Lake RV Park has 15 accessible full hookups with porches, fire rings, tables, and space for slideouts. There's wi-fi, heated pool, whirlpool, play area, complimentary breakfast, basic supplies, clothing office, restrooms and showers, RV stockpiling and supplies. Make the most of the amenities, its open year-round and Fahrenheit temperatures range in the mid 60s during winter to the high 90s in the summer months!
San Diego RV Resort
Situated around ten miles from the heart of San Diego, the
San Diego RV Resort
is a great bet for your Class B RV rental in California. An ideal RV camping location to appreciate the sights and attractions of San Diego and its encompassing areas, the Trolley is within walking distance, so park your RV rental and set out on foot exploring all the San Diego has to offer. It has 72 accessible full hookup destinations with yards and space for slideouts, along with the amenities you would expect. San Diego RV Resort is your home away from home in your camper rental!
Celebrations and Events
There are world class events year-round in California,
BNP Paribas Open,
Coachella,
and the
U.S. Open of Surfing
to name a few, but we like some of the off-beat or maybe less well-known events, too. If you are a foodie, check out the
Great Petaluma Chili Cook-off,
Salsa, and Beer Tasting in Vacaville, held each May. Or visit the
Bodega Bay Fishermen's Festival
which happens in April and includes the Blessing of the Fishing Fleet, loads of great food, and entertainment for the entire family! There is so much to do and see in California, book your motorhome at RVnGO and make the most of its sights, attractions, natural beauty, and great people. The Golden State is ready to shine for your visit!