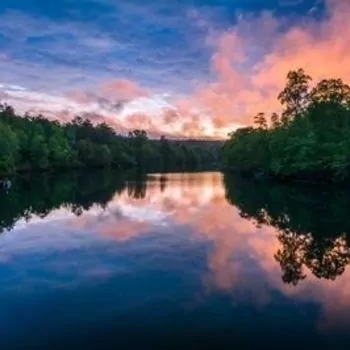 The state of Alabama is a popular outdoor travel destination. With Tennessee in the north and the Gulf of Mexico in the south, the landscape of Alabama is overflowing with mountains and shorelines, making it a beautiful spot to RV year-round. Alabama's breathtaking scenery of white sand beaches, lakes, rivers, waterfalls, gardens, wilderness areas and more make it a challenge to choose from the plethora of spots to dock your RV rental. Each have their own charm, awesome campgrounds and entertaining attractions - trailer rental in Alabama will never be boring, you're sure to have a wonderful time!
COVID-19 / CORONAVIRUS UPDATES FOR NATIONAL PARKS IN ALABAMA
Alabama National Park Closure Updates
The National Park Service is modifying its operations on a park-by-park basis in accordance with the latest guidance from the Centers for Disease Control and Prevention (CDC) and state and local public health authorities. While most facilities and events are closed or canceled, outdoor spaces in some parks remain accessible to the public. Before visiting, please check with individual parks regarding changes to park operations. If you choose to visit a national park, please ensure that you follow CDC and state and local guidelines to prevent the spread of infectious diseases and practice Leave No Trace principles. Updates about the NPS response, including safety information, are posted on
The National Parks Service Coronavirus Website.
COVID-19 / CORONAVIRUS UPDATES FOR STATE PARKS IN ALABAMA
Click for Up to Date Alabama State Park COVID-19 Updates
STATE HEALTH ORDER – April 3, 2020 Outdoor recreation in Alabama is considered an essential activity in the Order of the State Health Officer that was issued on April 3, 2020. That means outdoors activities such as hunting, fishing, trail use, boating, and paddling can still be enjoyed by all Alabamians as long as groups are kept to less than 10 people and a consistent 6-foot distance between persons can be maintained. Additionally, most Alabama State Parks, including campgrounds and associated facilities, remain open with some exceptions. ADCNR strongly encourages everyone to observe the State Health Order and to practice CDC recommendations regarding hand washing and social distancing (maintaining a distance of at least 6 feet from others). Violating the State Health Order can result in criminal charges and fines. Due to the evolving nature of the pandemic, ADCNR recommends calling individual state parks and other facilities if you have questions about reservations or operational hours.
Alabama Attractions
Scott and Zelda Fitzgerald Museum
If you're an avid reader, or enjoy local history, travel in your RV rental to Montgomery, Alabama to visit the Scott and Zelda Fitzgerald Museum. Grab a cocktail and peruse the exhibits which include items from six distinctive eras in the life of this iconic couple. In addition to learning intimate details about F. Scott and Zelda, you may wish to attend one of the various writing workshops to get a deeper understanding of these literary geniuses' minds and their commitment to the universe of writing. The
Fitzgerald Museum,
is open Tuesday thru Sunday from 10am to 3pm with the exception of major holidays.
U.S. Veterans Memorial Museum
If you are interested in the more patriotic side of Alabama, be sure to visit the
U.S. Veterans Memorial Museum,
known as one of the premier military historical centers in the nation. Located in Huntsville, it has a large amount of original military vehicles, relics and memorabilia dating all the way back to the American Revolutionary War! Veterans of various wars share their firsthand experience and are available to speak with, a not to miss opportunity for history buffs. The museum is open from Wednesday to Saturday and other days by appointment.
Discover the Original Mardi Gras
Did you know that Mobile, Alabama, is heralded as the birthplace of Mardi Gras? Though the Mardi Gras was first witnessed in the New World by French pioneers at the Twenty-Seven Mile Bluff, the primary French settlement was in Mobile. In 1711 the festival began at its present site. The
Mobile Carnival Museum,
opened in 2005 and boasts 14 rooms displaying costume designs, float construction and more. You can view videos of past parades and balls in the theater and be sure to hit up the gift shop to grab your very own crown. Visit this vintage party spot when you drive your RV rental to Mobile, Alabama!
Alabama State Parks/Campgrounds
Montgomery South RV Park and Cabins
Perfect for a private RV rental in Alabama, the Montgomery South RV Park and Cabins is located only a couple of miles from the city. Set in a calm and quiet area, it is ideal for people who like to unwind and make the most of nature's pleasantries. It has 33 accessible full hookup spots with space for slideouts. Offices and conveniences incorporate Wi-Fi, outside activities, a rec hall, laundry rooms, restrooms with showers, RV stockpiling, and a self-serve RV wash. Pets are invited! The
Montgomery South RV Park and Cabins
is open throughout the year.
Shady Acres Campground
The Shady Acres Campground gives complete access to many destinations, attractions and events in and around Mobile, Alabama. It has 92 accessible shaded full hookup RV spots with space for slideouts. Amenities include Wi-Fi, rec halls, restrooms and showers, laundry machines, a dump station, and a self-serve RV wash for your RV rental in Alabama. Experience the beauty of nature here by sailing or fishing on the Dog River. The
Shady Acres Campground
is available for your enjoyment year-round.
U.S. Space and Rocket Center Campground
Do you have a child who dreams of seeing the stars from a closer view than the outside of your RV Rental? Take them to Huntsville, Alabama, birthplace of America's Space program, for an incredible experience. Dock at the
U.S Space and Rocket Center Campground
and let the Space Camp adventure begin! They can choose from a focus on Space, Aviation, Robotics or Cyber exploration and you can hold down mission control among the trees.
Events
Alabama Crimson Tide Football
If you're a fan of American Football, don't miss an opportunity to catch the Crimson Tide play a game in one of the most beautiful college stadiums. The Alabama Crimson Tide stands out as one of the most brilliant and well-known football teams. Its history dates back to 1925 when it first won the Southern Conference title. Today, the group is a force to reckoned with regarding NCAA football. Enrich your visit to Alabama by tailgating in your RV rental at Alabama Football Stadium, otherwise called
Bryant-Denny Stadium,
and get your pregame on like a local.
Alabama, known as the Yellowhammer State, is filled with an assortment of attractions and spots to visit which everyone can enjoy. From natural beauty to history to sports, you name it, Alabama has it! Book your RV rental to Alabama today for a memorable vacation with the whole family.