What kind of insurance do I need to rent an RV? Here is a Comparison.
Before we begin Let's be crystal clear.
The author of this article is not an insurance professional, insurance agent, insurance broker, or insurance attorney. This article is the author's opinion, and the reader should also do their own research. Any statements below should not be taken as legal or financial or insurance advice, nor a solicitation to purchase from one company over another. 
RV Rental Damage Protection can range from $15 – $70 per day or per night depending on the type of RV or Trailer, the coverage and the company providing it. Just like car rental insurance, through those places at the airport, you are required to have damage protection and it provides liability, collision, and comprehensive coverage. You'll need it in case you get in a minor or major accident, or the RV gets damaged during your vacation. Many RV Rental Companies provide RV Rental Protection and Liability Insurance through separate insurance companies. Some coverage can be perceived as "better" than others, and as they say, you get what you pay for. Another point of clarification for those who may not understand is that unless otherwise articulated or stated by the company, that RV rental company or individual Host is NOT the insurance company. For example; with RVnGO, the protection plan is offered by RVnGO, and the auto-liability insurance component of the protection plan is offered by a 3rd party insurer.
*There is a HUGE Difference between the coverages listed on a website and the day rate vs the night rate.
Every year there are thousands of Americans who make like Steppenwolf and head out on the highway lookin' for adventure in their RVs and Motorhomes. Thanks to Covid, RV travel became one of the most popular ways to vacation in 2020. The spring and summer of 2020 saw an explosion in the RV rental market due to the decline in interest in other vacation options. The genie is out of the bottle and more Americans are reigniting their love of the American countryside and National Parks. Renting an RV is also affordable, convenient, and fun. Not to mention that a lot of the things we like to avoid in a vacation are taken out of the RV Vacation equation.
Crowds

Waiting in Lines

Lay-overs

Lost Luggage

Security Searches

Catching something

Someone Else's screaming kids

Being on a Tight Schedule

Rude Staff

Sea Sickness / Air Sickness
Think you need to buy an RV? Think again. Who wants to deal with all of the maintenance of owning an RV that you only use a few weeks a year for the occasional vacation; now, RV rental websites like RVnGO make it easy for anyone on any budget to go RVing for a weekend, a week, or even a month. But while RVnGO makes the process of renting an RV is simple, there's one aspect of it that's a bit more daunting: RV rental damage protection and the liability coverage component which is handled by a 3rd party insurer. Let's face it, insurance in general is a bit of a mystery. We all need it and don't want to think about it, let alone talk about it, and we fight against buying it with every ounce of our being. Much like attorneys, we hate it until we need it and sadly, most don't get the protection they need when they have the opportunity.
So, hopefully, we can help with understanding around RV rental damage protection with this guide for those of you who are wondering how to get RV rental damage protection.
Is RV Rental Insurance Mandatory?
Naturally, before renting an RV, you need to protect yourself with the most protection and liability insurance you can afford. Did you know that it's illegal to rent an RV without insurance?
YES RV insurance is required in every state. All states require a minimum amount of liability insurance; in addition, some require uninsured and underinsured motorists' coverage.
But do you really want to go with the cheapest and lowest coverage and be stuck with cut rate insurance and risk having to pay for damages out of your own pocket, or get sued all because you wanted to save a few dollars? It's still your choice though to determine what you are comfortable with in regards to the level of protections.
One option available out there is outlined by RVnGO in their Knowledge Base.
Protection Plans include (i) up to $1,000,000 in externally arranged liability insurance, and (ii) up to $200,000 in property damage protection to the rented RV via a Damage Protection contract that sets out the Hosts level of contractual reimbursement from RVnGO for eligible exterior damage and, in turn, the Guest's degree of responsibility to pay for said damage (a "Damage Protection contract").
You will also want to make sure that you see a Coverage Certificate.
The Coverage Certificate and Certificate of Rental is automatically generated when the electronic Check-In process is completed. For those who are Hosts, renting out their RV to Guests, See
Read more in their knowledge base article: What should I do when the Guest picks up the RV? How do I check them in and out?
The image here is a sample of a Certificate of Coverage which you may receive.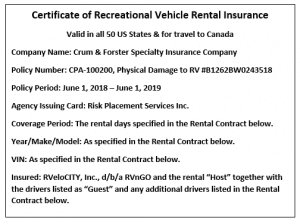 Once checked in, we recommend printing the form (just print from your browser) so the Guest can keep a copy in the glove box. It will also be part of the reservation record for both the Host and the Guest if they need to refer to it and a copy will also be sent to both of you.
The 'rental contract below' will be the reservation for the rental, which will list among other things the RV description, the dates of rental and the Host or owner of the RV and the Guest (the Driver) and any additional drivers.
When you rent an RV, the company will almost always provide some type of Protection Plan and an auto-liability insurance component offered by a 3rd party insurer. RVnGO arranged up to $1 million third-party auto liability coverage. It's automatic on every single transaction. If there is damage to the RV caused by the Guest, the Guest also pays a reimbursement deposit, which varies from $3,500 for a Class A down to $1,500 for less expensive trailers and RVnGO protects the Guest and Host for repairs in excess of the reimbursement deposit up to the lesser of replacement value or $200,000. You'll also get 24/7 roadside assistance in case you break down while you're on the road.
You have a few options to get RV rental damage protection:
Book your RV Rental through RVnGO and the coverage is automatic.
Book through a different platform where you believe there is a greater value for the exact same value added service.
Use your own insurance if they offer the option for temporary RV rental insurance rider.
Purchasing RV renter's insurance through a third party which may be more expensive.
*Note that the RVnGO RV Rental Damage Protection is the first in place. That means any other protection is secondary. It is also required to use the RVnGO RV rental damage protection for the rental when booking through RVnGO.
Getting Damage Protection Through the RV Rental Company
Some rental companies offer RV rental protection and insurance as an additional purchase with your rental. You may also see this through Person 2 Person websites like RVnGO. On many sites, read the fine print if it even shows the protection plans or insurance costs breakdown.
As stated above, All transactions processed by RVnGO are covered by their Protection Plan and the component of industry leading $1 million liability coverage for both the Host and the Guest with coverage for damage to your RV up to $200,000 which is through a 3rd party insurer. The Guest pays the nightly protection fee. On some sites, other plans are usually only $500,000 or just statutory minimum coverage levels for drivers (that's $20,000 in most states).
Auto Physical Damage Coverage Limits are important and you want to make sure you get enough coverage. For example, the RVnGO Protection Plan covers damage to the RV up to $200,000 for all risks (certain exclusions apply), including damage in an accident or from natural disasters or loss due to theft.
Simply going this route can be a convenient option, as some may conclude that the process of going through an RV rental insurance company can be tedious. When shopping RV rentals, be sure to compare the damage protection plans and coverages. You don't want to get stuck in a situation where you're under protected! Check the nightly rate for the damage protection coverage. And Notice if they company charges a nightly or daily rate.
With RVnGO, the nightly fees range from $25 for trailers to $70 for Class A Motorhomes and are paid by the Guest. The nightly rate is less expensive than a daily rate because it is calculated differently. 
Hypothetical illustration for Nightly vs Daily Rates
Example Nightly Rate on RVnGO:
Damage protection for a Class A is $70 per night
Greg Picks Up a Class A RV at 11am on March 3rd and Returns it at 11am on March 4th
Greg Pays the $70
Example Daily Rate on RV Rental Company X:
Damage protection for a Class A is $70 per day
Greg Picks Up a Class A RV at 11am on March 3rd and Returns it at 11am on March 4th
Greg Pays the $140
'Reimbursement Deposit', depending on the Plan chosen, ranges from $1,500 to $3,500. This will cap your out-of-pocket expense at the deposit amount plus any applicable fees. Coverage is automatic for all transactions processed on RVnGO and extend to all RVs in the United States (except New York). This covers travel throughout the United States and Canada for those with valid US or Canadian driver's licenses. To learn more about damage protection for your RV Rental, read the article for Guests or the article for Hosts.
What Are RV Rental Insurance Riders?
If you are looking at getting protection outside of an RV rental platform, assuming this is allowed by the platform or RV owner, you can get temporary coverage on your auto plan through an RV rental damage protection rider (or binder – same thing). Interestingly though, not all auto insurance providers offer this option, so you'll have to give them a call to find out. What does it do? They extend your auto insurance to cover the RV while you're renting it. However, it is important to note: the limits may not be high enough to cover damage to a drivable RV since RVs are so expensive. Furthermore, it won't cover non-auto damage (if you break an appliance), and it won't cover your personal property inside the RV, which that part should come as no surprise. That's why many people choose to buy insurance from a third party, like MBA insurance, Zenith Insurance or even AAA insurance.
In Summary: The Cost Of RV Rental Damage Protection
Just like with car insurance, RV rental damage protection costs vary depending on a wide variety of factors as mentioned in the first paragraph of this article. Outside of the prices mentioned above, the RV rental protections and coverage costs depend on:
What type and size RV you're renting
The age of the RV, and whether it has custom or luxury features
Your driving record
What limits are required by the state
The protection and liability limits and deductibles
If you opt for supplemental coverage, like personal belonging protection


Obviously, full coverage for a large Class A RV is always going to cost more than it does for a Class C or a 5th Wheel or trailer. As you also already know, the costs will vary between companies. So now you should have a clearer understanding of protection plans and realize that an RV rental company offering protection is NOT an insurance company. Go out and do your own research for what works best for your situation and risk tolerance level.
Since we are talking about an RV rental here, the most simple choice is to just go through the company you are renting it from, just like when you rent a car at the airport. Getting RV rental damage protection is a necessary step in the rental process. Make it easy on yourself.