Looking to escape from the Big Apple this summer? Wondering if it'll cost you an arm and a leg? Think again! With an RV rental, historic cities, elegant mansions, and dreamy beaches are all less than 200 miles away! 
We've compiled a list of RV trips from New York City that won't hurt your wallet at the pump this summer. No matter which direction you choose to travel, adventure awaits you. 
What are you waiting for?
New York City is one of the most fascinating cities in the world. And for good reason — the city has it all. However, if you go RVing to experience nature and the great outdoors, the Big Apple probably doesn't come to mind. But why not combine the two?
NYC is the perfect base for day trips to the New York State countryside, where you can enjoy picturesque mountains and quaint towns scattered throughout the surrounding area. When you've had enough of the city's sights and sounds, arrange an RV rental and take an easy day trip to some incredible destinations. It's all a short drive away. Why not spend a weekend and cruise America?
Why NYC Is The Perfect Day Trip Base 
New York City is known worldwide for its excellent restaurants, museums, nightclubs, and historic sights. After all, it's "the city that never sleeps." 
But due to its coastal location and temperate climate in the Northeast, you'll find natural beauty in every direction beyond city limits. What's more, many locations are overlooked by travelers and locals alike. This means you can enjoy the pleasures of New York State with only a handful of other visitors by simply driving an hour or two.
Leave your RV rental in one of the RV parks in and around the city, and rent a car or drive your own, if you brought it. Or head out in your RV if you want to stay overnight or for a weekend!
What's the Best Time of Year to Visit? 
New York City's proximity to the Atlantic Ocean tempers its climate, but inland temperatures can differ at any time of the year. Generally, the farther inland you go, the hotter (or colder) it gets. 
Summers can be hot and humid with afternoon thunderstorms, especially in July and August, so be prepared during outdoor activities. Spring and fall are generally cool but sometimes rainy, and winter temperatures can be quite cold with plenty of freezing rain, sleet, and snow. As you make your plans, keep an eye on the weather forecast to make the most of your trip. 
RV Trips From New York City That Are Under 200 Miles
Montauk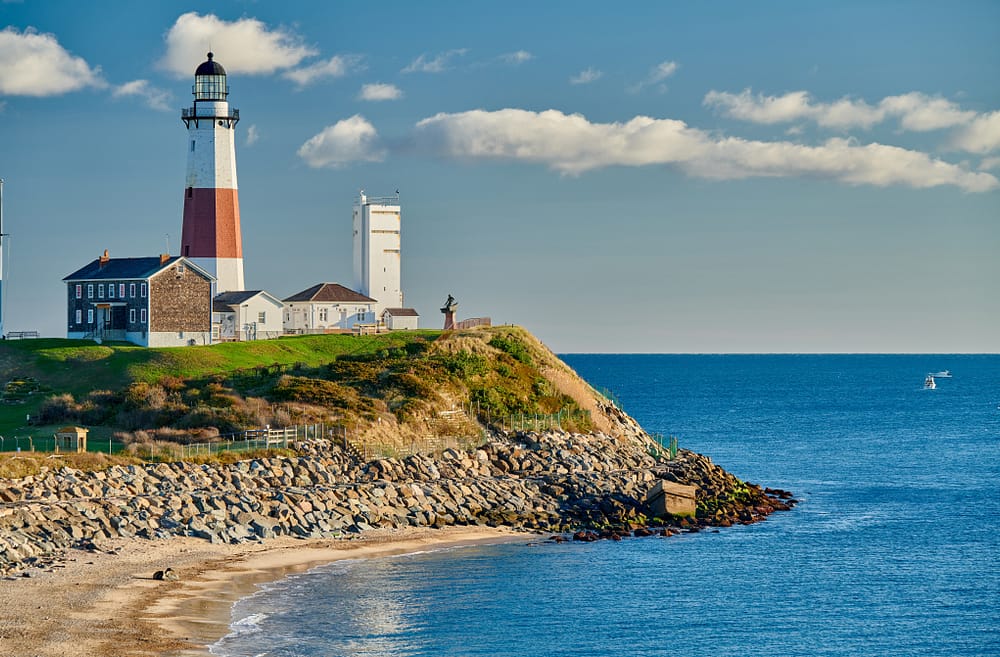 Travel time and distance: 121 miles, 3 hours
The eastern tip of the Long Island peninsula has long been a favorite New York escape from the bustle of the city. The village itself is famous for its gorgeous sandy beaches and lakes, along with out-of-this-world good seafood. As reason enough to make the trek through the peninsula, the coastline of Montauk Point State Park features a lighthouse home to historical documents that bear the signature of George Washington himself.
Although Montauk is our favorite spot on Long Island, all of the Hamptons are stunning to drive through. With a farmland interior and seaside town exterior, it's not hard to see why the area is such a major tourist destination. The shops and restaurants throughout the villages are dreamy and the drive alone through the setting is worth the price of admission (theoretically speaking). 
During your visit, be sure to check out Montauk Brewing Company to support the local craft brewing scene— if that's your thing!
RV Campgrounds Near Montauk
Hither Hills State Park | Montauk County Park | Cedar Point County Park
Things To Do In Montauk
Ditch Plains Beach | Montauk Brewing Company | Montauk Downs State Park Golf Course
The Catskills
Travel time and distance: 121 miles, 2.5 hours
A hiking destination the world over, the Catskills' reputation precedes it. Vast mountain wilderness covered in lush green trees, waterfalls that pour into flowing rivers and lakes— we can't speak enough about the beauty of the Catskills region. 
(Though don't take it from us; the poets and writers that have been traveling to Upstate New York for centuries have certainly come close to capturing the area's majesty.)
In addition to its miles of hiking trails, the Catskills can also be viewed from ziplines and skyrides! The region encompasses nearly 6,000 square miles of beautiful landscape, so there's plenty of room to spread out and immerse yourself completely in nature. 
For an incredible view that's inspired a number of painters over the centuries, bring everyone to Sunset Rock at dusk. 
(Just trust us on this one.)
RV Campgrounds Near The Catskills
Catskill RV Resort | Covered Bridge Campsite | Russell Brook Campsites
Things To Do In The Catskills
Kaaterskill Falls | Indian Head Wilderness | North – South Lake
The Berkshires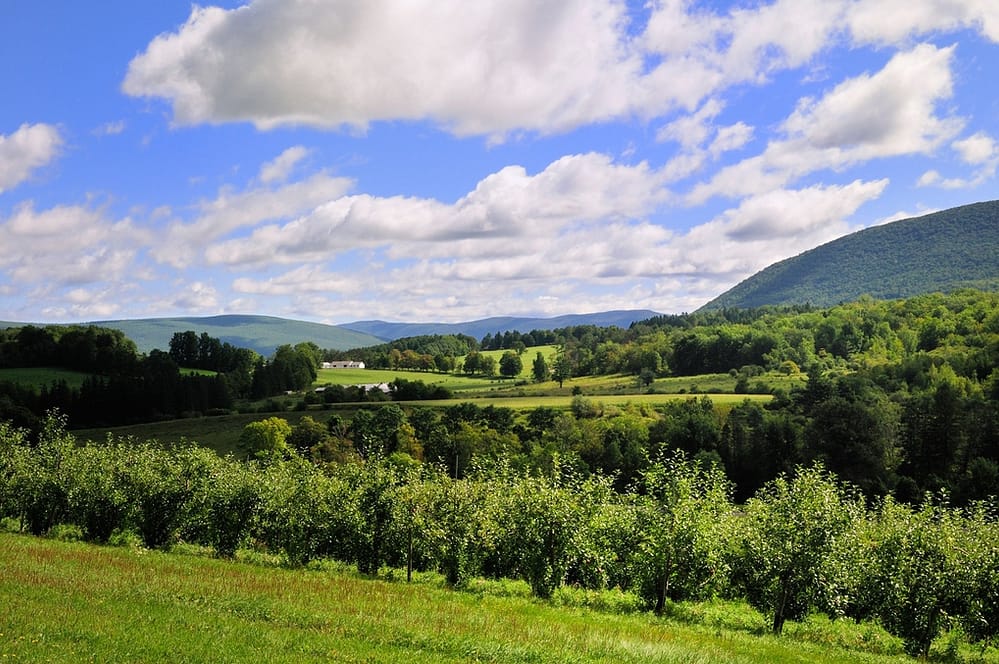 Time and distance: 158 miles, 3 hours
Massachusetts' collection of villages and towns in its rural Berkshire County are a hidden New England gem that's increasingly being more and more "discovered" in recent years. The foliage and architecture are straight out of a painting or a Robert Frost poem. The gastronomy scene has a strong emphasis on farm-to-table. The mountains are high and the valleys lush and idyllic.
Okay— maybe it's not so much a hidden gem anymore.
As Massachusetts' response to the Hamptons, the Berkshires are an admittedly bougie vacation. However, the area is dotted with RV resorts and an overall laid back vibe that's perfect for unwinding in without the hefty price tag.
The Berkshires are also known as the summer home of the Boston Symphony Orchestra. Throughout the summer months, join the locals in gathering on the grass meadow of Tanglewood and take in exemplary music on the green.
RV Campgrounds Near The Berkshires
October Mountain State Forest Campground | Summit Hill Campground | Walker Island Family Camping
Things To Do In The Berkshires
Mount Greylock | Norman Rockwell Museum | Ventfort Hall Mansion and Gilded Age Museum
Cape May
Time and distance: 158 miles, 3 hours
Looking to escape from New York and New England on your trip? No problem! New Jersey's Cape May is a classic beach vacation just around three hours away. The southern tip of the Cape May peninsula, the city itself is an RV friendly resort haven that's perfect for couples or families.
For window shoppers, the three pedestrianized blocks of Washington Street are a must-visit. The boutique shops, art galleries, and restaurants that line the brick covered streets harken back to a vintage American feel. Paired with the pastel colored Victorian houses that the city is famous for, Cape May has an air of nostalgia built into its blood. Yet the energy of the beaches and downtown scene is vibrant and youthful all the same.
Cape May is also home to the fifth largest Coast Guard base in the US. In fact, the city itself is incredibly vet-friendly and a keeper of American history. For WWII enthusiasts, be sure to visit the Naval Air Station Wildwood Aviation Museum.
RV Campgrounds Near Cape May
Depot Travel Park | Acorn Campground | Beachcomber Camping Resort
Things To Do In Cape May
Naval Air Station Wildwood Aviation Museum | Cape May Beach | Garrett Family Preserve at Cape Island Creek 
Newport 
Time and distance: 180 miles, 4 hours
Retrace the steps of Manhattan's wealthiest Gilded Age families and vacation in Newport, Rhode Island! The summer playground to tycoons and heiresses in the late 1800s, Newport is dotted with breathtaking mansions set against an ocean backdrop. Cliff Walks, beaches, and gorgeous architecture are only part of Newport's appeal, however.
Downtown Newport is filled to the brim with character. If you're looking for boutique shops and amazing seafood, start your day at Thames Street. The dog friendly shopping district is packed with things to do, including ferries that will give you tours of the Rhode Island coastline. Further up the city, the Jane Pickens Film and Event Center is an astonishingly well preserved movie theater built in 1834 that regularly shows indie movies alongside the classics. 
Bicycles are incredibly popular for getting around the small city, so we highly recommend bringing one on your trip. Event highlights in Newport include the famed Newport Jazz Festival in late July, which draws thousands of people to the green of Fort Adams State Park.
RV Campgrounds Near Newport
Second Beach Family Campground | Brenton Point State Park | Meadowlark Mobile Home and RV Park 
Things To Do In Newport
The Breakers | Cliff Walk trail | Thames Street shopping and restaurants
What do you think of our choices for RV trips from New York City? Where will you RVnGO this summer?
Mohonk Preserve Offers A Serene Tranquil Getaway
If a peaceful, natural setting is what you're after, look no further than Mohonk Preserve. Located in the Shawangunk Mountains region, it's about 70 miles from NYC and features over 8000 acres of forest and beautiful waterways, including rivers, streams, and ponds.
The preserve is a refreshing break from the hustle and bustle of the city. Depending on the season, you can take leisurely strolls, cycle miles of trails, test your climbing skills on world-famous Gunks cliffs, spend a day skiing or snowshoeing, and even go horseback riding. It's the perfect getaway spot, only a 90-minute drive from the city.
Countryside too quiet? If you've made a long weekend out of your trip by getting an RV rental, you can head into the town of New Paltz. 
Cornwall Is A Living Outdoor Art Exhibit
Cornwall shows off rolling green hills and celebrates both modern and contemporary art outdoors, with over 100 fascinating sculptures dotting the area. If you love art, visit the Storm King Art Center to appreciate the talent and skills of artists from around the world. 
When you can pull your gaze away from the sculptures, enjoy over 500 acres of parkland, ideal for strolling around and checking out the scenery on foot or by bike. 
If you're looking to sip great coffee, tuck into a delicious lunch, or stock up on fresh fruit and vegetables, head over to Jones Farm. The shop here has everything from homegrown produce to eggs, honey, and home-baked deliciousness. You don't want to miss this stop and the view of Schunemunk Mountain. 
A Trip Worth The Drive Is Beacon
Beacon, in Dutchess County, is only an hour-and-a-half drive from New York City and proudly hosts the Dia Art Foundation. Art lovers won't want to miss Beacon, and when you're done checking out the artwork, take a trip to Dennings Point Distillery and sample some of their artisanal spirits. 
After sipping on a coffee-flavored bourbon or apple brandy, head down to Long Park Dock and dip your toes in the Hudson River. It's a perfect spot for a picnic, watching the sunset, or both. Head over to Main Street, and you'll discover everything from small boutique stores, to great coffee, and restaurants serving some of the best food around. Beacon also has its fair share of Art Galleries scattered throughout town, all easily accessible from Main Street. 
Woodstock For The Inner Hippy
No, Woodstock isn't what you might think. Although the town still holds a hippy vibe, Woodstock certainly isn't as extreme as its reputation may lead you to believe.
Although Woodstock is famous for its legendary 1960s counter-culture rock festival, the place also showcases unique natural surroundings with hills, mountain peaks, trails, and shops throughout the area. The town also offers a plethora of quality dining choices, and it's only a two-hour drive from NYC. It's a perfect day trip to slow down and recharge. 
Because Woodstock has been home to creative people for over a century, no trip to the town would be complete without appreciating some art. Head to Tinker Street in town, which hosts various art galleries and museums. Simply take in the galleries on your own, book a tour, or participate in the numerous classes available. 
No Better Place For Hiking Than Hunter
Situated in Greene County, New York, Hunter is a quaint little village with something for everyone. While the place is known for its zip lines and hiking, it also offers more relaxing activities, serving as a great place to kick back and relax. 
Around Hunter, you can stroll the trails, play golf, go fishing, and eat at some fantastic restaurants. If you want to enjoy some truly delicious food, look no further than Prospect Restaurant. As well as offering local American-style meals, the venue features stunning views of Hunter Mountain. If it's been a long day out on the golf course or you're tired from strolling the trails, head to Prospect for a delicious bite to eat and a beautiful view. 
Another spot you can't afford to miss in Hunter is the Catskill Mountain Foundation Gallery and Book Store. If you're tired of the outdoors or the weather turns bad, this is the perfect stop to find something great to read and grab a coffee from the restaurant next door. The gallery also showcases art through theater, with regular live performances including dances, live music, and even plays. 
Relive The History Of Our Early Settlers At Cold Springs
This is another destination that ranks among the best day trips from New York. Cold Springs is located in the Hudson Highlands, surrounded by beautiful hills, tall peaks, and great trails for all levels of fitness. Start at Stony Point Loop for a leisurely stroll over flat ground. It will lead you along the banks of the Hudson River and even a sandy beach. 
The old ruins scattered throughout will transport you back in time. Back in the early 1900s, the park was home to the Cornish Estate and Edward J Cornish, the owner of The National Lead Company. It included a large mansion and numerous smaller buildings around the grounds. 
Today, you can see remnants of the estate throughout Cold Springs. Although you can check out many smaller ruins from afar, seeing the mansion itself requires a hike into the woods, which is around 1.5 miles. 
PS – Rent Your RV Through RVnGO For Big Savings
Although NYC probably doesn't come to mind as a great outdoor destination, it serves as a fantastic base to explore great destinations only an hour to two away. 
So get on the road, go RVing, and explore! New York has something for everyone. You can camp in your RV rental in or near the city and throughout the state. Check out some of New York State's best RV Parks here.
Whether it's a day trip, extended weekend, or even a cruise America road trip, get your RV rental at RVnGO and make it a road trip to remember.