Is It Worth It To Rent Out Your RV?
Let's Start With Being Conservative With the Estimates.
With many people looking for ways to make extra cash, RV owners may wonder how to profit from owning an RV. A recent study showed that the average RV owner only uses the motorhome 19 days out of the entire year.
Could your RV make you money when you're not using it?
The answer is Yes. You also need to make sure you are profitably renting your RV out to enough people looking to take an RV road trip! Renting your RV could be a great way to make extra income,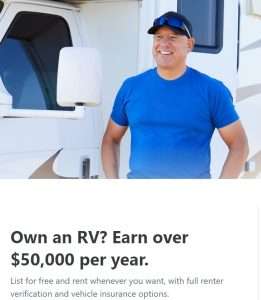 but there's a lot of conflicting information out there regarding how much you'll earn while renting an RV. 
How do you figure out what you'll make by renting out your RV?
One company suggests that you can earn up to $1,400 a week or $50,000 a year.  The familiar ad you may have seen is a gross exaggeration of fact. A person with a single average size RV would need to rent it out almost every week of the year with little to no time for cleaning and prepping it between the different bookings.   
Another source shows this table below as a Realistic Guide for How Much You Can Earn Per Week Renting Out Your RV:
Type of RV
Rental Price
(per night)
Rental Price
(per week)
Potential Earnings
(per year)
Class A
$175-$275
$1,225-$1,925
$15,000-$30,000
Class B
$100-$200
$700-$1,400
$12,000-$25,000
Class C
$150-$200
$1,050-$1,400
$13,000-$27,000
Can I replace the average American Annual Income from renting out my RV? Are these figures above accurate? What if I live in a small town? What if I offer amenities? What if there is high competition in my area? What if the "On Season" is only a couple months out of the year?
We discuss it below.
Factors that affect RV rental income
Many factors go into determining how much you'll earn when renting out your RV. Here are some key points to consider: 
Location
Guests rent RVs so they take adventurous RV road trips. The first step is physically getting access to the RV. Since guests pay for gas during their trip, many want to rent an RV close to their desired destination. If renters need to travel long distances to get the RV, it could impact the amount of money you'll potentially earn. 
Type of RV 
While you can charge more per night for bigger motorhomes with more amenities, you may find that you can rent smaller, cheaper pop-up campers more frequently. You could have a top of the line super luxurious model that raises the nightly rental rate to $500 – $1,000 a night, but then shrinks the target audience of potential renters. Whatever the case may be, the type of RV you have is a significant factor in determining how much you'll earn by renting it. 
Nightly rate
How your nightly rate compares to similar listings will significantly determine how often you'll be able to rent out your RV. There is also a HUGE difference between the Nightly Rate and Daily Rate. However, you can't just put your listing online for the lowest price around. You need to make sure you'll turn a profit! Typically, Class A RVs start at $200 or more per night, while trailers and pop-up campers rent for $50 a night or more. Class B and Cs Average around $150 – $175 per night depending on the area and time of year. If your Class A is more of a tour bus and you also drive it and include the mileage, you can charge up to $900 a night, like Brian and his Rock & Roll, American Eagle, Sleeper Tour Bus.
Marketing
Renting out your RV only happens if people know that you are renting it!
The biggest lie in business is "Build it and They Will Come".
Ensure you provide an accurate description, upload high-quality photos, and add video when listing your RV on an RV rental site. Reach a wider audience by marketing your RV listing yourself through social media, on Facebook Marketplace, Craigslist, local groups, and sharing with your friends and contacts in your personal network. Remember, this is YOUR business and YOUR Responsibility to market it.
Added Software
If you plan on renting out your RV without the use of an existing platform or marketplace, then you will need to buy and maintain a website and then pay for the hosting as well. Then pay to get help driving targeted traffic to the website.
In addition to the cost of building and maintaining a website, you will need to create your own contracts, buy the commercial rental damage protection, and the online calendar and payment software to incorporate into the website. That is a lot of costs and work to consider when weighing your options.
Amenities
What makes YOUR listing different from all of the others that are available and known by the public? Do you have a welcome basket? a bottle of wine? Tickets to a special event or National park pass? Do you provide a higher end mattress and better bedding? How about camping furniture like folding chairs? These things may not sound like a bid deal but it's the small details that add up to make a big difference in the eyes of the renter when they are deciding between you and the other RV rental. 
Other considerations If Using An Existing RV Rental Marketplace
If you're listing your RV through on an RV rental site, there are other costs to consider when determining how much income you'll make.
Many of these sites take out 20% or more from the RV owner per booking. If that isn't bad enough, on top of the fees collected from the host, they charge 10% or more in tacked on transaction fees and other miscellaneous fees to guests. That is above your rate and add-on fees, cleaning fees, mileage fees that you may charge.
Also, regular RV damage protection doesn't cover RV rentals, so you must factor in additional monthly damage waiver fees into your profit. 
Make More Money With RVnGO: What Percentage Does RVnGO Take?
RVnGO Takes 0%
Listing your RV with RVnGO removes all additional costs, which means you earn more from your RV rental on each transaction. RV Owners  who list through RVnGO keep 100% of their earnings from every transaction. In Addition, RV Renters are charged ZERO FEES!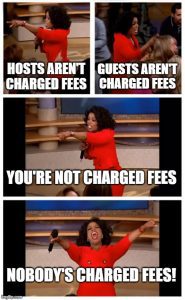 To paraphrase Oprah… RV Owners are NOT Charged Fees. RV Renters are NOT charged fees. No one is charged Fees!!!
If this isn't enough, RVnGO even pays Hosts an extra $50 for each self initiated completed booking through the platform. While other platforms take out 20% or more from the RV owners and 10% or more from the Renter in tacked on fees. Want more?
Earn $150 For Each Referral Who Rents on RVnGO!
RVnGO also covers all its listings up to $1,000,000 in auto liability coverage and $200,000 in property damage, so you don't have to pay high monthly damage waiver fees.
*No fees means, the platform does not charge non-value added fees that are not tied to a specific service. Some websites charge a vague service fee or usage fee. The Guest pays for damage protection. That is a charge tied to a service and a credit card processing is a pass through charge.
Calculating what you'll earn by renting your RV
Many factors go into determining how much you'll make by renting your RV. While some RV rental companies claim you can earn up to $40,000 a year, a typical RV owner will probably make closer to half that amount. Using the average nightly rate of $175 for a Class A motorhome (in off season and depending on market rates in your area), you would need to rent out your RV for 229 days every year to make $40,000 in rental income which doesn't take out the costs of maintenance, damage protection, etc.
Earning this amount could take a significant amount of time for most RV renters who are just looking to make a side income. To make $20,000 a year at $175 per night, you'd have to rent out your RV for To 114 days, which is a more realistic number. 
Instead of hitting a random income number, make a target income goal based on your specific needs. Set your goal based on the total cost of owning your RV for a year—plus a little profit. To figure out how long it will take you to break even on renting your RV, take your total yearly RV ownership costs and divide that by 100 days.  A lot of RV Fleet owners look for a 15% – 20% profit and that is what you will want to do to make sure you cover the costs of fuel, clean up and maintenance without losing money.
Another thing to consider is if you buy right, then you can sell right. Some RV rental businesses with a fleet of RVs buy in bulk below MSRP. They put the RV into service for 1 to 2 years, earning up to $50,000 per year, then sell it for about what they paid, or a small profit. Let's face it, RV's won't last forever, especially with the wear and tear that RV rentals endure. In order to keep attracting renters, you do need to turn over your fleet with newer RVs. People want to rent a nice, and clean RV not a beat up 20 year old RV on it's last leg.
If you bought the RV at 1 to 2 years old at a 20% discount, then used it for 1 to 2 years, it should be about 4 to 5 years old after earning $5,000 to $10,000 per year when it's time to sell. You should be able to sell at just about what you paid, maybe a bit less.
How to make money by renting an RV
Earning money while renting an RV is easy with RVnGO. Create a listing with your RV description, its features, pictures, video, and availability. Market it on your social medial profiles and with your network, Then, watch interested renters request your RV.
Once a renter submits an inquiry of  your RV, accept their inquiry and they pay for the booking. You get 100% of the booking funds.
Create a listing today to get started! 
Tax Advantages of Running an RV Rental Business
Hey RV Owner, now that you're all excited to be earning money with your RV, we want to discuss the tax implications or renting out tour RV. Don't stress out though. We have great news for you. After all, we wouldn't get you pumped to rent out your RV just to have your profits taken by Uncle Sam. As you know, it's not about how much you can earn but how much you can keep! So you need to know how to structure your business to mitigate your tax liability, and
how to report RV rental income
. Watch the videos below of
RVer and CPA, Mark J Kohler
and learn how to take advantage of tax strategies with your RV and pay as little as legally allowed. 
Mark Kohler is a personal and small business tax and legal expert, who helps clients build and protect wealth through wealth management strategies, and business and tax remedies often overlooked by a majority of other accountants and CPAs. He also offers
small business workshops
for new entrepreneurs (
like someone starting to rent out their RV
) as well as established business owners.