Why an RV Trip in Texas is the Perfect Vacation
The Lone Star State is known for its beautiful scenery, and Texan charm. Take an RV trip to Texas to experience a truly hands on Texas experience. Whether you want to get in touch with nature or explore the bustling cities Texas has the perfect RV Campground for you. Here are our top ten favorite RV parks for you to explore with your RV rental!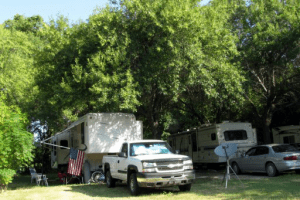 Located outside of San Antonio Texas visit this RV park to experience a calming country atmosphere. This Texas RV park started as a ranch on the Medina River and is rich in Texan culture. Use this as your starting off point for any fun Texas adventure! 
What campers have to say
"We loved staying here. Quiet, peaceful. 20 minutes from main attractions in San Antonio. Very clean, well maintained. Very welcoming owners! Pull thru sites and if you have pets plenty of places to go for walks and a fenced in dog area! Highly recommended!" 
-Barbara Mobley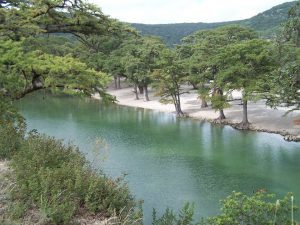 Enjoy a beautiful stay at the Parkview Riverside RV Park located in Concan, TX smack dab in the middle of the Texas Hill Country. Directly across the Frio River is Garner State Park, the most visited state park in Texas staying here is perfect for any nature lovers. Enjoy spacious full hookup sites, Wi-Fi and Cable TV, laundry room, and on-site convenience store. Stay at this RV Park for an idyllic getaway for anyone looking to explore Texas 
What campers have to say
"I loved the location, the scenery, the people and the rates!!" 
– Michael LaGrone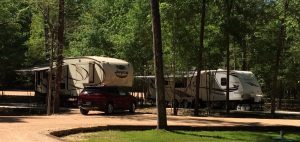 This 40-acre site is nestled among towering pine trees and is perfect to connect to nature and see the local wildlife. Enjoy the wildlife and spacious sites here, or journey offsite and take a short drive to Houston Texas. Enjoy this gated park and its full hookup spots with sewer, water and Wi-Fi. 
What campers have to say
"Absolutely loved this spot! I never leave reviews but enjoyed this park so much I was compelled to. Super friendly staff, great laundry room, spacious sites with patios and Astro turf to exercise on and walking path. I'll definitely be back" 
-Caleb Baraby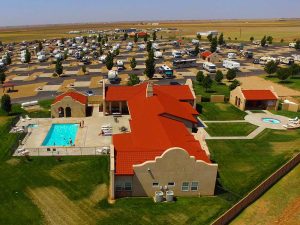 Explore Amarillo at this top-rated RV Resort right off Route 66. The town of Amarillo is the most famous town along Route 66, and this charming Resort is a perfect place to station your RV while exploring the city. This site offers full hookup with free Wi-Fi and Cable TV, heated pools, playgrounds, and laundry facilities. Enjoy a well-run RV Resort and stay here for a relaxing RV getaway! 
What campers have to say
"Oasis is superb in every way. This RV stopover has to be one of the nicest, best maintained in the country. Great staff makes it what it is." 
-Greg Hall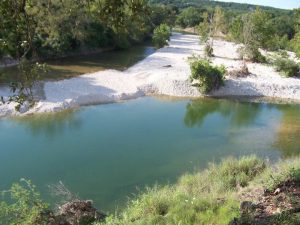 Voted the Top Small RV Park in Texas for the past 5 years this park is situated among beautiful pecan trees, and grass. Explore the nearby Johnson creek or go offsite to explore the nearby town of Fredericksburg. While in the park stroll through the peach grove or miniature horse farm. The park also has a small gym, laundry room, pool, and rec room. Enjoy a idyllic vacation at this small RV resort next time you head to Texas! 
What campers have to say
"We absolutely loved this place! The people were so nice, owners and fellow renters alike. Really beautiful grounds… loved all the trees and the adjacent pony pastures. Incredible little swimming hole at the creek on the property. Would love to stay here again the next time we're in hill country. Definite thumbs up!!" 
-Janel G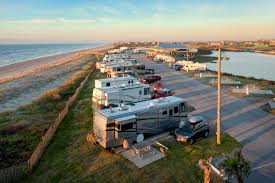 Enjoy beachfront parking and beautiful panoramic views at this RV Park. Book either a lagoon spot or beachfront spot to enjoy this camping experience: either way each spot has lush grass and plenty of space. They have full hookup sports, and 24/7 showers, restrooms, and laundry. Stay here for a picturesque beach view right off the Texas Gulf Coast. 
What campers have to say
"Great views and accommodations! The staff is very friendly and easy to work with. We loved it enough to stay there extra days!" 
-Angie Smeltzer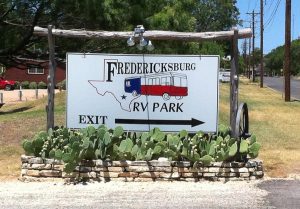 Located in the Historic Hill Country community of Fredericksburg Texas this RV park is the perfect place to experience Texas charm. This RV park is known for its beautiful landscape and well-kept facilities. Perfect for anyone vacationing to Fredericksburg this RV park offers full hookup sites, with free high-speed Wi-Fi, Cable TV,  and laundry facilities.  
What campers have to say
"Great park. Close to town we drive a class A and sites could accommodate any size rig. Really quaint atmosphere." 
-Peter McKenzie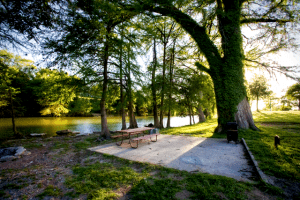 Experience the beauty of Texas hill country in this idyllic RV Park. Located along the Guadalupe River this RV Park contains over 65 acres of trails, and scenic picnic areas. Enjoy the heated pool, Wi-Fi, laundry and hot showers, and outdoor barbequing areas. This RV park is perfect to unwind on your next RV vacation! 
What campers have to say
"Quiet and beautiful camp site. Just got home, my kid and I had a good time there, fishing and relaxing." 
-Andrew Wang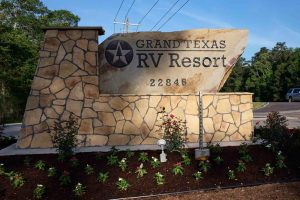 Just outside downtown Houston, and Bush Intercontinental airport this RV Resort is perfect for your next RV trip to Texas. The full hookup spots have plenty of room, and when you stay here you can enjoy a heated pool, free Wi-Fi and Cable TV, a playground, clubhouse, heated showers, and on-site laundry facilities. If you're adventurous across the street is a Big Rivers Waterpark, perfect for a day of ziplines, waterslides and fun! 
What campers have to say
"Have stayed here 3 times, always consistent with upkeep and cleanness. Always responds to any issues promptly, one of the best parks out of over 15 we have stayed at in the USA" 
-Jacob Skibinski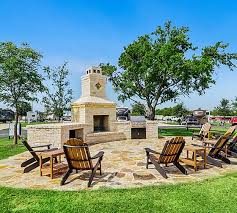 Perfect for a vacation, Shady Creek RV Park has all the necessities for your next RV trip! Its conveniently located in North Texas between Denton and McKinney, which makes it a great spot to venture off from. The full hookup sites are spacious and the onsite amenities include a heated pool, laundry facility, basketball court, firepit, and clubhouse. Enjoy a continental breakfast here on your next RV vacation! 
What campers have to say
"Great place for short and long stays! Clean and safe! Wonderful staff who all made us feel very welcome. Highly recommended!" 
-Bob Maher
This travel trailer is like new and extremely comfortable! There are endless amenities included when you decide to rent with this host; It comes stocked with basic utensils, pots, pans, a toaster, and a KEURIG coffee maker along with various coffee choices. There is a ROKU TV adjacent to the queen sized master bed. Safety is our priority and a fire extinguisher is always present along with a built in carbon monoxide detector. This trailer is the perfect for a couple nights just to get away or for a long haul!
The Four Winds Hurricane is a reimagined Class A motor home that gives you the lifestyle youve been longing for at a price that meets your budget. From the moment you step inside, youll realize the Hurricane is different. Sleek corner pillars in the cab offer incredible views and enhance safety, thanks to better visibility while driving. With an abundance of storage space and an attractive dining and lounge area. The good life is yours
If you are looking for travel trailer to rent in central Texas, then look no further. This 2020 Riverside RV Intrepid 260RB is your gateway to great times! With an excellent floor plan for space to stretch out and relax, space to store travel needs, and space to enjoy the great amenities and features inside and out, you will enhance your escape and every moment you land at your destination.