Why an RV Trip in Oregon is the Perfect Vacation.
Enjoy the beautiful mountains, lush forests, and city skylines on your next RV trip to Oregon!  Whether you want to enjoy bustling city, sail along the Oregon Coast, or hike the surrounding mountains Oregon is a great RV destination!
Out of all the beautiful RV campsites in Oregon here is a list of our Top 10 RV Parks and Resorts.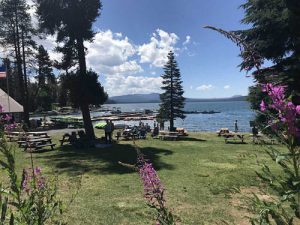 Right on the outside of the Crater Lake National Park, this RV Park is perfect for exploring the nature of Colorado. This forested RV park is nestled between tall pine, and redwood trees, and with all the hiking, fishing, and kayaking there is always something to do! Enjoy their extra large RV spots, and beautiful scenery next time you visit Oregon!
What campers have to say
"Beautiful park. Large campsites shaded by big pine trees. New bathroom and shower house building. Friendly and helpful camp hosts. We have traveled extensively with our 35 ft 5th wheel. This ranks as our favorite park!" 
-Terrie Light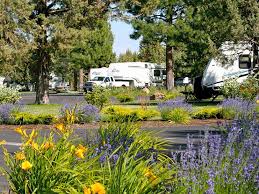 Central Oregon's five star RV resort, enjoy their friendly atmosphere and gorgeous landscaping.  Explore central Oregon from this RV site, including nearby Camp Sherman and Three Sisters Mountain. With their seasonal garden, fire rings, pool, and clubhouse enjoy all their fun on site amenities right from your RV!
What campers have to say
"Very nice and friendly crew. Kid and dog friendly. Our experience here was awesome. The store even has a good variety of some RV parts!" 
-Stan Ruteledge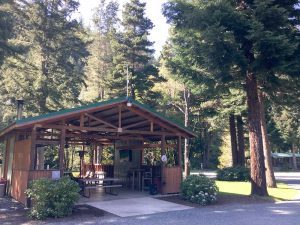 Enjoy this RV Park's tall trees and shaded sites at this RV Park make this the perfect destination for a relaxing vacation.  Enjoy exploring the wildlife of Oregon at this highly rated RV park , and enjoy their riverfront RV sites and beautiful outside pavilion!
What campers have to say
"This is the most peaceful place in the world. The people who operate it are extremely friendly caring considerate and attentive. If you just want to get away from it all for a while this is the place to go" 
-Keli Baker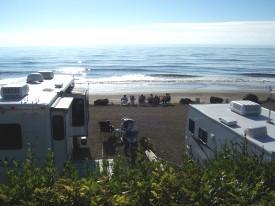 This RV Park contains spectacular views of the central Oregon coastline. Perfect for beach lovers this RV Park has easy access and is close to Lincoln city. Enjoy the nearby golf courses and shopping while staying on the beach at this relaxing RV Park!
What campers have to say
"Very clean well kept affordable campsite. Lowkey atmosphere with amazing views. Can't wait to come back!" 
-Charles Adams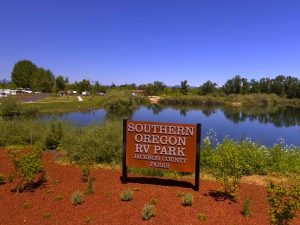 Located in the heart of Southern Oregon this RV park is perfect for exploring nearby lakes and rivers. This park is also connected to the Bear Creek Greenway a 20 mile paved trail, which makes this park a biker's dream. Enjoy their big rig friendly RV sites, fishing ponds, showers, and free Wi-Fi throughout the park next time you stay in Oregon!
What campers have to say
"Beautiful newer RV park at the fair grounds in central point. Lots of space, manicured landscaping and new restrooms. Nicest park in the Medford area." 
-Jeff Edwards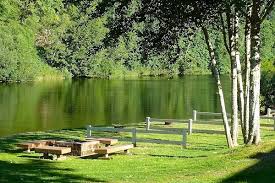 Right on the Siuslaw River this RV Park is known for its fishing and waterfront sites. This big rig friendly RV Park is the perfect place to enjoy a relaxing day of fishing and floating on the river at this beautiful RV park. 
What campers have to say
"Love love love it here. A little piece of paradise. Peacful. Beautiful.. Clean. Friendly owners and hosts. Fell in love last summer and back again for this summer… great close hikes. Fun on the water!" 
-Ginger Gaer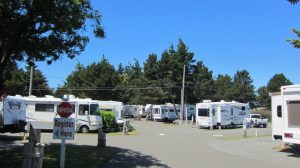 On the beautiful coastline of Oregon this RV park is perfect for a beachfront vacation. Enjoy their full hookup RV sites with their highspeed Wifi, with only being minutes away from the fishing, boating and beaches of the coast. Stay at this RV Park and enjoy all the beautiful views and experience the Oregon coast!
What campers have to say
"WOW this is what you're looking for. Squeaky clean showers and bathrooms. By far the nicest place we have been in so far. Refreshing!" 
-Don M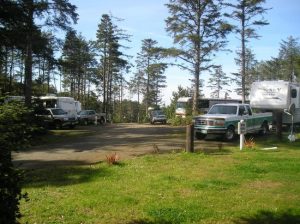 A year round campsite this RV campsite is only 150 yards away from the coast of the Pacific ocean. Enjoy scuba diving, surfing, nearby golf courses and famous Oregon Coast Aquarium from this RV park. Stay at their extra large full hookup sites and relax at their pool, tennis courts, and clean washrooms next time you stay at this RV park!
What campers have to say
"Campground is clean, and even though it is full I don't feel crowded. Rangers are friendly and helpful. Food is good.!" 
-Nott Lavelle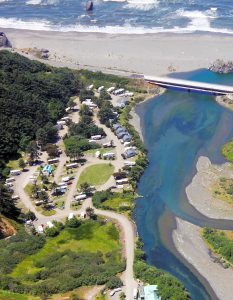 Surrounded by a river, beach and forest this RV Resort is truly one of a kind.  Enjoy exploring the pacific ocean, or watching the tides right from your RV site.  Their full hookup RV sites are perfect for enjoying the jacuzzi, grill, and picnic tables on your next RV getaway!
What campers have to say
"Clean park, friendly staff, pet friendly, short walk to isolated beach, close to town.  Great place for RVing, cottage vacations and tent camping." 
-Chris Agro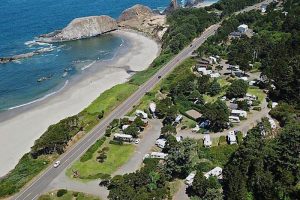 Enjoy the beautiful views of the Oregon Coast at this waterfront RV Camp. Close to the beach you can explore the sand, tidepools, and beautiful sunsets straight from your RV! Their lots have no concrete, just grass, shrubs, and trees making this RV park truly unique!
What campers have to say
"Fantastic area! Camp sites are well kept, private, comfortable, dog friendly… It's impossible to share all the good things!!!  The best beach right across the street, awesome tide pools, kite flying, playing in the water & sandcastle building. Our favorite place on the entire Oregon Coast " 
-Monica Hecket