Why an RV Trip in North Carolina is the Perfect Vacation.
Bordered by the Atlantic ocean this great state is known for its diverse landscape. Whether you want to explore the mountains, or lush forest this state is the perfect destination for your next RV adventure! Explore North Carolina and enjoy our favorite RV Campsites. 
Out of all the beautiful RV campsites in North Carolina here are our top 10 list.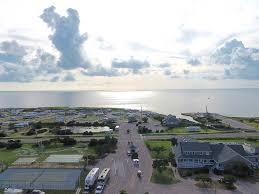 Located on Hatteras Island in the Outer Banks of North Carolina this RV Resort is perfect for enjoying the ocean. Explore the Outer Banks area and visit their famous lighthouses, the Wright Brothers Memorial, and the over 50 miles of beachfront land. Enjoy this RV Resort's full hookups, miniature golf, tennis and basketball courts, clubhouse, and three different pools the next time you stay at this RV Resort!
What campers have to say
"One night stay in motorhome. Great location and beach access at your doorstep. All sites paved, all hookups in good working order. Staff very friendly!" 
-Marj H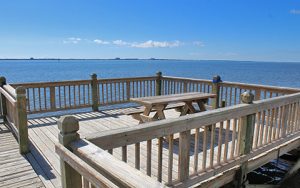 Just minutes away from popular beach cities this RV Park is great for exploring the beaches of North Carolina. Stay here and enjoy their views if the beautiful sunrises and sunsets over the water.  Their full hookup RV sites offer electric and climate controlled bath houses. Stay here on your next trip to North Carolina and experience their oceanfront views!
What campers have to say
"Great place to have privacy..helpful staff that does their best to accomadate your needs….cleanest bathrooms and showers any place I have been…on the bay of the Crystal Coast and best fishing area anywhere" 
-Carol Sayn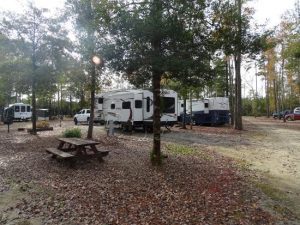 One of the top parks in Myrtle Beach this RV Camp is great for your next RV adventure to North Carolina. Located close to all the best beaches in Myrtle Beach it's perfect for campers who love the beach. Enjoy their full hookup sites and beautiful pool on your next RV trip!
What campers have to say
"Beautiful place! Quiet and peaceful!! Dog park,  event center,swimming pool, bathhouse. Clean facilities. Lovely, kind, and caring people,  absolutely love this place!!!!" 
-Sandy Kiker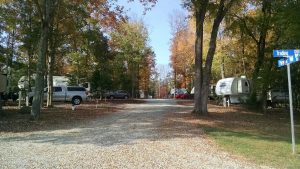 Located on 25 acres of beautiful forest, this RV Park is the perfect place for nature lovers. Stay in their extra large full hookup sites, and enjoy their wifi, picnic areas, yard swings, and fire pits. Experience their lush nature the next time you stay at this RV Park!
What campers have to say
"We have been camping for well over 40 years and Jones Station RV Park is one best camp grounds we have ever stayed in. We highly recommend it." 
-Gail Tilly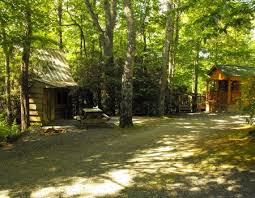 Situated in West North Carolina this RV Park is shaded by beautiful forest of tall oak trees. Near the Linville Falls and Gorge this place is perfect for adventuring around North Carolina. Enjoy their full hookup sites with an onsite convenience store, laundry facilities, and restrooms. Perfect for nature lovers, this RV park is a must see RV Park!
What campers have to say
"This place is amazing! It is right in the middle of everything you want to go see. The bath house is the best I've used at a camp ground. They really take pride in their place and I can't wait to go back" 
-Robert Ferraro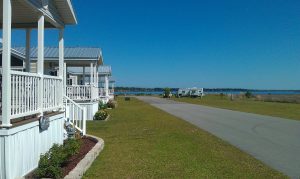 Sitting along North Carolina's Crystal Coast this RV Resort is perfect for anyone looking for a waterfront view. This peaceful resort is set among coastal marshes, and is the perfect base camp for exploring the area. Enjoy this RV Resort's fishing pond, swimming, basketball and volleyball courts, restrooms and showers the next time you stay in North Carolina!
What campers have to say
"Absolutely beautiful RV resort right on White Oak River." 
-Jerry Pruette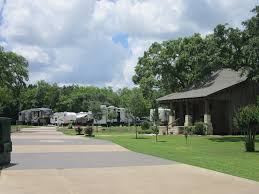 Settled on the Jonathon River this campground has a beautiful view of the mountains and plenty of shaded sites. Explore the Great Smoky Mountain National Park nearby, or fish on the Jonathon River. Their full site hookups offer wifi, pool access, laundry rooms, and newly updated restrooms and showers. Stay here and enjoy their peaceful atmosphere while exploring the beauty of North Carolina. 
What campers have to say
"My second visit & I love this campground. They've renovated some stuff, and plan on more. I will be back!" 
-Kent Kane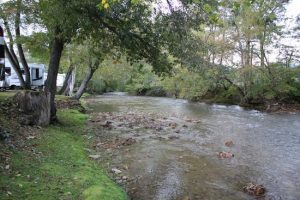 Near the Great Smoky Mountain National Park this RV Park is great for mountain lovers. Take a drive through the scenic Blue Ridge Parkway or hike the mountain trails. Enjoy this parks creek sites, picnic pavilions, private restrooms, fishing creek, and on site convenience store.  Enjoy this shaded RV Resort next time you stay in North Carolina!
What campers have to say
"Great place. Very nice folks to make our camping stay wonderful." 
-Kurtiss Troutwine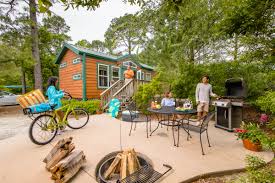 At Wilmington KOA you're minutes away from the beach and downtown Wilmington. Head downtown to explore historic lighthouses, or the famous North Carolina Aquarium. This KOA has plenty of amenities, including a game room, clean pool, kitchen, and restrooms the next time you take your RV trip to North Carolina. 
What campers have to say
"Wonderful staff! Not far from the beach, and the campsite itself is fun." 
-Sarah Harper
The state capital of Texas is Austin. It's well known for the eclectic and vibrant art scene. You have many options for RV campgrounds in Austin. We have a short list of great RV destinations close to the top Texas attractions of downtown Austin.
Other RV locations are close to some of Austin's natural wonders, including the gorgeous Lake Travis. The best time to visit Austin in a rental RV is during the months of spring or fall. To help you plan your trip, here's some information on what we think are the best RV parks in the Austin, Texas area.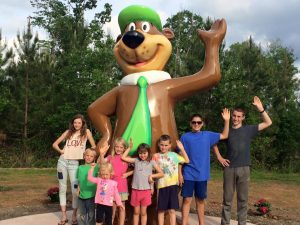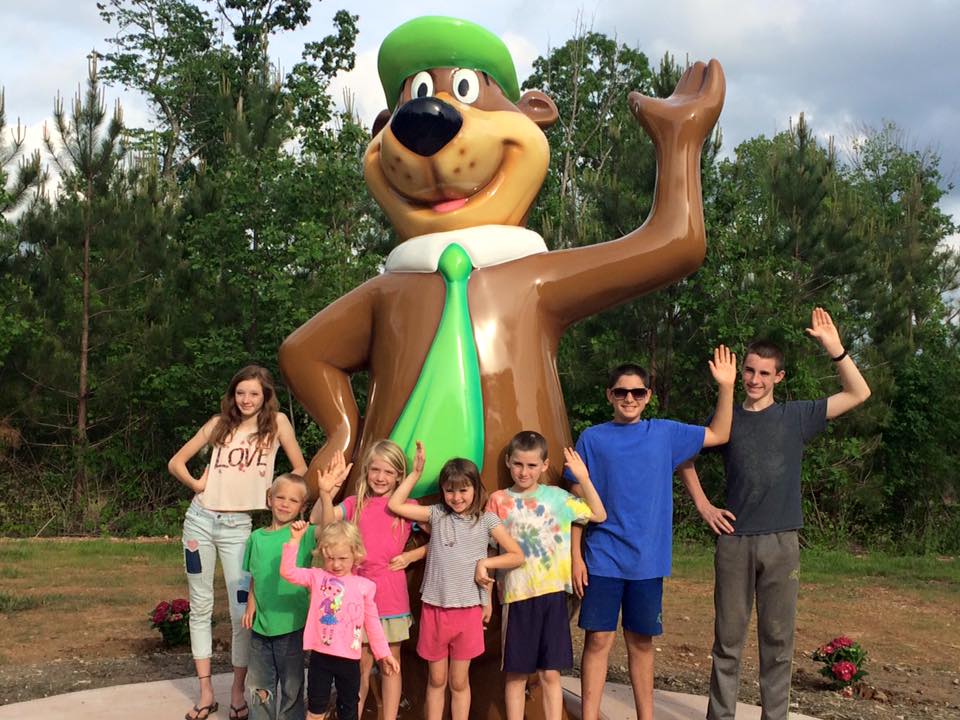 At this Yogi Bear themed RV Park campers can create long lasting memories with the whole families. With 100 acres of miles of hiking, biking, and golf cart trails this campground is great for exploring and the onsite pool and fishing pond is perfect for a day of fun activities! 
What campers have to say
"Loved it here! Great staff so much for kids to do! The crafts, pool and the pond were a hit!!" 
-Amanda Cregger 
THis unit is an immaculate 2015 Thor Freedom Elite 22E model. The unit comes fully equipped with sanitized linens, everything you need in the kitchen including pod coffee/tea maker. The host has equipped everything, so all you need to bring is food and clothes, they include a Weber grill, charcoal, chairs , rug , even firewood for your first night. It is easy to operate, comes full of gas, propane, as well as they fill your onboard water with our great tasting water, sanitized prior to your pick up
This great Travel Trailer sleeps 5 comfortably, six with small kids- A/C – Gas Stove & Furnace – 32″ Vizio Smart TV. Power awning and LED lights throughout. Comes with small assortment of kitchen utensils and cookware. Bedding provided on all beds, blankets for dinette bed. Great for small SUV's and crossovers. Minutes away from Lake Ridge RV Resort and many other campgrounds.
Check out this little guy! Take for a date night, even a mountain get-a-way.
This guy can be pulled with about anything, and only weighs 900lbs with the A/C unit. The 19inch TV included, and new 4 speaker sound system makes this little trailer perfect for a no stress getaway.