Behold the Hidden Gem That is Utah
The state of Utah has been long mistaken as a bland destination. Still, more and more tourists have come to appreciate Utah's temperate climate, unique landscapes, and ethereal beauty over the past decade.
Bordered by the Sonoran Desert to the South and vast mountain ranges in the North, Utah is a delightful haven in the heart of the Wild West, and you'll run out of vacation days before you run out of sights. Vibrant cities with plenty of Utah attractions and events make for an engaging social scene at the end of a long day of nature exploration.
If you're planning a road trip vacation with your RV rental in Utah, here are the top 10 spots to add to your itinerary. As usual, check out our RVs for rent near Utah at RVnGO, and make sure you book yours well in advance.
Drive through Scenic Landscapes at Zion National Park
Zion National Park was the first park to be established in Utah. Visit this park to sample many of Utah's attractive landscapes, from waterfalls and natural stone formations to mountain landscapes and multi-colored sandstone cliffs that will make you forget to breathe.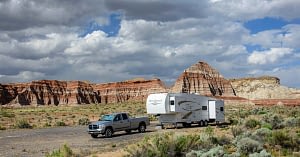 This park also provides plenty of exploration opportunities for those who love mountaineering, mountain biking, hiking, and rock climbing. Make sure to plan your hike so that you are atop the sandstone cliffs in the evening to catch that breathtaking desert sunset. You can also explore the well-known hiking trails—The Narrows and Angels Landing.
Don't forget to drive along the valley floor through the Zion Canyon Scenic Drive – there's a shuttle from spring to fall) that stops at all major spots. Another gorgeous sunset view awaits at the Watchman Trail, and afterward, you can stroll through the quaint shops of Springdale, located right in the park. You can also use your RV to explore the Zion-Mt. Carmel Highway, which offers breathtaking views.
Hike through the Hoodoos in Bryce Canyon National Park
The only way to describe this park is to call it the Hiker's Paradise. Outdoorsy vacationers come here to enjoy the bright-colored, tightly packed hoodoos that mark your entry into Bryce Canyon National Park.
You'll be mesmerized by the stately stone pillars, glowing in their browns, creams, oranges, and pinks, create a tapestry that will stay in your memory long after your trip ends. Plan for a scenic drive through this park to experience the canyon from various points.
You cannot fully appreciate what Bryce Canyon National Park offers unless you strap on your hiking shoes and venture into the forest of hoodoos – the most extensive collection worldwide. Don't miss out on the Bristlecone Pine Trees, another unique feature in the park.
Carry warm clothes on your visit to this park; the temperatures here can be pretty low even in the summer, and it receives snowfall during winter and early spring.
Enjoy Nature's Repartee at the Capitol Reef National Park
The Capitol Reef National Park is another state park characterized by the enthralling rock formations that Utah is famous for. If you cannot visit the first two, which are just 90 minutes apart, plan for a visit to Capitol Reef to enjoy its colorful cliffs and canyons and unique flora lining the desert fold.
Make time to visit the well-known Water pocket Fold, a massive ridge formed when shifting plates lifted on one side of a fault line (some of that Geography will come to life!). Take in the vast array of domes, arches, canyons, and cliffs interspersed with rock art made by Native Americans who once lived here.
If you're here for more than the sights, you'll appreciate the 15 hiking trails and other outdoor activities – four-wheel-drive road touring, mountain and rock climbing, among others. If you visit in the summer, you can carry away heavenly apples, cherries, and peaches in the orchards of the historic Fruita.
After Capitol Reef, make your way to Torrey, where you'll find an assortment of accommodation options, including RV parks and camping grounds for your Camper rental in Utah.
Experience the Active Social Scene at Salt Lake City
Utah has more to offer than its natural rock formations, canyons, and multi-colored cliffs. No venue embodies this diversity of Utah attractions more than Salt Lake City, popularly known for its humming social scene with numerous food and drink establishments.
Salt Lake City's music scene is also impressive yet underrated. Places like The Depot and Twilite Lounge play host to an exciting collection of both people and musicians. As a bonus, Salt Lake City is one of the cheapest cities to visit or live in, so you should add it to your itinerary if you're after a good time on a modest budget.
If you visit in the winter, of course, you know that Salt Lake City is home to some impressive ski resorts – most within an hour's drive from the city center.
Tour the Cinematic Landscapes of Monument Valley
Another one of Utah's impressive natural features, the Monument Valley Navajo Tribal Park on the Navajo Indian Reservation in the South is a must-visit spot if your Utah RV rental road trip brings you to the southern region.
Monument Valley has featured in numerous films and commercials, and with good reason. Straddling Utah and Arizona near the Four Corners attraction, the stone pinnacles, and red mesas are unlike any other in the world.
If you come here, you must experience the Valley Drive – your RV will be great for this. Valley Drive is a one-way self-drive dust road stretching 17 miles, running through Monument Valley's dramatic landscapes and buttes. You'll have plenty of photographic moments, and you can even spend the night in a traditional Native American dwelling to learn about the culture.
Beyond Valley Drive, arrange for a guided tour of this park to experience it to the fullest. If you were doing a quick stopover, make sure to visit the spectacular Monument Valley Visitor Center, conveniently standing on the best viewpoints within the park.
Go Skiing and Biking in Park City
Located just 45 minutes away from Salk Lake City, Park City is a bustling mountain town, and like its counterpart, home to some of the best ski resorts in Utah.
Your road trip fun with your motorhome rental in Utah should start at the Park City Mountain Resort, or you can skip over to the Deer Valley Resort for a luxurious experience. Both resorts provide an outstanding skiing experience for skiers of all levels. You can also visit other resorts, an hour away from the city – Solitude, Alta, and Snowbird.
Stop over at the Utah Olympic Park, which hosted the 2002 Winter Olympics and offers fun activities for kids and adults throughout the year. Enjoy hiking and zip lining in the summer and bobsledding in the winter.
If you're there in late January, stick around for one of the most famous Utah events, the Sundance Film Festival.
Escalante National Monument
The Grand Staircase-Escalante National Monument is an overwhelmingly large natural landmark featuring rugged terrain weathered over millions of years to create a backdrop of hills, waterfalls, arches, and canyons. There is a sense of remoteness not mimicked by many other Utah attractions, including parks.
Part of the Escalante experience is to drive miles and miles through its dirt roads over great distances where you're not likely to meet other vehicles. You can't hope to explore even a bit of the 1.9 million acres, but there are famous spots throughout the park.
For instance, you can go hiking through the Lower Calf Creek Falls Trail, which offers fantastic scenes, easily the most photographed location in this expanse. There are camping grounds for your camper trailer rental in Utah, but you can stay at any of the resorts near the Grand Staircase-Escalante. 
Enjoy Outdoor Activities while Driving along the Mirror Lake Scenic Byway
Mirror Lake is 22 acres of stunningly clear water standing at the bottom of the 12,000-foot Bald Mountain. Tourists in Utah flock to this lake for fishing and kayaking, and there are ideal spots for camping if you love outdoor adventure (although there are no RV camping grounds near the lake itself).
Mirror Lake is surrounded by forest and mountainous terrain, making it ideal for wildlife watching and hiking. For the latter, you'll find many popular trails interspersed with clearings where one can take in the views and recharge before moving on.
The Mirror Lake Scenic Byway is another route to visit on your road trip through Utah attractions. Stretching 42 miles along Utah Route 150, this byway is one of the most popular routes for mountain driving. 
The byway begins at Kamas, rises towards the Unita Mountains, reaches 10,715 feet at the Bald Mountain Pass, and then slopes down past Hayden, Kletting, and Holiday Park Peaks before getting to the Utah-Wyoming border. 
In between, there are plenty of waterfalls, small lakes, hiking trails, campgrounds, and picnic spots. You can have your pick of outdoor activities at various points. 
Try Mountain Biking in the Trails of Moab
The town of Moab is a popular stopover if you enjoy outdoor adventures. Close to three National and State Parks (Arches, Canyonlands, and Dead Horse Point), there are endless stops for rafting, biking, hiking, and other outdoor activities.
Moab's budding activity scene is well framed against the breathtaking backdrop of cresting mountains and rolling petrified dunes. Mountain bikers love this spot in the spring, especially the Slickrock trail, which is beloved for experienced mountain bikers.
When traveling with your RV rental in Utah, you'll find comfortable and scenic camping grounds near Moab. Plan your visit from spring to fall; there isn't much to do here in the winter.
Visit the Mormon Temple at St. George
St. George in Southern Utah is conveniently located near several national and state parks (Zion, Snow Canyon), and it is also an ideal stopover if you love the outdoors. There are dozens of camping grounds and fabulous hiking trails if that's your jam.
There's still plenty to see and do in St. George, even if you don't like outdoor activities. The one thing that stands out is its Mormon history; you must see the Mormon St. George Temple and Brigham Young Winter Home Historical Sites. Make some time for the Red Hills Desert Garden and Pioneer Park in your itinerary.
PS – Rent an RV in Utah from RVnGO for Your Utah Road Trip
Are you thinking about taking a road trip vacation soon? Ditch your small car and travel in comfort with your family and friends but getting an RV for rent near Utah. RV camping in Utah couldn't be easier, and it's the best way to move from place to place conveniently to experience all that the state has to offer. 
Start by researching the various types of RVs that are available to discover which suits your needs best. We advise starting your search early (at least three months before) so that you have time to find the right motorhome rental near Utah and book it. 
Additionally, some venues have long waitlists because of the pandemic, so it helps to book your slots early and fine-tune the itinerary that makes the most of your precious vacation time. You can even carry work on your trip by setting up an RV office and extend your trip.
It goes without saying that you should use a reputable camper rental company, and RVnGO should is just the one. We have a wide selection of campers, and you can get them more affordably directly from their owners.
Ready to take in all of the top Utah attractions on your trip?
Find an RV for rent in Utah here.
What sets RVnGO apart is the  RV Rental Insurance. Some companies offer a cheap rate and lower coverage that doesn't fully protect you. Make sure you are completely covered for your trip.
You may be asking Who is RVnGO? I never heard of them before. Is RVnGO Legit? They are the 100% US Based Online RV Rental platform that is taking the industry by storm.
You may want something to haul your RAZR or Quads or Dirt Bikes. In that case, you need to look at a Travel Trailer or 5th Wheel and tow behind a truck or your mid size RV. When you're ready to upgrade to the next level, you will want to know the difference between a Class C and a Class A RV which is the larger recreational vehicle and offers a lot more space and amenities. All of them can be rented through RVnGO. After you rent a few models, you may consider buying an RV and when you buy, the chances are that you will need to finance and you will want to look into RV Financing Companies.