Texas is huge, and it's hard to know what the best places are to explore. With this roadtrip guide we've put together the best small town RV destinations around the major city of Dallas. Dallas is a popular destination itself, but when you are looking for the perfect RV adventure its important to hit these smaller cities as well! In this trip guide you will find must see destinations and RV parks nearby. Read more and plan a perfect North Dallas RV trip!
This trip around the smaller cities is perfect for a rental RV! If you are far away from Texas, but love the idea of a Southern roadtrip you can fly into the Dallas Fort Worth airport and rent a Texas RV! Enjoy all the excitement of this RV trip with an RV rental from RVnGO!
Explore the City of Flower Mound
Flower Mound is known for being an idyllic, quiet place to live, and it's also an idyllic place to start your RV journey. Here you can visit lakes, nature preserves, parks and more. This beautiful city is also home to a variety of RV campgrounds, perfect for your next North Dallas RV trip!
Grape Vine Lake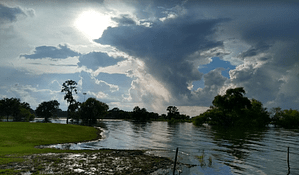 This lake is located in the heart of Flower Mound. This lake is home to many parks including Oak Grove Park (see right). The lake is also home to famous biking and hiking trails. Take a day here to fish and explore the marinas and playgrounds. If your RV can't pull a boat or toy hauler don't worry- at their main marina you can rent boats and even fishing equipment! 
Stone Creek Park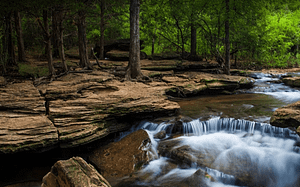 This park is home to the quiet beauty of Flower Mound. Here you can explore the creeks, rivers and wildlife. Kids love to hang out and play in the creek, while parents have the pleasure of relaxing nearby. At the park you can explore nature with trails and open grass spaces, or play on their athletic courts. The park is also great for kids and has a large playground. Make a day trip out of this park and pack a picnic basket when you visit Flower Mound! 
Flower Mound RV Resorts
When staying in Flower Mound you can feel at home in the Twin Coves Park! This campground has full hookup spots for RV travelers and exclusive access to the Northern part of Grapevine lake. Friends and families can enjoy the large pavilions, volleyball, outdoor games, and fire pit lookout. This RV park is perfect for boaters as it also features a boat launch!
Explore the City of Lewisville
Lewisville lies on the edge of the Dallas Fort Worth metroplex and is the perfect blend of a suburban-urban environment. Stop by this city to explore the nature inside and the Southern charm of Texas! 
LLELA Nature Preserve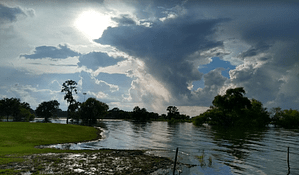 This preserve is perfect for nature lovers! with camping, kayaking, fishing and hiking its sure to please! The lake in the preserve is great for catch and release fishers who enjoy large catfish, striper and bass. There's also an abundance of birds, and for many people the lake is a popular birdwatching spot! Take your friends and family out to this preserve and enjoy a beautiful day reconnecting with nature! 
RV Resorts in Lewisville
While staying in Lewisville you can rest and relax by parking your RV in the Destiny Dallas RV Resort. This RV park has all the amenities you will need to have an unforgettable RV adventure. With free Wi-Fi, pool and spa, 6 acre grassy field, car wash center and easy interstate access this park is perfect for people coming through Lewisville!
Explore the City of McKinney
This suburb is only 30 minutes from the hustle and bustle of Dallas, and packs its own sophisticated charm. Its eclectic shops, culinary scene and historic downtown district makes McKinney the perfect place to visit. 
Heard-Craig Center For The Arts 
This restored home holds the work of many famous Texan artists. The former home of the Heard-Craig families has been beautifully restored and filled with artwork and things to enjoy. The grounds also hold a garden and adjacent carriage house, perfect for a stroll! 
Adriatica Village
This one of a kind destination is a 45 acre Croatian Village in the middle of McKinney! Feel like you are walking through a European street when you visit this new development. The development is home to the Guitar Sanctuary, famous restaurants and the Bella Donna Chapel. Every year the village also holds events, and depend on what time you visit you can catch a spectacular firework show on the water. With this destination you can visit the Mediterranean right in Texas!
RV Parks Near McKinney
Rusty Star RV Park is perfect for campers wishing to hook up their RVs in a safe and welcoming environment! With free Wi-Fi and open 24 hours, this RV park is perfect for visiting McKinney. Their no frills camping isn't an issue when you are so close to the wonders that McKinney has to offer. At this RV Park you can enjoy a flowering grass field and safe dog park, perfect for dogs to run around in! 
Explore the City of Plano
Plano started as a small quiet farming community and has now grown into a booming city known for its quality of life and beautiful nature! Known as the "happiest city in America" you can discover just what makes everyone here have such a nice time! 
Arbor Hills Nature Preserve 
This preserve in Plano is home to exciting adventures! The 200 acre park has over 3 miles of paved biking trails, 6 miles oh hiking trails and a playground. Here you can enjoy the beauty and charm of Texas nature. Take along food and have a wonderful picnic at their lookout and enjoy a picturesque view! 
Plano Scavenger Hunt 
Considered one of the best places to live in America, this treasure hunt is perfect for people new to the city. Reserve tickets and wind through the historic streets. Enjoy the stories of the past and the excitement of the present when you take this trip. On this hunt you will also find iconic landmarks and the great green spaces that make Plano like no other city! 
RV Parks Near Plano 
The Branch RV Park TExas is sat on the Lake Lavon. One of the top rated parks in the Plano area, this place is a great place to stay while discovering Plano. Here you can meet the friendly owners and enjoy the simple full hookup sites and Wi-Fi! With good lake access, convenient location and well maintained spots this place is the perfect spot for a visit to Plano. 
PS - Get Your North Dallas RV Trip Rental
Enjoy a stress free adventure with RV Rentals for your North Dallas RV Trip. Reserve an RV rental at low prices with RVnGO, and search the selection of RVs for rent in the North Dallas area. Visit Texas with beautiful RVs for the race like this 2021 Dynamax, at the lowest rental prices on RVnGO.