Experience historic San Antonio from the seat of your RV rental!
The home of the Alamo is a rich and deeply vibrant city that's bursting with character. Its canals and walkways are dreamy and its museums legendary. Best of all, the city and its surroundings are incredibly RV friendly!
Whether you're on a workcation, staycation, or plain old fashioned vacation, RVnGO has you covered not only for monthly RV rentals, but travel guides and tips in the city. 
We've made a list of places to say, things to do, and ways to keep on budget in our complete guide to monthly RV rentals in San Antonio below. 
Join us as we discover not only San Antonio, but the secrets to longterm RV rentals.
Where To Stay During A Monthly RV Rental In San Antonio
Traveler's World RV Resort
Traveler's World RV Resort is located just outside of the city central to the south of San Antonio. The park features a swimming pool, community recreation center, park general store, and gravel/grass lots for campsites.
Traveler's World has direct access within the park to the Riverwalk paved biking/walking trail. As such, views of the San Antonio River and its birdlife are a quick hike away. Traveler's World is pet friendly and supports full electric hookups.
San Antonio / Alamo KOA Holiday
East of the city, the KOA brand delivers on its promise of a surplus of amenities at San Antonio / Alamo KOA Holiday. The park features a swimming pool, general store, pond with catch-and-release fishing, basketball courts, rental pedal bikes, cafe, and more!
San Antonio KOA caters to over 300 individual campsites at its family friendly resort. Planned activities for children and pancake breakfasts on Sundays are common to make your stay extra special.
Mission City RV Park
Right down the road from San Antonio KOA, Mission City RV Park is also conveniently located a 15 minutes drive to the city center. The laidback park offers a swimming pool and plenty of mature trees throughout the campgrounds to keep cool in the Texas heat.
Mission City offers its guests a community fire pit and BBQ smoker for use, plus RV repairs and wash at request. For added convenience in getting around the city, the front gates of the park double as a bus stop.
JBSA Fort Sam Houston RV Park
Northeast of San Antonio in nearby Terrell Hills, JBSA Fort Sam Houston RV Park is a peaceful respite from the city. With only 70 campsites, JBSA provides a more tranquil RV resort experience for travelers. This also means that campsites book up faster than larger brand resorts, so we recommend booking your spot months in advance.
The no frills park features a playground for children, a small dog park, picnic areas, and laundry facilities. JBSA supports full electric hookups.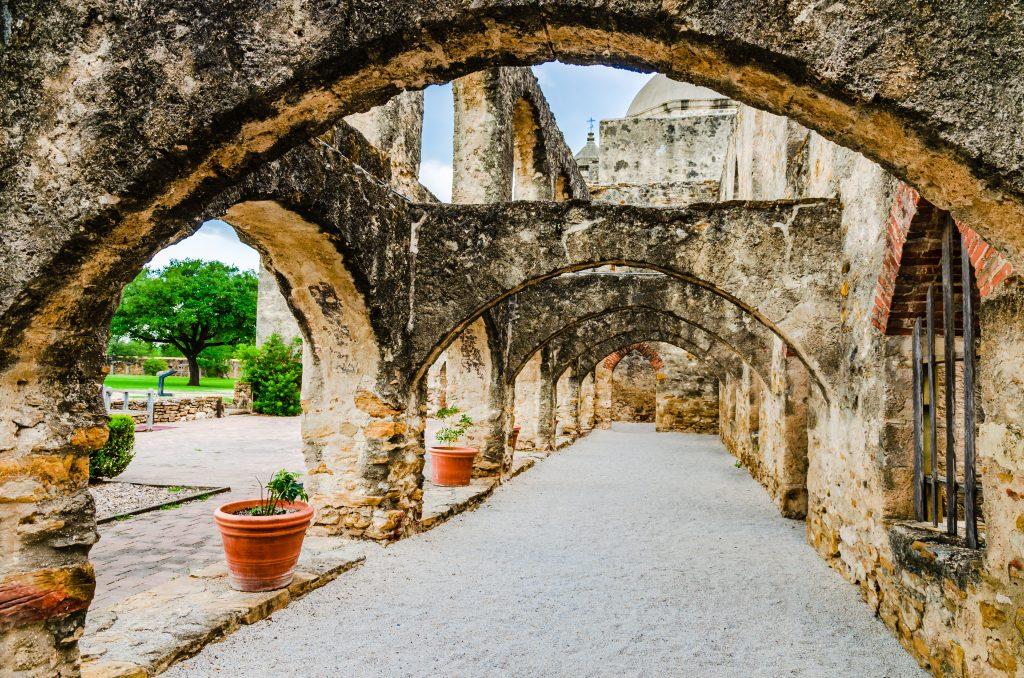 So, How Much Do Monthly RV Rentals in San Antonio Cost?
Obviously, the Monthly RV Rental Cost will be different depending on City, the time of year, the individual RV Owner or Company and the class of RV, and the amenities offered.
You have several options to select from and many websites that offer monthly RV rentals in San Antonio.  Below is a Host we found through RVnGO and his Class C RV Rental. 
This RV is a great selection for it's ease of driving for people compared to a Class A, and many people don't have a vehicle to tow a trailer, so we didn't go that route. We went with RVnGO because out of all the other sites, they do not charge ANY fees to the Host or the Guest. 
When we say no fees, Every website we have looked at charges a "service fee" or "reservation fee" or some variation of "usage fee" charged by the company in addition to the standard credit card processing fees. RVnGO does not do that. And the damage protection plan is considerably better. The Host in Atlanta for this article is Ken, who owns On His Wings Travels LLC..  The base Monthly RV Rental rate charged is $5,700 for a 24 foot, 2018 Thor Freedom Elite. This RV sleeps 6 passengers and has 2 slideouts. The charges from the Host include a booking deposit of $300 and a security deposit of $1,500. He also has a $150 prep fee.
Damage protection is included at a nightly rate *not a daily rate. For the damage waver fee that is $800 for a $1 Million dollar liability coverage and up to $200,000 in damages coverage. You also have 24/7 roadside assistance which will be $360. Then there is the typical 3% credit card processing fee of $221. Don't forget taxes… That will be $351 for that monthly RV rental in San Antonio.
As stated in the first section of this article, these rates vary depending on the Host and the type of RV and the amenities offered.  When shopping, you will want to be sure to compare side by side.
Cost Breakdown For Monthly RV Rentals In San Antonio
| | |
| --- | --- |
| RV Rental Charges | Price |
| Monthly Rate | $5,700 |
| Booking Deposit | $300 |
| Prep Fee | $150 |
| Security Deposit | $1,500 |
| Damage Protection Plan | $800 |
| 24/7 Roadside | $360 |
| Credit Card Processing 3% | $220.83 |
| Sales Tax | $351 |
| Total | $9,381.83 |
You can shop and compare rates of course. Each individual Host or RV Rental Company may also charge extra for generator, and extra mileage, or linens, or even a waste dumping charge. 
You will also need to include costs for damage protection, add-ons, cleaning fee, pet fees, extra mileage, and gas.
Compare several Hosts around San Antonio to get a good idea and keep in mind to shop and reserve your RV Rental 3-6 months in advance to lock in the one you want.
***NOTE: Other platforms charge Guests 10% or more of the total booking rates and take 20% or more from the Hosts.  Other platforms also charge a daily rate for damage protection which is calculated differently from a nightly rate and costs more. Other platforms also may offer different damage protection coverages than what is shown on their website, and may not allow you to select higher coverages, so you may not be getting what you expect and are not getting the coverages that are stated. So please when shopping, compare apples to apples and read the small print.
So now that you're ready to Rent an RV, just get your Packing List Checklist to have an amazing trip.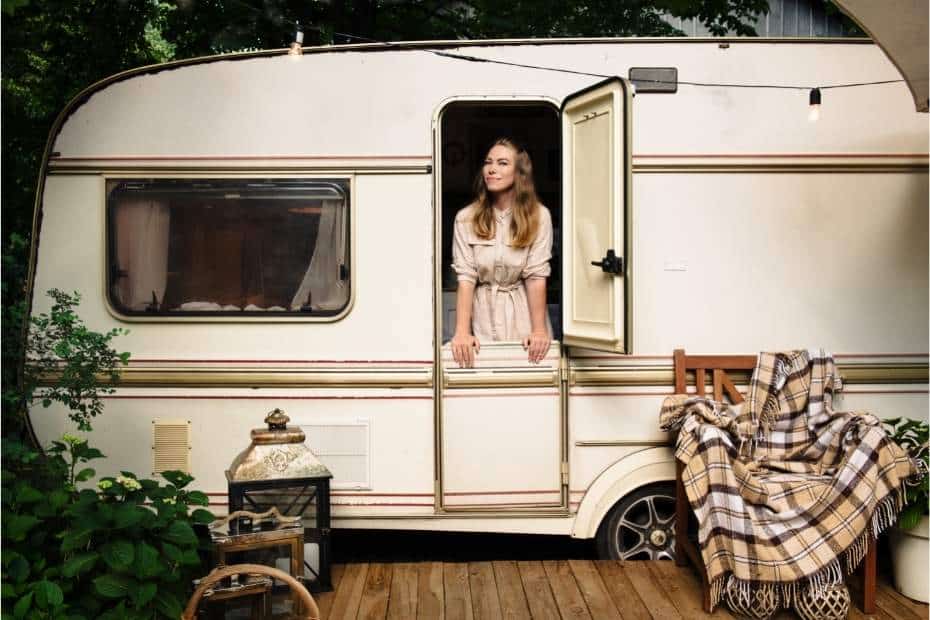 The 4 Major Types Of RVs By Class
You can choose from four basic categories when selecting a Monthly RV rental in San Antonio.
Class A Motorhomes
These all-in-one RVs feature a kitchen, dining area, lounge, bedroom, bathroom, and shower. Some of the homes feature slide-outs that expand the interior living space when camping at Houston campsites. 
Class B Motorhomes
Class B RVs or campervans come in full-size or extended models and feature a raised roof. Often, the dinette converts as a bed. This smaller camper is ideal for couples who don't mind a cozier accommodation.
Class C Motorhomes
These RVs use a truck chassis and extended cab over the driver's compartment. The homes feature a dining area, bathroom, and kitchen, and some feature separate bedrooms. A slide-out on the vehicle's camber expands the living area. Usually, you can convert the sofa, dinette, and compartment above the driver to beds for sleeping.
Travel Trailer or Fifth Wheel
Spanning in size from 10 to 40 feet long, an RV rental Fifth Wheel or Travel Trailer requires a truck to pull it. The interior may vary based on the trailer's size. To use this option for RV camping in San Antonio, you'll need to make sure you have a vehicle that can tow the trailer. You will also have a different 5th Wheel or Toy Hauler Packing Checklist.
Why Choose To Rent An RV?
Here is some more detailed information showing how Renting an RV is Cheaper Than Staying in a Hotel. 
If you don't want to read the side by side comparison, below are the benefits of renting an RV over staying at a pricey hotel.
You only have to pack your bag once — no need to pack and repack at each hotel.
You save on meals, as you can buy your groceries.
You can travel more easily.
You can stay safer and practice social distancing with more ease.
You don't have to wait in line to use the bathroom at a McDonald's or convenience store or the rest stop. You have immediate access to the facilities.
You can sleep in the same bed each night of your trip.
You can travel with your dog and save money by not keeping your pet at a kennel.
You can experience the great outdoors right outside your RV.
Renting an RV for a month in San Antonio is the best and cheapest way to experience both the city and its natural features.
Things To Do In San Antonio
The Alamo
The legendary fort that was once the location of the James Bowie and Davy Crockett's final stand is incredibly preserved in the 21 century. Once the site of the Battle of the Alamo, the Spanish mission is now a museum to the historic revolutionary period.
A number of free and guided visits to the grounds are available and are an absolute must-do for travelers to San Antonio. Exhibits and demonstrations on the ground are an amazing way to learn more about the famed battle and its soldiers.
San Antonio River Walk
Downtown San Antonio's River Walk is a brilliant feast for the senses. Whether by riverboat or on foot, the canals of the pedestrian center are thrilling to tour. Restaurants and shops line the water under dozens of bright lights and umbrellas. The result is a whimsical and wonderful place to stroll at any time of the day or night.
Be sure to stop in at any of the amazing restaurants for some out of this world Tex-Mex!
Natural Bridge Caverns
Did you know that the largest recognized commercial caves in the US are located in San Antonio? Natural Bridge Caverns are so named by the 60 ft limestone slab that spans the entire diameter of the caves' entrance. 
A number of a different tours are available at Natural Bridge Caverns. Ranging from walk in the underground park to full on spelunker, you'll have to set aside a whole day to enjoy the incredible caves.
SeaWorld San Antonio
The park at SeaWorld San Antonio sprawls over a massive and animal-packed 250 acres! SeaWorld San Antonio features a mammal park, an oceanarium, and of course the live shows that have made SeaWorld so famous.
In addition to the animal encounters and exhibits, the theme park is home to dozens of thrill rides. Aquatica San Antonio is the state's best waterpark and features the 10th most extreme waterslide in the world!
San Antonio Museum of Art
The San Antonio Museum of Art houses over 5,000 years of world history in its walls. As such, the museum is the perfect way for both art and history buffs to spend the day. Featuring contemporary galleries, Texas regional halls, and artworks of Asia, SAMA is a premier institution in the state.
Upcoming exhibits include Roman Landscapes: Visions of Nature and Myth from Rome and Pompeii, and Traitor, Survivor, Icon: The Legacy of La Malinche.