Southern California is renowned the world over for its year round temperature climate, premier hiking vistas, and breathtaking beaches. So it only makes sense that when it comes to camping in style, the region leads the way. Glamping in Southern California is easily accessible throughout the region and can take you from the heart of the desert to the mountain tops.
With all of these choices in mind, we've put together a list of the best resorts for glamping in Southern California. From wine country to Joshua Tree and everything in between, make sure your RV rental is ready and let's get glamping!
Motorcoach Country Club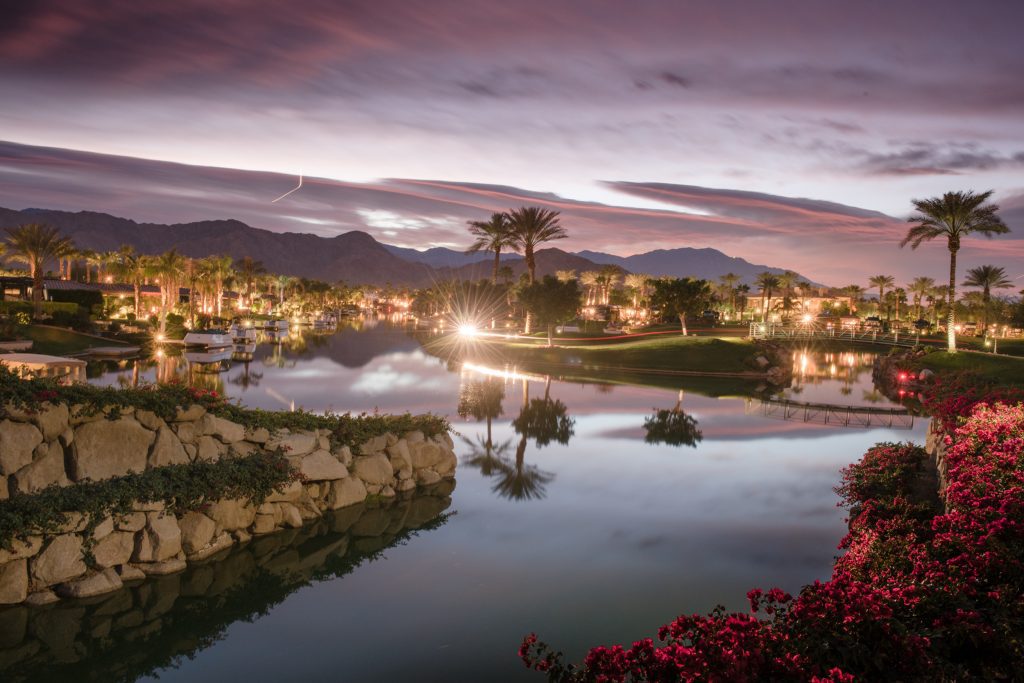 Although there are dozens of wonderful RV resorts in Palm Springs, Motorcoach Country Club is our favorite glamping experience. The resort features spacious, fully-paved RV sites with full hook-ups and easy access to all the amenities. It offers a wide range of amenities including a heated pool and spa, fitness center, putting green, pickleball and bocce ball courts, outdoor kitchen, and outdoor movie theater. The resort also offers a variety of activities such as yoga, dance classes, and water aerobics. And the cherry on top is the on-site restaurant and bar that serves up delicious food and drinks 
Palm Springs itself is a desert oasis known for its natural hot springs, mid century modern architecture, and scenic views of the surrounding mountains. Visitors are simply obliged take a ride on the Palm Springs Aerial Tramway to get a panoramic view of the Coachella Valley. For hiking enthusiasts, the Cactus to Clouds trail is a challenging workout with breathtaking views well worth the trek.
For relaxation, visitors can indulge in one of the many spas in the area, or take a dip in one of the natural hot springs. Palm Springs also offers a variety of dining and shopping options, as well as a vibrant nightlife scene. 
Glamping in the Vines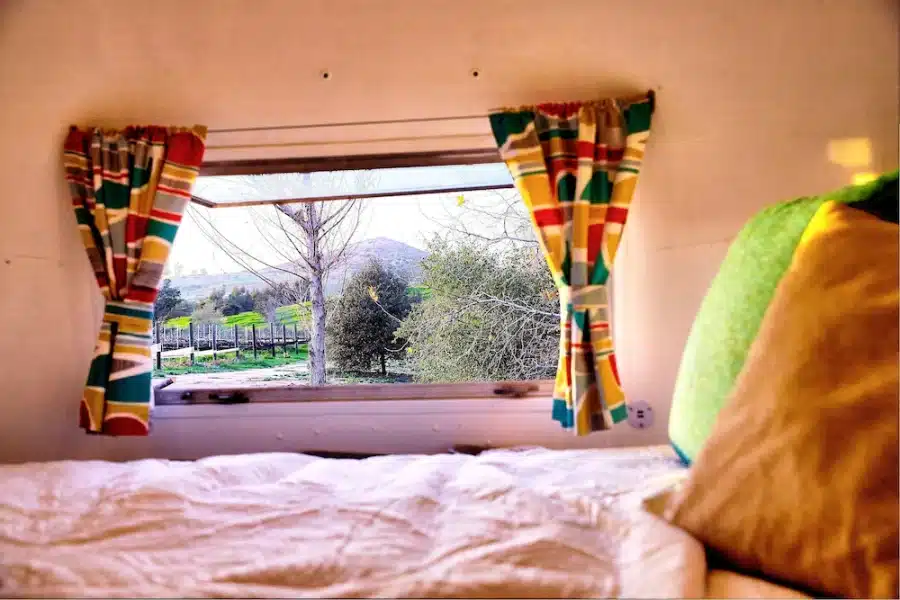 When it comes to glamping in San Diego, this campground has it quite literally in the name. Glamping in the Vines campground offers a unique camping experience set in the heart of a working vineyard. Guests can enjoy the beauty and serenity of the vineyards while staying in luxurious tents equipped with comfortable beds and amenities. The campground offers access to the vineyard, with opportunities to learn about winemaking and taste the wines. 
The Balboa Park of San Diego is a cultural hub, offering a diverse range of museums, gardens, and the famous San Diego Zoo Safari Park. Visitors to the area should also explore the San Diego Zoo, one of the largest and most famous zoos in the world, home to over 3,700 animals from over 650 species.
There are also hiking trails and bike rentals available to explore the surrounding areas, and the campground features a shared fire pit and outdoor kitchen for guests to use. Glamping in the Vines campground offers a unique and luxurious way to experience the beauty of the vineyards, and learn about the winemaking process.
El Capitan Canyon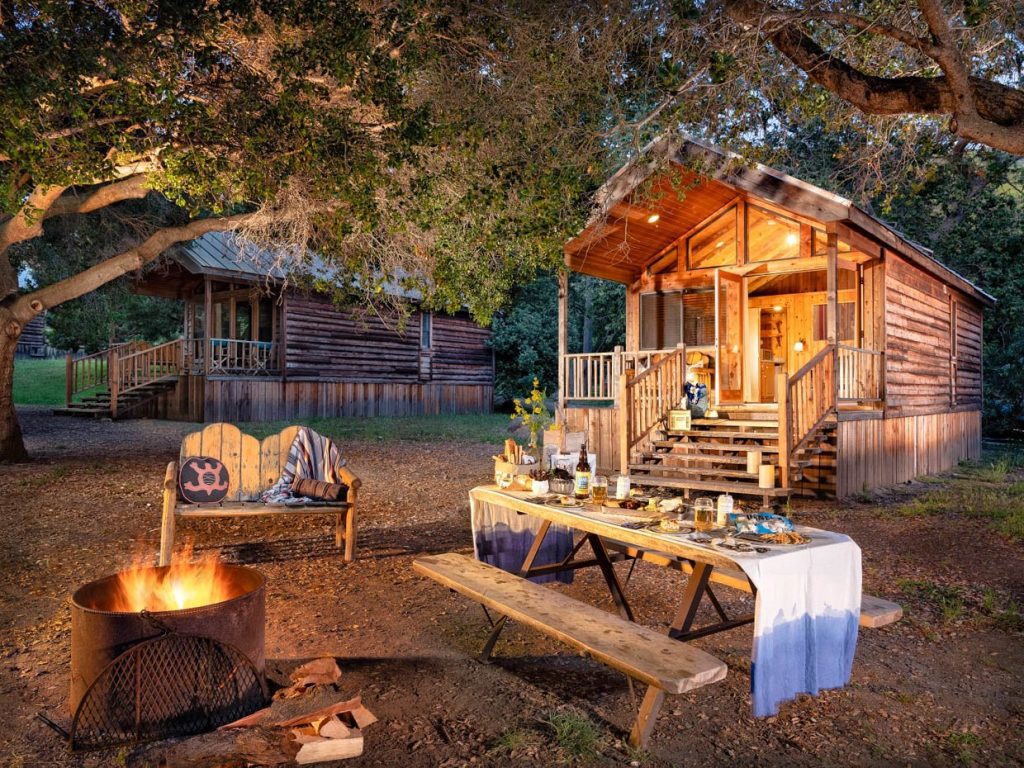 El Capitan Canyon is a picturesque, scenic destination located in Santa Barbara County. The canyon is known for its rugged beauty, with steep rocky cliffs, deep canyons, and a beautiful creek that winds its way through the landscape. Its area is home to a wide variety of plants and animals, including oaks, sycamores, and willows, as well as mountain lions, bobcats, and deer.
The campground at El Capitan Canyon offers a glamping experience where visitors can enjoy the natural beauty of the canyon in comfort and style. The glamping tents feature comfortable beds, electricity and private bathrooms. You can truly immerse yourself in the natural surroundings of the canyon while still having access to modern amenities.
As an added bonus, the tents are also equipped with outdoor decks, perfect for enjoying the beautiful views of the canyon.
Magical Airstream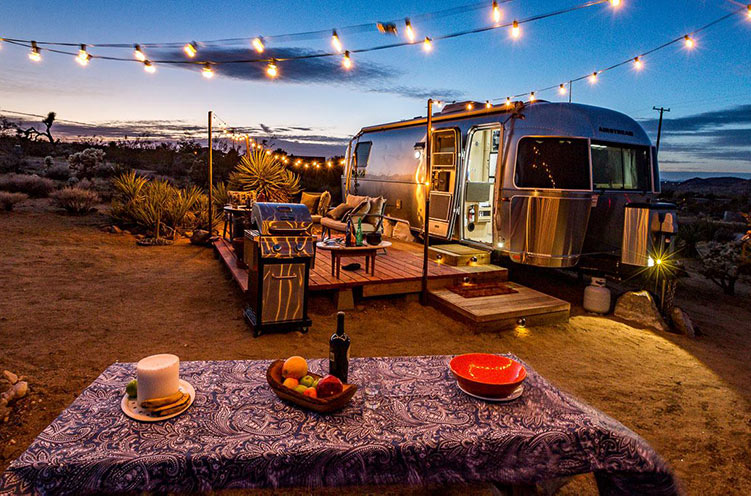 Like Palm Springs, there are so many amazing glamping options in iconic Joshua Tree National Park that it's hard to choose just one. But Magical Airstream in Joshua Tree National Park offers a magical camping experience apart from the rest. 
The Airstream trailer, located on a private property, features all the comforts of home such as a kitchen, shower, and air conditioning. The property also features a fire pit for roasting marshmallows, hammocks for relaxing and a hot tub for stargazing. The Airstream is located close to Joshua Tree National Park, allowing guests to easily explore the park's hiking trails and rock formations. The unique setting and amenities make it a perfect destination for couples, families, or groups looking for a comfortable and convenient camping experience while enjoying the natural beauty of Joshua Tree National Park.
Joshua Tree National Park itself is a bucket list destination for its incredibly diverse landscape of Joshua tree forests, rocky mountains, and desert sands. Visitors can explore the park's historic sites like the Barker Dam, a small dam built by early cowboys, and Keys Ranch, a homestead from the early 20th century. The park is also known for its stunning night skies, and is a popular destination for stargazing and astrophotography.
KOA Ventura Ranch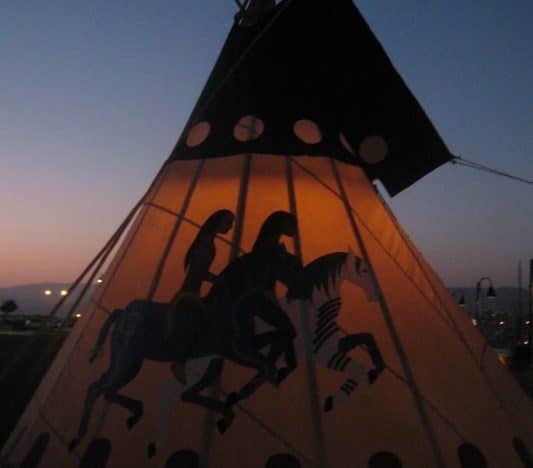 North of Los Angeles, Ventura County is known for its local beaches and boardwalks, like the dreamy Surfer's Point and Ventura Pier. The county also offers a range of shopping and dining options, including the Pacific View mall and the historic downtown areas of Ventura and Ojai. Visitors can also take a hot air balloon ride for a scenic view of the area or take a tour of the nearby Channel Islands National Park. 
At KOA Ventura Ranch, the glamping tents are set in a secluded and peaceful area surrounded by natural beauty and wildlife. The tents offer all the comforts of home including comfortable beds, electricity, and private bathrooms. Some of the glamping tents are also equipped with outdoor decks and fireplaces for an added touch of luxury.
The glamping tents are located within the Ventura Ranch KOA campground, which offers a wide variety of activities and amenities for visitors to enjoy. There are several hiking and biking trails, a pool, and a playground for kids, as well as a general store, and a restaurant on-site.
Flying Flags RV Resort and Campground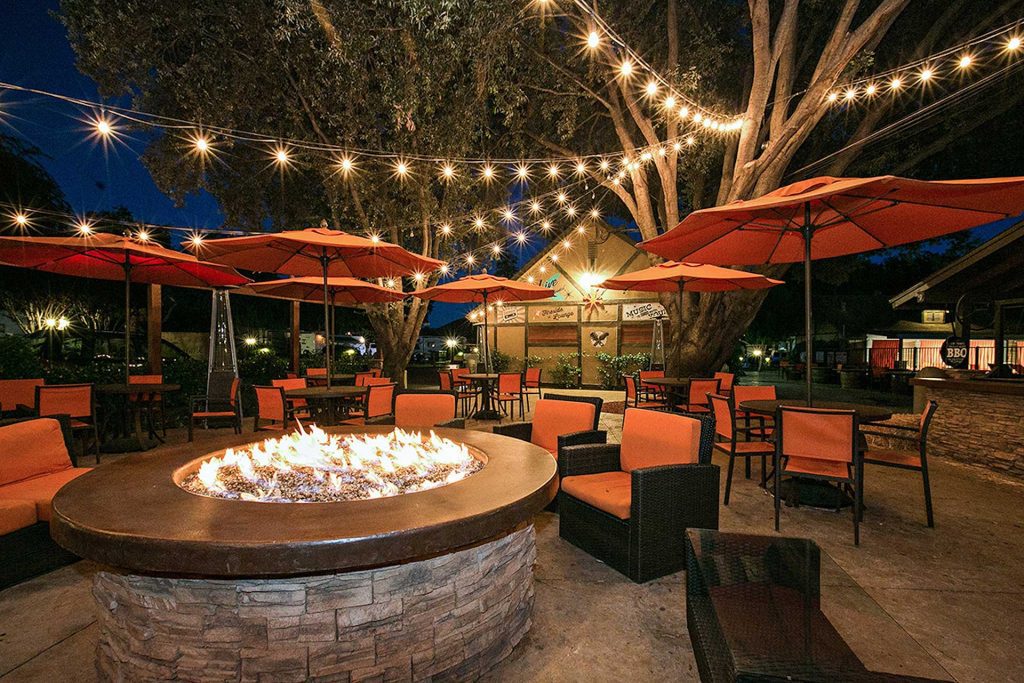 Buellton is a lesser known Californian city located in the Santa Ynez Valley, with a variety of unique activities for visitors to enjoy. The area is known for its wine country, so be sure to visit wineries such as Sunstone Vineyards and Winery, or take a wine tour by bicycle. The area also offers a range of outdoor activities such as hiking, biking, and hot air balloon rides. 
Buellton is also home to the famous Pea Soup Andersen's Restaurant, known for its delicious pea soup. The area also offers a range of options for those who enjoy golfing with several golf courses nearby. Buellton offers a diverse range of activities, so from wine tasting to outdoor adventures, the cultural experiences will make any visit memorable.
Flying Flags RV Resort and Campground features a range of amenities such as a swimming pool, spa, and fitness center, as well as a playground, mini-golf course, and a range of recreational activities. The RV sites offer full hookups, including cable and Wi-Fi, and some of the sites have private bathrooms. As an added bonus, the resort also offers Glamping tents and tiny homes. Flying Flags is located in a prime location in Buellton, with easy access to the area's wineries, shopping, and dining. 
Malibu Glamping Lotus Belle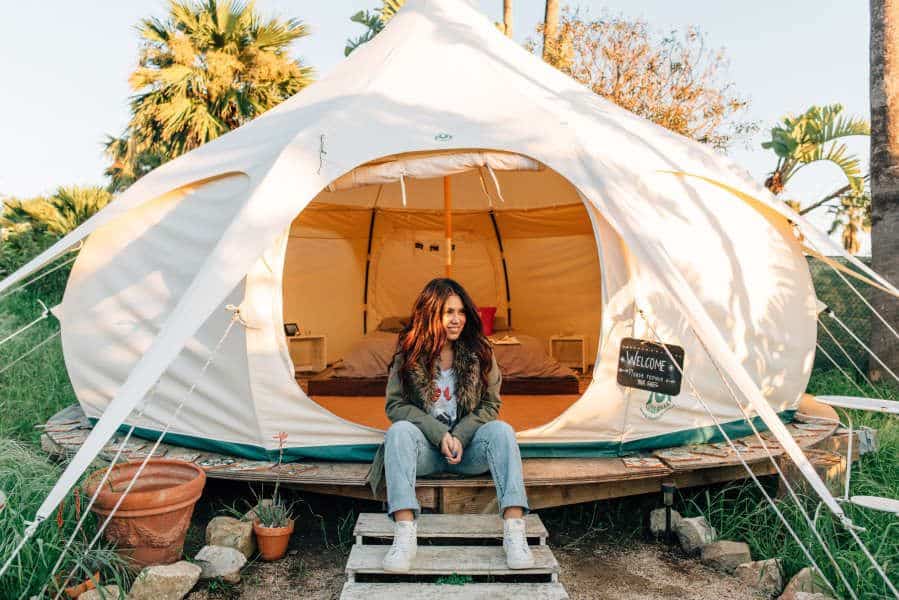 It wouldn't be glamping in Southern California if Malibu wasn't on the list!
One of California's most famous cities, Malibu is renowned for its beautiful beaches that are perfect for swimming, sunbathing, and surfing. El Matador State Beach is its hidden gem, known for its secluded coves and rocky cliff, while Leo Carrillo State Park is another great option nearby, where you can explore tide pools and sea caves. Point Dume State Beach offers a beautiful rocky cliff and a beach below, perfect for exploring tide pools and watching dolphins and whales. 
Visitors can also explore the local hiking trails such as the Malibu Creek State Park and the Malibu Bluffs Park, with beautiful views of the ocean and the mountains. The area also offers a range of cultural experiences such as the Getty Villa, a museum showcasing ancient Roman, Greek and Etruscan art and architecture. Malibu also offers a range of dining and shopping options, including the Malibu Country Mart and the Malibu Lumber Yard. But perhaps best of all is the ability to take a scenic drive along the famous Pacific Coast Highway for stunning ocean views.
The Lotus Belle tents of Malibu Glamping Lotus Belle feature comfortable queen size beds, electricity and fans, providing a luxurious camping experience. The tents are set on a private property with access to the nearby hiking trails and beaches. The guests have access to shared bathrooms and an outdoor kitchen. The property also features a fire pit for roasting marshmallows and a hot tub for relaxing.
Where will you decide to go glamping in Southern California? Let us know in the comments below!