The Biggest News Is Our Affiliate Program
Earn $50 For Each Referral Who Rents on RVnGO!
Earn $100 For Each Referral Who Lists an RV for Rent on RVnGO!
You'll find articles about getting outdoors, resources for trip planning and newsworthy events in the RV space. We also include new features to the RVnGO platform and how every day, we're making it easier for people to rent and RV for any type of trip they want to go on or for any need they have. There are so many options to choose from! Where will you RVnGO?
The 2022 NASCAR Xfinity Series is in full swing with...
Read More
The Ally 400 at the Nashville Superspeedway racetrack in Gladeville,...
Read More
If you are a motocross fan, then you cannot miss...
Read More
Gear up and get ready for your next Pro Motocross...
Read More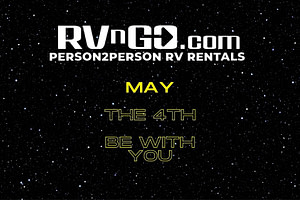 On the 4th of May, people across the world come...
Read More
The 2022 schedule for the upcoming Texas Motor Speedway events...
Read More
FOR IMMEDIATE RELEASE APR 22 2022 RVnGROW Initiative Aides in...
Read More
Taking care of our environment is a responsibility every person...
Read More
RV vacations are a great way to have either a...
Read More
With an RV rental, you can experience all your favorite...
Read More
Getting into RV camping and driving can be daunting, at...
Read More
Renting an RV is a big decision and can make...
Read More
If you are trying to catch some of the high-octane...
Read More
RV Financing can be a challenge. It's not as easy...
Read More