Why tour the Southeastern US in an RV?
An RV Road trip is an ideal way to enjoy a cross-country adventure in comfort and style. Here's an EPIC idea for a week-long RV road trip touring around the scenic southeast US. 
You'll see a varied mix of beaches, cities, and nature. From New Orleans to Charlotte, over to Memphis and back again, here's a plan for an epic road trip perfect for an RV rental.
Starting in New Orleans, LA
Wake up at the French Quarter RV Resort and start your trip with a breakfast of beignets and cafe au lait at Cafe du Monde. There is so much to see in the Crescent City. If you can, try to get here when you can take in some live jazz. No trip to New Orleans is complete without hearing at least one song. A few more notable places to take in that are uniquely New Orleans is New Orleans Historic Voodoo Museum. Whether you believe or not, this museum is weird and wild, filled with folklore, Southern mystic charm, and curious curios to spellbound any visitor.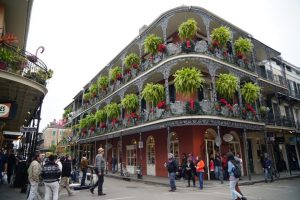 Check out one of the first open-air markets in these parts, the 10,000-square-foot space St. Roch Market is an icon.
Don't wait too long before hitting the road. Your next destination is Panama City Beach in Florida, a good five or six hours away. Take I-10 to ride east along the gulf coast, through Mobile, AL to your first stop.
This popular vacation spot boasts 27 miles of beaches. But if you want to see some nature, there are two state parks and other smaller parks to choose from. Camp Helen State Park provides spots to fish and explore five diverse ecosystems. St. Andrews State Park is an ideal place to camp for the night while watching the birds and butterflies.
You can stay at the Emerald Coast RV Resort and soak up the Southern Hospitality. There is plenty to do for the whole family. You'll have a great selection of RV friendly sites available. Take a dip in one of our two heated pools; unwind in the hot tub; stay in shape at our fitness center; or challenge a friend to a game of bocce ball or volleyball.
Emerald Coast also boasts a prime Hub location for fun. Take the family to Coconut Creek Family Fun Park or Shipwreck Island Waterpark. Swim with the dolphins at the Gulf World Marine Park or take a walk on the wild side at the ZooWorld Zoological and Botanical Conservatory.
Big Cypress National Preserve, FL
Not your typical forest state park, this stop takes you just outside of the Everglades to the Big Cypress Swamp. You'll see a mix of tropical and temperate plant life here, and one of the most diverse ecosystems you'll ever see again.
The preserve features many campground options with varying ability by season.
 Check out Bear Island Campground for a primitive site or Midway if you are looking for more modern amenities.
Jacksonville has something for every interest. You can do a self-guided tour of downtown, visit the Kathryn Abbey Hanna Park to watch the wildlife, visit the MOSH, which isn't what I thought. I was surprised there was not a single pit on the entire premises; just science and history. Visit Crazy Fish for airboat and fishing tours on the Intra-coastal Waterway, and end the day with the city's "ale trail." Crash at a great RV park – Pecan Park as your hub to hit all of the great destinations close by.
Once you've rested and ready to hit the road again, your next stop is four hours to the north via I-95. The city of Charleston claims that "history loves company," and so the history buffs in your party will love one of the many tours offered. Historical sites, food and drink tours, and ghost tours are all popular attractions.
Grab dinner at the Oyster House for a meal with a view. Camp at James Island County Park.
Three hours north on I-77 will take you a little inland to "the Queen City," otherwise known as Charlotte, North Carolina. Take a stroll through the thriving open-air creative market at Camp North End, or stop by the NASCAR Hall of Fame. Camping World Racing Resort is within walking distance of the track come race days but stays open year-round.
Daniel Boone National Forest, KY
Taking a break from civilization, this next stop is all about returning to nature. After your five-hour trip to the northwest which takes you to Daniel Boone National Forest, Park the RV at Bee Rock RV Campground for some rest and then head into This sprawling forest which provides no shortage of places to hunt, fish, hike, and camp. Park your RV by Laurel River Lake for a peaceful view and ideal spots for fishing and diving. 
This city is a rising star vacation destination, with endorsements from such publications as Lonely Planet and the New York Times. Less than three hours to the south of Daniel Boone lies this city with a rich tradition of culture and historical relevance.
You can set up camp at Adventures Unlimited and try whitewater rafting while you're there.
Take I-40 westward and you'll be back in the city again. This leg is for the music lovers in your party. Stop by the Grand Ole Opry and the Country Music Hall of Fame. Enjoy some hot chicken before setting up camp at Safe Harbor RV Resort.
Memphis is 3 hours away on I-40. Camp at Graceland RV Park and Campground to put yourself within walking distance of the home of Elvis Presley. Be sure to sample barbecue from the many vendors in town. Stop in Central BBQ and tell them we say Hi!
Here we are on the last stop of our Epic RV Roadtrip through the Southeast. Jackson is a great location to include. The statewide Mississippi Freedom Trail runs through the city, encompassing a number of historic sites that were significant in the civil rights movement.
At Smith Robertson Museum, examine African-American struggles and triumphs. Historic Farish Street, a growing entertainment district, reveals a rich Blues heritage. Visit the Old Capitol Museum, the Museum of Art, the Museum of Natural Science, the Zoo, the Mississippi Children's Museum and more. 
Be sure to stop at LeFleur's Bluff State Park for an incredible outdoor time filled with fun for the entire family. It literally has everything from camping, fishing, picnic spots, and nature trails, and this 305-acre park even features a nine-hole golf course and a driving range.
The last leg of the trip takes you back to the Big Easy straight down I-55. You can return to the French Quarter RV Resort before making your way back home.
This guide scratches the surface of what these RV road trip destinations have to offer. So take your time and linger in each one. Make the most of your vacation.
Start your RV road trip in New Orleans with RVnGo here! And if you have a vehicle of your own, we can help with marketing your RV rental.