Whether you one one RV or you have a fleet of 1,000 RVs to rent out. This page is your resource or getting the most out of your RV. Unless you live in it full time, we hear from many RV owners that they wish they could do something with their RV during thse months when they aren't using it. THis is where RVnGO comes in. Maybe you're looking for a side hustle that doesn't require filling your garage with pills, potions, lotions or shakes and recruiting friends and family… Ya definitely don't want a 2nd job, so ya rent our your RV for real, passive income. We are here to help and offer articles and resources to help you make money from home by renting your RV.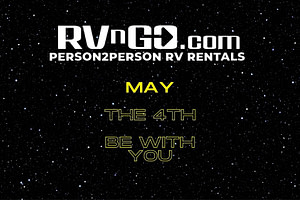 On the 4th of May, people across the world come...
Read More
Before you let a stranger use your RV and take...
Read More
In Order to Get Found On Google and Attract RV...
Read More
What are the must have RV amenities and items to...
Read More
Embrace a more fulfilling way of life. One way you...
Read More
A new energy efficient technology recently introduced is from a...
Read More
How to find an ADA Compliant Wheelchair Accessible RV is...
Read More
One of the common concerns of every RVer, especially a...
Read More
As an individual RV owner, you need to offer top-notch...
Read More
RVnGO now allows you to buy and sell, new and...
Read More